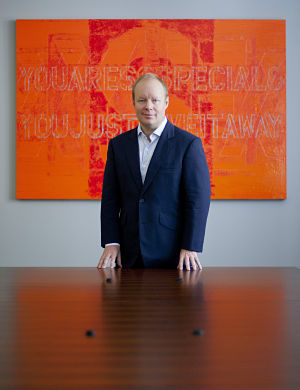 American Capital markets experienced what may have been the beginnings of sea change two weeks ago when the SEC released its new rules for expanded Reg A offerings as mandated by the JOBS Act. The new rules not only raised the maximum cap for annual money raised through this method to $50 million, it opened it up to unaccredited investors, meaning a wide swath of the investing public previously barred from participating now had a chance to buy in.
These new rules could mean a fundamentally different landscape for investors and companies alike, so Equities.com talked with the President and CEO of OTC Markets Group (OTCM) , R. Cromwell Coulson, to ask him what he thought these changes might mean to our markets.
EQ: What is your perspective on the SEC's final rules for Reg-A plus? They raised the cap from $5 million to $50 million and, more importantly, opened the process up for unaccredited investors to participate in these offerings with certain limitations. Where do you think that puts the state of our capital markets?
Coulson: I think it's great. They have a federal offering which has stricter requirements of audits, continuous reporting and the ability to raise more money, up to $50 million. Non-accredited investors are allowed to participate but it limits their total risk versus their investor portfolio and income.
The Tier 2 offerings are a great tool. This is one of the first times that we have decoupled Blue Sky exemption from requiring an exchange listing, so you can do a widespread public offering but you don't need to list on the exchange to get Blue Sky exemption. That's huge.
It's the way it should be, because these are companies that are filing SEC registered and reviewed offerings. Blue Sky preemption should take place if there's good information, you're participating, and if you're either registered with or exempt from registration with a federal regulator.
EQ: This does seem to represent a sea change in our approach to markets. You used to have a clear barrier between the private and public markets, and the IPO represented a major change for a company. But you can make the argument that these changes are going to blur that line, potentially creating a new market where an IPO is a significantly less important event in a company's timeline.
Coulson: The traditional IPO, it's just too stressful for a company. It takes too much management time. That's why we're big believers in the "Slow PO." The Slow PO allows you to raise capital in different ways at different times in your company's lifecycle.
What we should really look at is what stage of growth a company is in, where it's at, what level of complexity, and then have it take a path that is incremental rather than a single big event. You're getting on a staircase instead of having to jump across a giant chasm.
EQ: So the purpose of these laws was always investor protection. That definitely made a lot more sense back in the 30's when access to information was limited, but it arguably makes less sense now. That said, how worried are you that there is going to be an increase in the amount of smaller investors losing their investments in the sort of pump-and-dump schemes or fraud that these laws were put in place to protect people from?
Coulson: We used to have this idea that the best way to protect investors was to have a fully registered offering where you could only share what was in that offering document or confidential private offerings where you couldn't talk to anybody who wasn't an accredited investor. We don't live in that world anymore.
Nowadays, there's a lot of information on the Internet. We used to have to head to the library and look at a security manual to get information about companies. That's history. Today, we live in a world where investors are going out and doing their own research from numerous sources. They're finding their own information, not having it pushed to them. In fact, when information gets pushed on them, most investors turn off.
So, the question we need to ask now is: How do we ensure the maximum amount of information is available to investors so they can make intelligent choices? This focus on transparency will make the majority of investors and offerings more successful. You're going to have a percentage of investors who make bad choices; you're going to have a percentage of people who are trying to commit frauds and trick investors. But having that information transparently available actually makes it easier to track the guys who are lying. There's a public record as opposed to something that took place in a dark room.
EQ: A lot of the attention has been focused on Tier 2 for Reg. A plus because of its higher cap, but Tier 1 also offers some intriguing possibilities. Do you think a lot of companies will take advantage of Tier 1?
Coulson: Tier 1 offerings are the sleepers. My expectation is that the companies that come to our markets and want to do a mini IPO, they're going to use Tier 2. But I think Tier 1 will be good for companies located in states that are friendly to capital formation. The fact that the regulations are much lighter, that you don't have continuing disclosure requirements, that you can have a reviewed financial instead of an audited one, for many smaller companies it's going to be an exciting tool if you live in a capital formation friendly state. If you live in a merit-reviewed state, I would say it's not going to change the world and you're probably going to be looking at Tier 2.
What's nice about the Tier 1, Tier 2 option is the SEC set up a horse race. Let's see which system works better: federal review and preemption or non-preemption with local review. And let's have both available and we'll see which part of the system works best, and what types of companies use each one.
EQ: They've really opened the system up to a lot more options.
Coulson: This is what's awesome about the JOBS Act. They're creating multiple options for capital raising; we're not in a system where it's one size fits all. Instead of restricting information on offerings, let's make sure there is transparency and disclosure at the point of sale. Small company capital formation is never going to be risk free. It's going to be a risky form of investment. But we can make it so that people understand the risk and markets can price it correctly.
EQ: Speaking of the JOBS Act, do you think Reg-A plus being opened up to unaccredited investors is a sign that Title III Crowdfunding that got a lot of excitement early on is sort of dead in the water in terms of its effectiveness or availability?
Coulson: If you look at Title III one way, it was the part that scared the most out of security regulators. The Reg-D changes were the easiest, and they quickly lifted restrictions on general solicitation and advertising which really means removing the requirement of confidentiality in certain securities offerings. Reg-A plus should be simpler because it's going through a review process.
Crowdfunding, now that these other offerings are out there, may be dead in the water if the offering process is heavily regulated and complex. But they may also be pragmatic about it and say, "Well, we've got these other offerings. How's it going to stack up for companies that are raising a million dollars? There's not that much total risk to the system as long as we limit how much any individual investor can put into one of these things."
EQ: Where do you see Venture Exchanges is going in the future due to these changes and what role do you think OTC Markets is going to be playing in in that?
Coulson: We're building America's Venture Market with OTCQB. If you look around the world, what are the venture markets out there? There's the TSX Venture Exchange in Canada and the London Stock Exchange has the AIM Market, and then you look at our marketplaces in the US.
The big success metric for venture exchanges is the number of graduates to an exchange. Over 80 companies graduated from our OTCQX, OTCQB and OTC Pink marketplaces last year. TSX Venture had 22, AIM had 5.
We are the US venture market where smaller companies come to season and grow. We're also where global companies trade that are already listed on a stock exchange in their home market and are looking for a lighter regulatory touch in the US, a market that is more efficient, with less complexity and cost.
We've been doing a great job of taking what was an inefficient non-electronic, opaque market and using technology to improve the transparency, the trading and the trust.
If you think of the TSX Venture Exchange, approximately 75% of their companies have a market cap of $10 million and below. That's a very different market than what some people think: $1 billion or $2 billion companies. Venture companies are small and risky, but they're important. Their success is very important to the economy.
At the top of our marketplaces is OTCQX, which is for our more established companies, companies that are not penny stocks, companies with an operating business. With OTCQB, we have a marketplace more comparable to the TSX Venture Exchange or AIM.
The primary concern is not the business model of an ATS or an exchange. If there aren't small companies raising capital and there aren't broker dealers supporting these companies' capital raising and secondary trading, we don't have venture markets.
The venture exchange approach being discussed is very centralized, very command and control: You must list on this one venture exchange to get Blue Sky preemption; for you to be a good company you need to join this club. We disagree with that. We think the regulatory push for secondary trading liquidity should be about supporting the companies, removing restrictions, and supporting the broker dealer ecosystem. Those are the things we need to focus on, and these venture exchanges should not have a monopoly on trading small company's shares.
The argument to consolidate trading on one exchange is a more restrictive model. Dick Grasso [former chairman and CEO of the New York Stock Exchange] used to say, "If all the investors trade on the New York Stock Exchange, we know they're going to be getting the best price." Of course, what we learned was that, no, actually Dick Grasso is getting the best deal because it's essentially a government mandated monopoly.
People would go crazy if regulators said you have to sell your car through an authorized dealer. It would be restricting property rights. I want to be able to sell my used car anywhere. Sometimes I go to the dealer when they have the best deal, but other times I may want to sell it to my neighbor.
And this idea that venture companies need to have centralized liquidity: It's a really bad idea. What we need to do is support broker dealers who are trading these securities and lots of different business models. You need a diverse community of broker dealers supporting these companies. And we need to look at the regulations which have been hurting these companies.
It's interesting that the venture exchange discussion has been initially driven by some good ideas, some self-interested ideas and then some 'pie in the sky' ideas. What we look at it is, pragmatically, what can we do to improve capital formation for the small companies and the broker dealer ecosystem? Those are the two most important things to focus on. If we get them mostly right everything else will work out fine.
Finally, one of the biggest investor protections in the US regulatory system are the Penny Stock rules, and they're important. They keep brokers from soliciting riskier securities, and, when they do, they put stricter compliance processes around them.
They're not bad rules, but the problem is they don't work for companies that have invested a lot in developing technology, like a biotech company. We find many biotech companies which are classified as penny stocks even after they've raised a fair amount of capital and they've been investing in moving their technology forward. Penny stock rules need to be updated to fit the needs of R&D heavy companies.
DISCLOSURE: The views and opinions expressed in this article are those of the authors, and do not represent the views of equities.com. Readers should not consider statements made by the author as formal recommendations and should consult their financial advisor before making any investment decisions. To read our full disclosure, please go to: http://www.equities.com/disclaimer