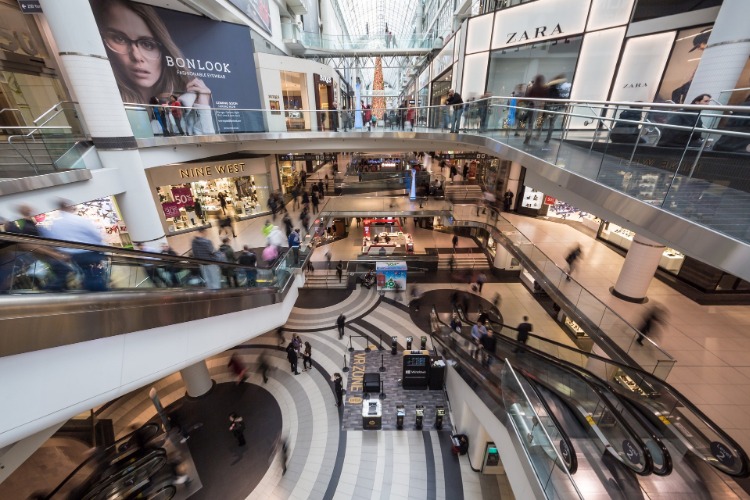 I get asked this question all the time – is offline retail dead? Is ecommerce taking over the retail trade as most of us suspect? Personally, I usually shop Amazon AMZN. You'll see a delivery van in the front of my place every second day. I also use Google to 'source' my purchases then find a supplier for products that require the touchy feely test before purchasing.
If you look at some stats, ecommerce in the USA totaled over $517 billion in 2018, up 15.0% from 2017, with Amazon accounting for 40% of that amount. The growth is impressive, though it still adds up to only a fraction of the $3.63 trillion in total retail sales. Notable, however, is that total retail sales are only growing at a 3.9% annual clip.
So is the brick and mortar store dead or dying? The examples of innovation and change are abundant to suggest that adaptation and realignment of resources may offset or impede the demise of stores.
Sure, there will always be the Sears and Blockbuster stores of the world that faced with ecommerce couldn't or wouldn't adapt. Those scenarios, to me, were a result of bad management and planning. Some will say that retail is not dying but that it's rejuvenating.
When I was younger I was a rock music promoter. The music industry made millionaires from vinyl album sales and touring was the means to showcase the music to new audiences. I still have my vinyl collection from the 1960's but for most people it has been supplanted by iTunes and Spotify. Is the music industry dead? Not really!
Artists can now become wealthy overnight through the internet, and touring is a revenue stream rather than purely promotional, and a good one at that, with tickets selling out in minutes. Merchandising has grabbed a big portion of band revenues and while people have moved from purchasing vinyl and CDs, iTunes became the place of music downloads. The music industry hasn't died it just realigned and reinvented the medium.
Same thing happened with video. I had hundreds of videos in my collection that eventually morphed into DVDs and now they are digitized. Even I'm adapting to change. Imagine that.
What happened to Blockbuster? It officially ceased operations in 2013 with 84,000 employees but it still has one store in Oregon with 3 employees. In 2000, Blockbuster turned down a chance to purchase the fledgling Netflix for $50 million. You can pin another bad management decision on financier Carl Icahn for that faux pas.
On one of my Google searches, I found Wayfair and then looked for a showroom – good luck! There aren't any, Wayfair eliminated the showroom. Furniture has been one of the more difficult businesses to transition online, not only because of shipping costs for heavy items, but also because consumers still often want to see the products in real life. They want to touch the fabric, check out the mattress for firmness, etc. How did they get past the touch test? Wayfair introduced an augmented reality feature in its mobile app for Android and IOS that allows customers to visualize furniture in their own home ahead of purchase, just by holding up their smartphone – adapt and innovate!
I was thinking about making a website more user friendly for a client the other day. Some websites are dynamic but others still feel like a site from 1993. I've used a chat app or interface ZenDesk a couple of times. Those popup chat boxes sound like a good idea until you ask a question and it says, "We'll get back to you when the office opens."
Now, what would happen if you are checking out that BMW dealer online at 11pm and the chat function actually worked? In a business that requires relationship marketing isn't it logical that you would be able to reach a real person to ask about a car? In a small company or even larger one, you can assign someone to be "on call" in order to answer customers queries.
The online community will continue to grow because they are facing the consumer behaviour head-on and not ignoring the challenges of a new landscape. Companies need to understand customer needs and how to personalize their offering whether it's a dry cleaning service or a car purchase.
Key brand differentiators will soon have the customer experience overcoming price. Convenience with a basis on quality and trust will eventually supplant the brick and mortar stores. The downside to online growth will be the distrust of big data.
When we can overcome the fear and distrust of big companies using our data to monitor everything we see and buy then target us, or sell our buying data to others then we will fully embrace the online buying experience.
So – is offline retail dead? Stay tuned: It will face its Armageddon unless it learns to reinvent itself.
Gary is CEO of Bizzo Management Group Inc.and Bizzo Integrated Marketing Corp. in Vancouver. He has mentored over 1000 business leaders, investors and entrepreneurs. London-based Richtopia placed Bizzo on the Top 100 Global Influencers in the World for 2018. He is an Adjunct Professor of Integrated Marketing at the New York Institute of Technology, MBA School of Management (Vancouver Campus).