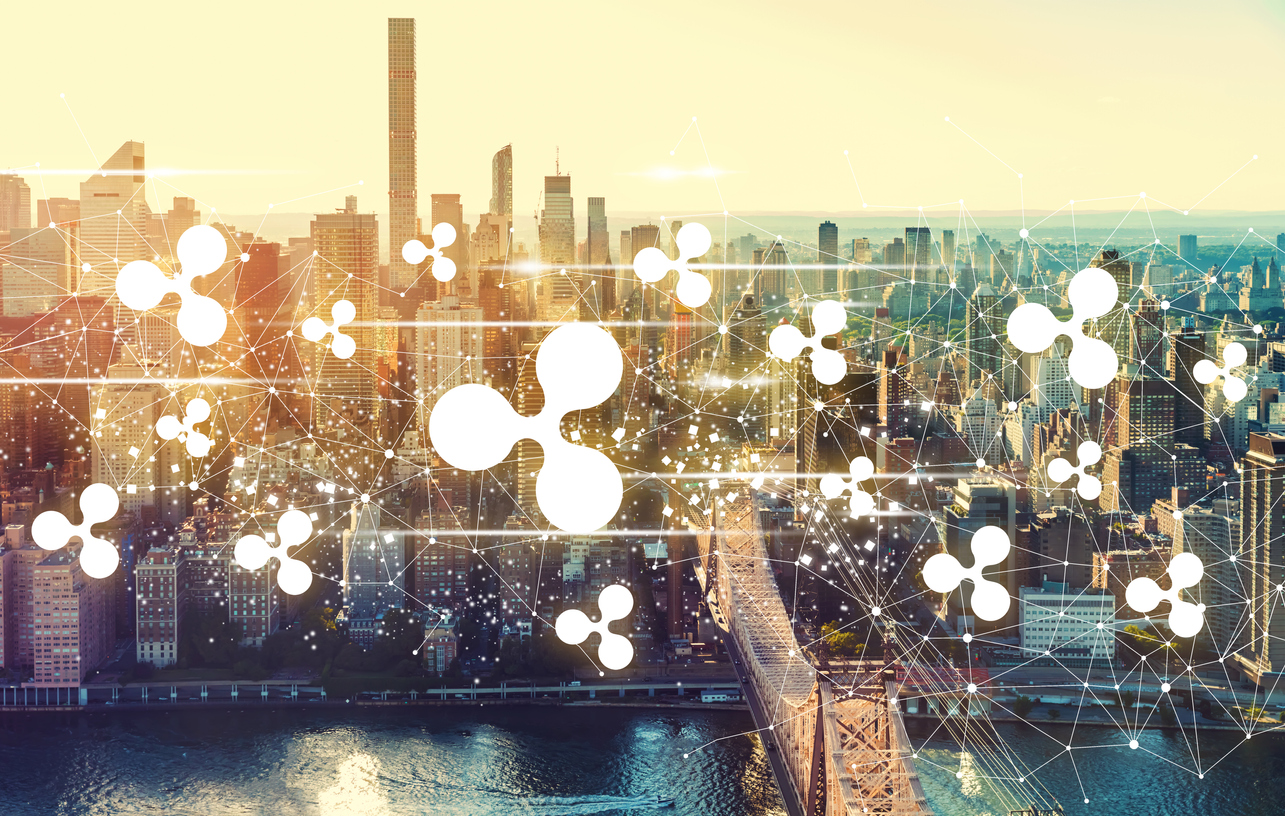 Headline image:iStock.com/Melpomenem
Shortly after the Facebook launched Libra, Ripple, the San Francisco blockchain company, announced deals with money transfer giant, MoneyGram MGI.
MoneyGram's stock jumped 168% following Ripple's announcement that it will buy $30 million of MoneyGram shares at a big premium of $4.10 per share. Ripple also has the option of purchasing another $20 million worth of shares over the next two years.
What is Ripple?
To summarize Ripple, as it is an outlier in the cryptocurrency community, the protocol is designed to allow for inter-bank settlements and quickly transact across the globe. The Ripple protocol's native token is XRP, which mainly is used to pay transactions fees on the Ripple network.
The company has received funding from Google Ventures, Andressen Horowitz, IDG Capital Partners and Santander raising more than $93 million. And, like Facebook's Libra, the company is also centralized as it owns the majority of XRP and the network servers.
Essentially, Ripple is a cryptocurrency born out of the fiat world as it sole value proposition is built around speeding up the inter-exchange banking system.
This legacy network is slow and error-prone as banks often fund foreign accounts with local currency (known as nostro accounts), and as these funds often sit idle, banks rely on third-parties to create liquidity. This creates risk and long transit times. Ripple eliminates these third parties and puts all the players on one system. Here is Ripple's CEO Brad Garlinghouse speaking at Fortune's Brainstorm Finance Conference, where he gives an example of the potential:
I was talking to the CEO of one of the largest banks in Canada, and they were exiting their correspondent relationship in Brazil. It's expensive for them to hold Brazilian reals. And they're like, look, we don't have enough demand, so now we're going to use a correspondent bank. Now if they could use xRapid into Brazil, they don't have to have the pre-funded money. They don't have the expense and they can still solve their customer's problem that needs to do business in Brazil."
What is the actual utility of XRP?
However, even in the cryptocurrency world, XRP is not the only game in town for inter-bank settlement. DASH, Ether and BTC are all options, but banks will choose which currency is the most widely accepted. Most analysts believe XRP being one of those options is unlikely. Bitcoin's volume dwarfs XRP's and this would seem to be an essential component for making banks select it as their global reserve. Early last year, this idea was asserted by New York Times journalist, Nate Popper, a well-respected cryptocurrency documentarian, when he openly lambasted Ripple over Twitter:
This caused Ripple's Garlinghouse to fire back:
Of course, in typical Twitter fashion, this brought out the trolls on both sides of the argument.
On top of this, this week, Western Union's WU CEO Hikmet Ersek
essentially said that the company's tests of Ripple showed that it was not
cheaper than their current service. "The
practical matter is it's still too expensive," Ersek added, noting that Western
Union would only be interested in adopting XRP for payments if it proved that
it could lower the company's costs.

Ersek did seem a little bitter over Ripple's deal with Moneygram. In the end, he praised the Ripple team and did admit the sample size of transfers was small. Western Union like many other banks might use xCurrent,
an enterprise software product that does not use XRP, rather than xRapid, which
does rely on XRP.

However, and this is a key point in the value proposition for Ripple, will banks ever really need what it offers? Like JP Morgan has already done, it is just as likely that banks will make their own ledgers or stable coins rather than actually use XRP.