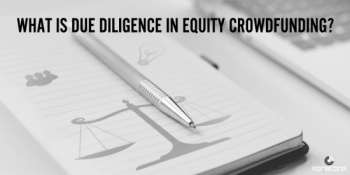 Due diligence is the first line of defense for companies, investors, and equity crowdfunding portals. It's the series of checks and balances that ensures investment opportunities are, to the best of anyone's knowledge, sound and safe, and that investors are able to handle the risk.
It's the process by which available information on the company or the investor is analyzed according to the regulations, and a decision as to whether or not to approve the opportunity or accept the investor is made. More often than not, it's a legal obligation, and it's no less strictly enforced in equity crowdfunding than it would be for capital markets, secondary markets, or M&A.
It's in the best interests of the equity crowdfunding portal to select only companies that pass their due diligence to build trust with their investor base. Consider OfferBoard and OurCrowd; both CEOs for both companies pride themselves on the level of due diligence they do on each company, and on the stakeholders. Chris Tyrrell, CEO of Offerboard, understands that to build trust, he needs to demonstrate rigorous due diligence.
OurCrowd CEO Jon Medved, has publicly stated in many articles that they only take the best, and if a company is not ready for their level of due diligence, they should not bother to apply. OurCrowd has created such a trust level in the market by achieving early success in helping companies raise over $100 million in their first 12 months and two companies have already exited to public listings in the USA. It can appeal to investors by speaking to how selective it is, and they'll be more likely to choose that platform, since it follows stringent and selective due diligence policies. There are hundreds of equity crowdfunding portals already in operation, and any sort of value-added point of differentiation is essential to their survival.
Companies may be tempted to assume that their product or idea should speak for itself, but this is in no one's best interest. Portals receive hundreds of proposals, and quality control is paramount.
What Does Due Diligence Entail?
Before you go to any crowdfunding portal, you must prepare your due diligence materials. At this pre-raise stage, you should be ready for legal, business, marketing/social media, people and financial due diligence. As part of this process for instance, you'll need to collect background checks, organize the minute book, go through a corporate registry check, provide audited financial statements, go through a social media reach analysis, etc. During pre-screening, the equity crowdfunding portal will assess your corporate information, financial information, business plan and marketing plan. Your portal will need plenty of time to vet your deal and your information, even if you come to them well prepared. They'll look into what you have and what you need, and determine how much it will cost you to raise money.
What Does Coming Prepared Mean?
Due diligence is an industry in and of itself. Executing it successfully requires expertise and attention to detail, and the consequences for bad due diligence can be dire, so due diligence service providers are gaining ground.
A notable example of due diligence expertise is CrowdCheck, a leading due diligence report that many portals prefer to receive on companies before they will do any of their own due diligence. The report is prepared by experts such as Sara Hanks and her team, that go through the information presented with a fine-toothed comb. Having such reports can be valuable and save time with applying to the portals.
Failure to plan can be fatal for any crowdfunding campaign, at any stage. Failure to properly plan and execute due diligence can cut your campaign off before it's even begun. You could have the best idea in the world, but without putting in the proper amount of time, energy, and attention to detail in meeting the portal's requirements, you're handicapping yourself before you even begin.
DISCLOSURE: The views and opinions expressed in this article are those of the authors, and do not represent the views of equities.com. Readers should not consider statements made by the author as formal recommendations and should consult their financial advisor before making any investment decisions. To read our full disclosure, please go to: http://www.equities.com/disclaimer