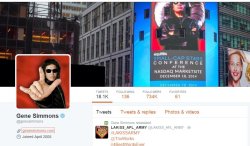 In December 2014, rock legend Gene Simmons was a special keynote speaker at the inaugural Equities.com Small-Cap Stars Conference held at the NASDAQ MarketSite. Simmons so was enthralled with the experience, the image of his participation is actually the coverage photo for his Twitter profile! The KISS frontman stood as tall as ever as he was broadcasted on the MarketSite tower overlooking Times Square.
Rock and Roll Legend, multi-billion-dollar merchandising genius of KISS, Reality TV Superstar, New York Times best-selling author, strategic marketing phenom, global icon, self-made rags-to-riches entrepreneur—call him whatever you want, but it's undeniable that Gene Simmons is success personified.
At the conference, Simmons shared a valuable message—one that he detailed in his latest book, Me, Inc.: Build an Army of One, Unleash Your Inner Rock God, Win in Life and Business, in which he discusses a lifetime of field-tested and hard-won business advice with readers.
No stranger to controversy and an unabashed self-promoter, Simmons has never been one to pull his punches. Yet, whether you agree with him or not, he knows how to get people talking. More importantly, he knows how to leave a lasting impression.
Read our exclusive interview with Simmons here.
Video of his presentation here.
And last but not least, his on-location interview during the December conference with Equities.com:
This video interview may include forward-looking statements that involve risks and uncertainties. Forward- looking statements are statements that are not historical facts and are subject to risks and uncertainties, which could cause actual results to differ from the forward-looking statements. To read our full disclosure, please go to: http://www.equities.com/disclaimer.
For those that missed out on the December conference, we encourage you to register for the Equities.com Small-Cap Stars Spring Conference 2015 today! Click here to register.
DISCLOSURE: The views and opinions expressed in this article are those of the authors, and do not represent the views of equities.com. Readers should not consider statements made by the author as formal recommendations and should consult their financial advisor before making any investment decisions. To read our full disclosure, please go to: http://www.equities.com/disclaimer