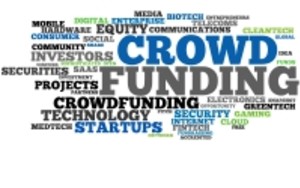 The SEC finally voted yes on the final rules for Title III of the JOBS Act, a mere three years after the law's passage. This has been long anticipated and, while a lot of the oomph was taken out of the provisions by the opening of Reg A+ to non-accredited investors, the final passage of the rules still opens up a new range of possibilities for investors and businesses alike. What's more, the final rules even appear to relax some of the harder regulations that had looked to greatly increase the cost and difficulty involved in equity crowdfunfing.
The fact that equity crowdfunding is finally becoming a reality has a lot of voices in the crowdfunding industry have spoken up to voice their approval of the SEC's vote on Friday.
"These rules seem to create a very workable regime for equity crowdfunding to thrive in the United States. This is a huge win for startups, small business, job creation and the U.S. economy."
"Today marks a monumental shift in how capital for private securities may be raised from non-accredited investors. For the past 80 years, with the introduction of the Securities Acts of 1933 and 1934, investors who did not qualify under these rules had many restrictions imposed on in what they could invest. However, the SEC voted this morning to approve these new regulations, something many in the industry have been waiting three years for since the original mandate to pass these regulations, through the JOBS Act, was signed into law by President Obama. …
"Some of the benefits to companies, particularly those raising at a lower threshold, are relaxed reporting requirements, given the financial burden they place on smaller companies. For those raising under $100,000, they will only need to provide to investors financial statements that are signed off by their own financial officers. For those raising between the next tier, $100,000 and $500,000, they will need to have their finances reviewed by an outside accounting firm. For the third level, those raising between $500,000 and $1 million, they would need to have finances reviewed by an auditor, although companies conducting their first equity raise through crowdfunding would not need to have audited financials.
"Overall, this is an exciting time for market participants. Having waited for the SEC to issue regulations and despite the encouraging words from Chair Mary Jo White, some in the industry were not convinced that the SEC would follow through or that subsequent legislation would be needed to complete securities-based crowdfunding for the crowd. These rules will be effective 180 days after they are entered into the Federal Register, although forms allowing for funding portals to register with the SEC would be available starting January 29th, 2016."
Chance Barnett, Founder and CEO of Crowdfunder, for Forbes
"This marks the first time in over eighty years that everyday citizens will have access to investing in early stage companies. The barriers everyday citizens have experienced in participating in early stage private investing are slowly but surely going away.
"In the 1980's, you had to call your stockbroker if you wanted to purchase shares on the public markets, and pay them big fees just for taking your order. But then we saw innovative and disruptive firms like eTrade come along and disrupt the status quo — allowing retail investors direct access to data, information, and trading on their own.
"We're seeing the same shift for investing in startups today that we saw in the 1980's for transactions in the public markets. Wealthy institutions, VCs, and Angels have had exclusive access to investing in high-growth startups, but with Title III we see the beginning of a more level playing field for information and access for everyday investors to early stage private investments.
"I anticipate that the next evolution in VC and angel investing will be realized in the form of equity crowdfunding platforms serving as Venture Capital firms and funds of their own, as investing in startups moves online and is opened up to the general public.
"This isn't to say that VC and angel investing as we know it will die. Rather, a hybrid model will emerge where VC's and Angels will lead and set the terms at which they want to invest, and then leverage equity crowdfunding platforms for distribution to a much larger set of investors."
Stacy Cowley of the New York Times
"A set of draft rules released two years ago was widely criticized and deemed almost unworkable by many in the industry, who said that compliance would be too costly and complex. The rules the S.E.C. adopted on Friday are substantially revised and address some of those concerns.
"The revised rules allow companies to raise up to $1 million in a 12-month period through a crowdfunding campaign. Companies will need to provide their potential investors with financial statements, but some first-time issuers will not be required to have those statements audited — an important concession for those companies concerned about the cost of providing audited financials."
"Perhaps the most notable change between proposed rulesand Friday's final rules is that not all issuers will be required to undergo and disclose an audited financial review (a provision that many startups argued was too costly in relation to the amount of capital being raised).
"Companies raising $100,000 or less will only need to provide financial statements certified by their own financial officers. Those raising between $100,000 and $500,000 will need to have their finances reviewed by an outside accounting firm. Those raising between $500,000 and $1 million would need their finances reviewed by an outside auditor but would not need to obtain audited financial statements (so long as this is the issuer's first time selling equity via crowdfunding)."
Georgia Quinn, CEO and co-founder of iDisclose, for Crowdfund Insider
"What took place this morning is nothing short of revolutionary. For the first time in the history of the Securities and Exchange Commission (82 years), retail investors (ordinary people without income, wealth or sophistication qualifications) will be able to invest in private businesses en mass. It is as simple as that. Until now, in order to invest in a private business, investors had to be qualified intuitional buyers, accredited investors, or limited in number (35 total) or within the confines of a particular state. No longer! Today the SEC promulgated Regulation CF to give effect to Title III of the JOBS Act, originally signed into law on April 5, 2012. Now within the parameters set forth by the SEC today, companies can seek financing from ordinary individuals without subjecting themselves to the public registration process."
DISCLOSURE: The views and opinions expressed in this article are those of the authors, and do not represent the views of equities.com. Readers should not consider statements made by the author as formal recommendations and should consult their financial advisor before making any investment decisions. To read our full disclosure, please go to: http://www.equities.com/disclaimer