You stood in line to perform your civic duty. Congratulations! Now, what does this mean for the portfolio? Polls are still open as we write this, but indications from several prognosticators we follow are pointing to a split Congress coming out of this election with Republicans maintaining control of the Senate, while Democrats take over the House. This scenario is favored by two sources in particular: Bank of America Merrill Lynch, who rates this outcome as a "high probability" according to CNBC, and FiveThirtyEight, who assigns an 82% probability to a Republican-controlled Senate and an 86% probability to a Democrat-controlled House.
So what does this mean for the market? "Markets typically like gridlock in DC," said Joseph Song, US economist at Bank of America Merrill Lynch, as cited by CNBC. A divided Congress could lead to less severe legislative action overall as the parties would be expected to disagree on major issues, while perhaps pursuing smaller actions that could be supported in a bipartisan fashion without offending constituencies on either side. History bears this out, as the best market performance has come with a Democrat in the White House and a divided Congress — resulting in 16% annual returns for the S&P 500. A Republican president with a divided Congress, which appears to be the likely scenario come Wednesday, has resulted in 12% annual returns. In either case, the returns are higher with a split Congress than when both parts of Congress are unified under one party.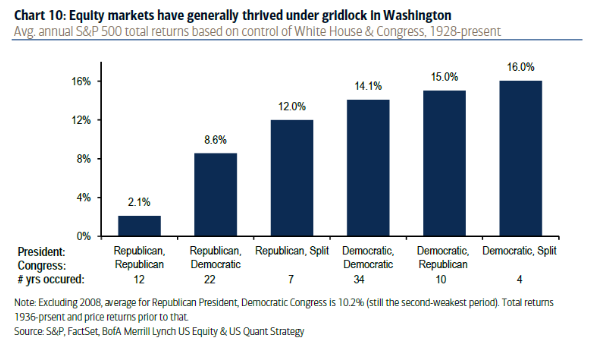 Source: Bank of America Merrill Lynch, as cited by CNBC

FiveThirtyEight, led by founder Nate Silver, famously predicted 49 of 50 states correctly in the 2008 presidential election. In the 2010 midterms, FiveThirtyEight correctly predicted 34 of the 37 Senate races and 36 of the 37 gubernatorial races, and it got all 50 states right in the 2012 presidential election. FiveThirtyEight infamously called the 2016 presidential election incorrectly, having called for a 71% probability of a Clinton victory, but it deserves credit for having the lowest confidence of a Clinton win of any major forecasting firm. Other predictions gave Clinton upward of 99% probability of victory.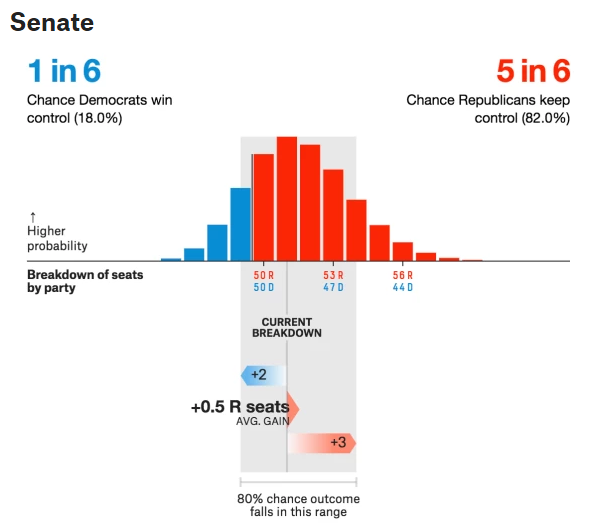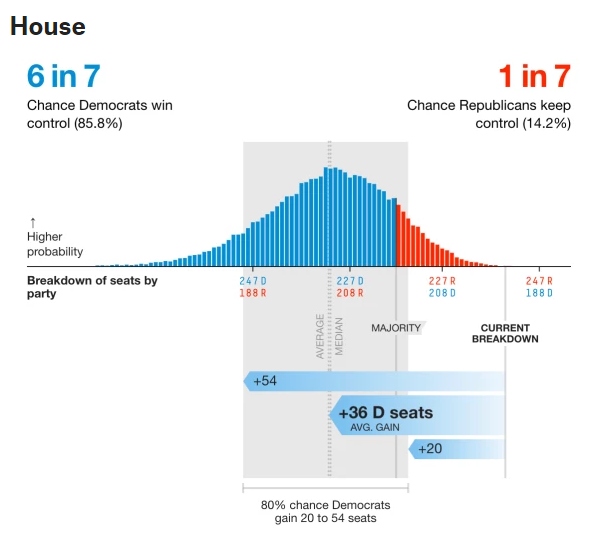 Source: FiveThirtyEight
Two sectors that we think would benefit significantly from the result of a split Congress are consumer discretionary and healthcare. In short, we are listening to what the market has been telling us for the past year. The way these sectors have been performing is a clear indication that the market perceives this election outcome to be all but decided already and that these are the sectors to own.
Consumer Discretionary
From a macro perspective, we think a broad benefit of a split Congress is that any increase in corporate and individual taxes, which the Democrats have said they would implement in order to cover investment in infrastructure if they controlled both sides of Congress, would be averted. This would broadly benefit the stock market as a whole, but we think that the consumer discretionary sector, and in particular, the multiline and specialty retailers, would reap the greatest rewards. Individuals should have more to spend, and companies won't be facing a punitive tax burden. We're not alone in thinking this, as the segment is up nearly 39% over the past year, compared to an S&P 500 return of less than 6%. Names in this sector we like include Kohls KSS, Dollar General DG and Target TGT. Two smaller companies we like in this sector are XO Group XOXO and MarineMax HZO.
Source: Fidelity
Healthcare
One of the issues that has driven the current administration is a desire to overhaul healthcare infrastructure in this country. Despite having the advantage of a unified Congress, President Trump has failed to achieve any significant change in this area, and a split Congress going forward would mean a continued logjam. Perhaps it would be a headache for legislators, but it bodes well for big pharma as no meaningful drug price legislation is likely to be passed. We continue to like healthcare as a sector, and we think healthcare providers and service companies and big pharma in particular will continue to achieve preferential returns compared to the rest of the market. We like companies including Bioscrip BIOS, CVS Health CVS and Mylan MYL. Two smaller cap names to consider are Intersect ENT XENT and Foamix Pharmaceuticals FOMX.

Source: Fidelity
Please email us at [email protected] to see our Case Studies and Testimonials.
Please click here for information on our new trading platform.
Please click here to receive our free daily newsletter.