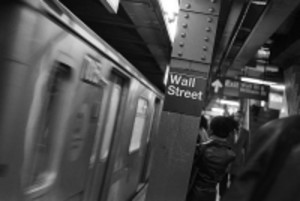 as measured by the Dow Jones Industrial Average starting Sunday night when the overnight Index was down about 100 Points through this morning action (pre-open). This volatility file that has taken a month to digest is being realized in three days. I think it's the new new. It should not be happening like this, and it may not happen again in exactly this fashion because market moves are similar - but this is bleeping cool even to an old salty dog like me who has seen all the crashes since 1987.
Here are some things to process if you are following markets or have money invested. As a starting point Sunday night, the Dow was down 100 points right after dinner about 7pm CT (which is when all real traders start looking for pre-open market clues) and fell steadily during the second session in China flashing red on every screen from CNBC to Bloomberg News to local news in Wisconsin.
By the time markets were 30 minutes from the opening bell Monday morning, the Dow registered a documented low down 1100 points on the opening print. Now here is the important fact: nearly every stock I follow and nearly each ETF indicator fell to the exact technical level where they were projected to find support.
I am not making these numbers up. Coincidentally, having written about them in articles during the previous week, I had these support levels calculated at the ready. Now the continued odd 4.0 nature of the decline was that every stock I follow, from Facebook (FB) to Netflix (NFLX) to small-cap Wine company Willamette Valley Vineyard (WVVI) , fell to a measured retracement. Odd, on top of odd, on top of unusual. I had to go back and check my written notes and pinch myself.
Using Facebook as an example, they came right to support. And it wasn't just mega-cap stocks, it was smaller stocks like WVVI who had support and value at specific prices. There was such a tight window to act that you needed to be superhuman to make this trade. You had to either be a computer or have pre-entered your order in a computer. Welcome to Trading 4.0. Humans could not mustered the emotion to make the trade yesterday, you had to rely on the machines to get you the best price, and for this salty old trader, that is not a surprise.
Markets are bouncing this morning, regaining nearly all they lost yesterday, with correction objectives met for the short term. But beware, 2015 volatility is far from over and the pullback has another downside leg to it. That said, it has been a very cool firework show since dinner Sunday night, and markets do what they always have done for me — they wake me up each morning like a muse and call me to my desk.
DISCLOSURE: The views and opinions expressed in this article are those of the authors, and do not represent the views of equities.com. Readers should not consider statements made by the author as formal recommendations and should consult their financial advisor before making any investment decisions. To read our full disclosure, please go to: http://www.equities.com/disclaimer