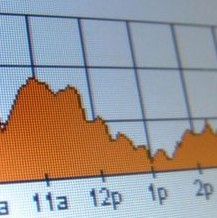 Before the open yesterday, I projected a decline in the DJIA to the 12,450 area, followed by a brief technical rally, followed by a drop to the 12,275 area. For the S&P 500, I wrote, this works out to a drop 10 1327 – a brief rally, then a drop to 1307.
The DJIA hit an intraday low of 12,443 and the S&P 1316, but only a dead cat bounce at the close.
Prior to the open, the U.S. stock-index futures were down sharply signaling a potential drop in the DJIA at the open of 150 points. However, they started firming up around 8 o'clock and may go positive by the opening bell at 9:30.
Why ? A rebound in sentiment in Europe helped as Italy and Greece sold bonds and European governments stepped up efforts to avert a further crisis.
Brooksie's Daily Stock Market blog: An edge before the open.
Tuesday, July 12, 2011 9:24 am EDT
DJIA: 12,505.76
S&P 500: 1319.49
Nasdaq Comp.: 2802.62
Russell 2000: 833.54
So, we may get the "rally" today, though without more than input from Europe, it will run out of steam starting at DJIA 12,595 (S&P 500: 1332).
What could slow this decline, or turn it back up ?
Congressional approval of a raise in the debt ceiling is a must. I think the investment community is just now becoming aware of how catastrophic failure would be. Granted, the government would have to prioritize payments, but postpone others. This is more than nerving here and abroad. Never before has the specter of NOT paying bills, already approved.
Want to continue lending money to the United States, or just doing business with its government?
Some in government say default wouldn't matter. Where do these guys/girls come from ?
Anyhow, I suspect the fear about default will prove unwarranted, common sense will prevail and the ceiling will be lifted. It must be done before August 2 to enable the proper notification, paperwork to be processed –one week – 10 days.
Another potential stopper to the decline are the economic indicators, and we have a host of them this week, including today's International Trade numbers which at $50.2 billion for May vs $43.1 billion in April were uglier than expected and stand to negatively impact GDP.
Also today are the minutes from the FOMC report; Wed.: Treasury Budget; Thurs.: Producer Price Index, Jobless Claims, Business Inventories; Fri.: Consumer Price Index, Empire State Manufacturing Survey, Industrial Production, Consumer Sentiment.
Any indication that current concerns about a serious slump in the economy are unwarranted will extract some teeth from the bears case.
Meaningful stabilization in the European sovereign debt situation will help, but don't expect it to go away, there is always the possibility of dominos tumbling and that WILL impact U.S. financial institutions.
That leaves Q2 earnings reports, which are projected to fall short of Q1's which were good enough to generate a big surge in the market, enabling the smart money an exit.
A Bloomberg survey of the S&P 500 tracks Q2 earnings as rising 13% vs a gain of 18% in Q1.
If institutions are looking beyond Q2 earnings to something better, fine. After all, they could have been adversely impacted by oil prices and other commodities, divisive issues here and abroad and a sudden softness in the economy.
If earnings disappoint, this correction will continue. If they come in better than expected, the decline is toast ! We will get a feel for this in coming weeks.
Recent Headlines :
"Is the Fix In" ? (June 16 – DJIA: 11,897)
"Quadruple Witching Friday –Buying Open Risky" (June 17 DJIA 11,961)
"Ugly ! Nevertheless, the Outlook Can Change Quickly" (June 20 – DJIA 12,004)
"No Time For Napping" – (June 21 DJIA: 12,080)
"No Hope in Sight ? Don't Bet on IT ! Prepare for Opportunity" - (June 22, DJIA: 12,190)
"Countdown to Opportunity – Start Preparing !" - (June 23 DJIA 12,109)
" BIG Money Nibbling – Stocks Beginning to Look Attractive – Negatives can Vanish" (June 24 DJIA:
12.050)
"Institutions Showing Interest – Not Reaching Yet" (June 27 DJIA: 11,934)
"Will Q2 Earnings Reports and Congressional Action on Debt Ceiling" (June 28 DJIA 12,043)
" Don't Buy News on Greek Vote – Spike to Be Short-Lived" (June 29 DJIA: 12,188)
"Again: Debt Ceiling Approval and Q2 Earnings Catalysts" (June 30 DJIA: 12,261)
"Enjoy the Fourth ! Prepare for Fireworks in Weeks Following" (July 1 DJIA: 12,414)
"Did Someone Blink ?" (July 5 DJIA 12,582)
"A Pause is Needed Here to Digest Recent Gains, Q2 Earnings Ready to Take Center Stage" (July 6
DJIA 12,569
"Whoa !" (July 8, DJIA: 12,719.49)
"July Could Be a Pivotal Month" (July 11, 2011, DJIA: 12,657
George Brooks
sensiblesleuth@gmail.com
…………………………………………………………………………………………………………
The writer of Brooksie's Daily Stock Market blog, George Brooks, is not registered as an investment advisor. Ideas expressed herein are the opinions of the writer, are for informational purposes, and are not to serve as the sole basis for any investment decision. Readers are expected to assume full responsibility for conducting their own research pursuant to investment decisions in keeping with their tolerance for risk
DISCLOSURE: The views and opinions expressed in this article are those of the authors, and do not represent the views of equities.com. Readers should not consider statements made by the author as formal recommendations and should consult their financial advisor before making any investment decisions. To read our full disclosure, please go to: http://www.equities.com/disclaimer