On Tuesday Oct. 16, the S&P 500 rallied by 59 points and increased by 2.15% on the news that Goldman Sachs GS and Morgan Stanley MS beat their third quarter earnings estimates. However, the advance was most likely a sucker rally. Tuesday's volume of 2.12 billion shares for the S&P 500 was the third lowest for any day over the last 52 weeks. The only days recording lower volume was the day after Christmas (1.97 billion) and the day before the 4th of July (1.91 billion). To put this into perspective the volume was 4.5 billion for last Wednesday's 95 point decline and was 4.9 billion for last Thursday's 47 point decline.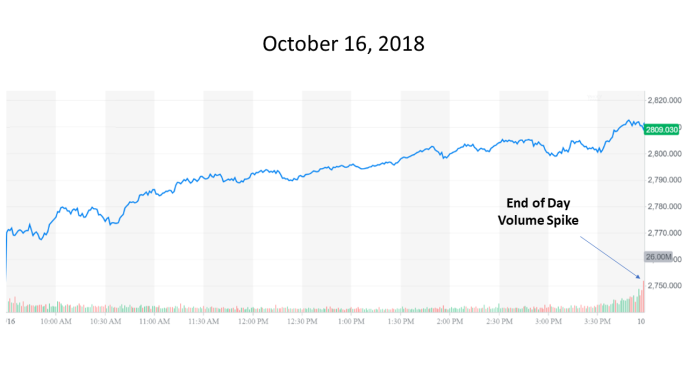 In addition to the low volume, the sell volume for the S&P 500 spiked just before the market closed. See chart below.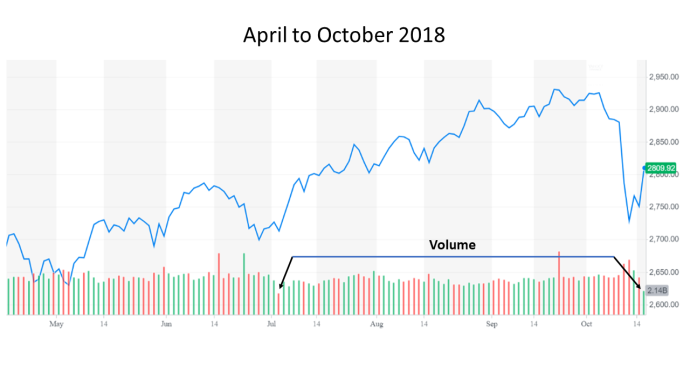 Big and impressive up days on low volume are known as sucker rallies. It's because the specialists and market makers lead unsophisticated investors to believe that the coast is clear. Now that the S&P 500 went up on light volume the probability is high that sellers will soon come out of woodwork.
A great way to capitalize on the market's volatility is to utilize the Bull & Bear Tracker's GREEN and RED signals. In my Oct. 5 article, I detailed an investing strategy to utilize the Bull & Bear Tracker's RED signal to purchase the SPXS during the last half hour of trading. As of the market's October 16th close, those who deployed my October 5th strategy were up 7.3%. Over the same eleven-days, the S&P 500 ETF (SPY) declined by 2.6%. The Bull & Bear Tracker's signals are utilized to trade the Direxion Daily S&P 500 Bull 3X Shares (SPXL) and the Direxion Daily S&P 500 Bear 3X Shares (SPXS) ETFs. For information on the Bull & Bear Tracker and how it operates go to https://bullsnbears.com/bull-bear-tracker/.
To better understand my math as well as to learn about the secular bear market and the recession-investing strategies that I am recommending from now through 2030, watch my recently taped two-part interview. A private pre-screening of my two-part interview, which will be broadcast on the Fox Business channel at the end of October is available NOW exclusively to BullsNBears.com's alert subscribers. Click here to subscribe to BullsNBears.com free alerts.
Below are my most recent must-read articles pertaining to the market heading substantially lower in the coming weeks and months:
BullsNBears.com covers the research categories listed below.