Warning Shot
Chris Lahiji Follow |

The DJIA had a good week, relative to everything else. The LD Micro Index, Nasdaq, and Russell 2000 were pummeled, all suffering >2% drops.

Dear Patrons,

I hope that everyone is safe, well, and productive.

This week, we had the great fortune of being in San Diego, home of the Padres.
While San Diego may be one of the most beautiful cities in the world, it has not been a good place to be a sports fan over the past three decades.
Let me take that back. It has been down right melancholic.
With the Washington Capitals securing a Stanley Cup back in June, San Diego has the sad distinction of not having a sports title since 1963.
It certainly did not help when the Chargers left the city, because they were playing to an empty stadium in Los Angeles last year.
We met with five fantastic companies, had dinner with one of the shrewdest private guys in the space, and also met with the next generation of investors.
A lot of speculation has been made about a company that several "hawk-eyed" attendees noticed at the Invitational this year. For those of you who requested private meetings but did not show up, you missed out on absolutely nothing interesting.
Lahiji Fishing Services (private) is headquartered out of Del Mar, home of the legendary skateboarder Tony Hawk, and Desi Arnaz, who moved to the city after his divorce with Lucille Ball and lived there until his death.
L.F.S. is a unique name that will offset the loss of West Marine (WMAR) last year to private equity firm, Monomoy Capital. This aquatic entity will be making landfall in December, and the presentation will be given by a man that does not need an introduction. For full disclosure, it is not me.
Even with my risk tolerance, I'm staying the hell away from current management.
Employment: CVS Health To Hire 25,000 in Virtual Career Event Friday September 24
Please pray for those that are dealing with the wildfires in our state. The entire city of Redding has been destroyed by a fire vortex because of the winds. It is serious, and the impact is going to be severe.
Sincerely,

Chris Lahiji
Impact.
Highlighting Anomalies Amongst the Biggest Gainers & Volume Leaders.
by Christian Galatti (Phase 4 Research)
1. The Importance of Valuation for Bridgepoint Education (BPI) - Earnings Beat Allows Enterprise Value to Drive the Stock.
Bridgepoint has been under pressure, not only because it missed the last two quarters; it also operates in the for-profit education space. It has been almost a decade since the stimulus offered easy money for their growth. Without it there has been a steady downward path, until this quarter. A space that has bankruptcies gets valued differently, and BPI owns the University of the Rockies.
University of the Rockies is a graduate school of the social and behavioral sciences. An advanced institution, University of the Rockies shapes professionals to be tomorrow's thought leaders. Small by design, University of the Rockies is an intimate learning environment for professionals who are passionate about commanding excellence. University of the Rockies offers unique and highly specialized programs, access to industry experts, clinical programs for practical experience on campus, and research and publishing opportunities.
BPI went up 64% for the week, and it's still under 1x Sales due to the stigma. With $190M in cash (& restricted cash, Q2) and no long term debt, EV stands at $140M or about .3x EV/S (@ at 335M market cap.) With an earnings beat the stock reacted immediately to the deep value proposition. Rather than being EPS driven, BPI is now enterprise value driven. Sometimes valuation matters.
2. Dover Downs Merges with Twin River Holdings (DDE) - A Reverse Shell Merge is Dead On.
July 22, 2018: Dover Downs Gaming & Entertainment, Inc. (NYSE: DDE) and Twin River Worldwide Holdings, Inc. announced today that they have entered into a definitive merger agreement. The proposed transaction will transform Twin River into a publicly traded company with strategically placed gaming and entertainment holdings throughout the United States.
The merger contemplates that Dover Downs stockholders will exchange their Dover Downs stock for Twin River common shares representing 7.225% of the equity in the combined company at closing. (SEC Link.)
Dover Downs rose 45% for the week because Twin River Worldwide Holdings engineered a great way to go public. With peers like PNK, PENN, and BYD, trading at near 20x earnings, the new Dover Downs should do the same. Placing the private Twin River stock price at approximately $130 (20 x $6.50 EPS.) One can see that the Market tried immediately to figure out the equity arbitrage.
At .0225 DDE per Twin River it looks like the 45% move was dead on. The calculation comes out to exactly where the stock closed on Friday…$2.92. The market is an amazing calculator, an open artificial intelligence that's crowdsourced to find the truth. Which in our world is called price discovery.
See slides for more merger details (link to SEC document)
Farmland Partners ($FPI) Files Lawsuit Against Rota Fortunae and Co-Conspirators for "Short and Distort" Attack
Microcap truly has everything: Micron Waste ($MWM.CN) Announces Cannabis Industry Expert Judges for Cannabis Waste Digester Naming Contest
Liberty Tax lost its chairman and founder, numerous board members, and yet one resigning board member will remain on as CEO. #microcap
SEC Charges Failed Fyre Festival Founder and Others With $27.4 Million Offering Fraud
AGT Food and Ingredients ($AGT.TO) Announces Receipt of a Proposal to Effect a Management Buyout
TRT Holdings, Inc. Exploring Possible Sale Of Gold's Gym
Eventbrite Files Confidentially for IPO
Disney and Fox shareholders approve blockbuster $71-billion deal
$TZOO was down big on Q2 results
CV Sciences, Inc. ($CVSI) Pre-Announces Record Second Quarter 2018 Sales - Company Expects to Report Sales of $12.3 Million, up 203% from the same quarter in 2017
DHX Media ($DHXM) Closes Sale to Sony of Minority Stake in Peanuts - has indirectly purchased 49% of DHX Media's 80% interest in Peanuts for C$235.6 million in cash
AudioCodes ($AUDC) Reports Second Quarter 2018 Results - Quarterly GAAP net income was $2.4 million, or $0.08 per diluted share
PCM ($PCMI) rose on Q2 results - Raises Gross Margin and Non-GAAP Earnings Guidance
RMS Medical ($REPR) Pre-Announces Strong Quarterly Sales Growth and Change in Leadership
JAKKS Pacific ($JAKK) Reports Second Quarter 2018 Financial Results - net loss of $18.6m
Twitter ($TWTR) plummeted after reporting a decline in monthly active users, despite big growth in EBITDA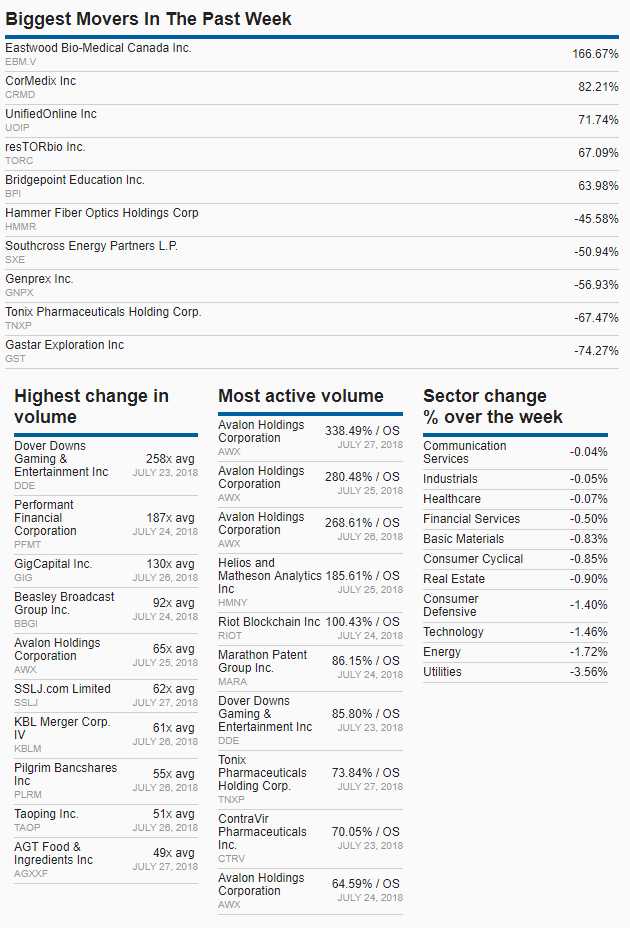 DISCLOSURE: The views and opinions expressed in this article are those of the authors, and do not necessarily represent the views of equities.com. Readers should not consider statements made by the author as formal recommendations and should consult their financial advisor before making any investment decisions. To read our full disclosure, please go to: http://www.equities.com/disclaimer.
Market Movers
Sponsored Financial Content