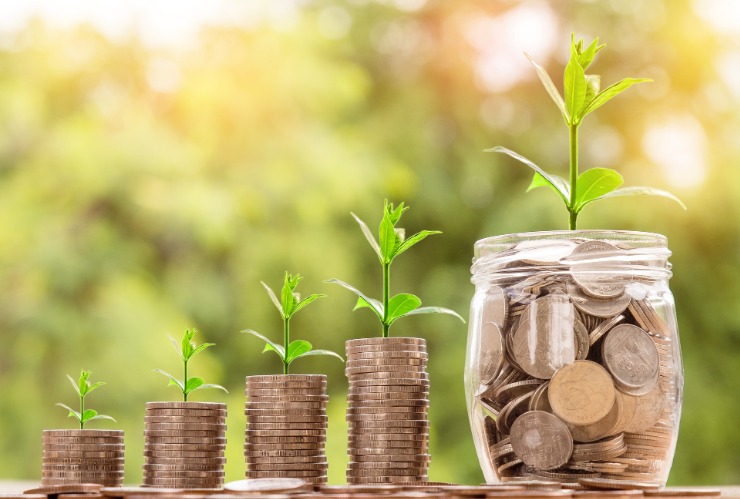 Chances are you're overlooking an entire class of safe, high-yield stocks…
These stocks have dividend yields averaging 5.7%. Yet very few retail investors own them.
That's a shame. It means you're probably leaving a lot of (predictable) money on the table—a thought income investors should cringe at.
If you haven't figured it out already, I'm talking about preferred stocks, the bond-like cousin of ordinary "common stocks."
As I'll explain, today's interest rate environment makes now a great time to buy preferred stocks.
The Nuts 'n Bolts
There are two main types of stock: common and preferred.
When you own preferred shares, you own a slice of the company. And the value of that slice—the share price—can go up or down over time. In that sense, it's just like owning common stock.
However, preferred stocks also pay a fixed dividend. This makes them a bit like bonds.
Note that not all publicly traded companies issue preferred shares. It's most common among banks and other financial firms.
Also, you don't need to jump through any special hoops to buy preferred shares. They're accessible through an ordinary brokerage account.
The Low-Volatility Advantage
Preferred stocks tend to be much more stable than common stocks. This is a key advantage, especially for income investors looking to minimize surprises.
Take a look at Bank of America's BAC preferred and common shares over the past year, for instance. Its preferred shares (the green line in the next chart), fluctuated a lot less than its common shares (the black line).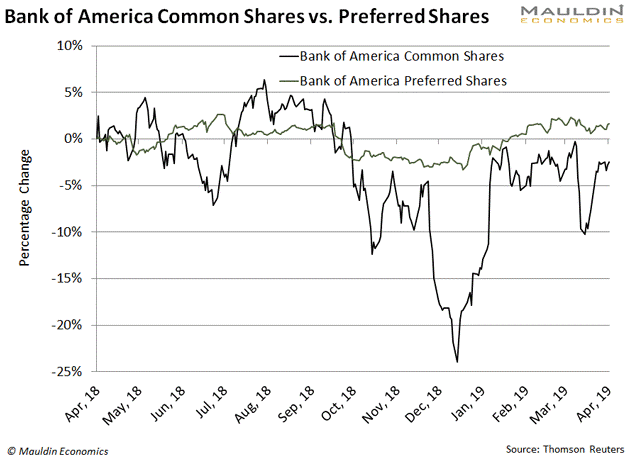 Dividend Yields in the 5%-plus Range
Preferred stocks also offer much higher dividend yields than common stocks.
Take the iShares Preferred Securities ETF PFF, for example. It's a good proxy for preferred stocks in general.
As you can see in the table below, PFF's dividend yield is almost two-thirds higher than the yield on the iShares Select Dividend ETF (DVY), our proxy for high-dividend-paying common stocks.
PFF's yield is also over three times higher than the yield on the S&P 500.

On top of that, preferred stock dividends are also safer than common stock dividends.
Let's circle back to our Bank of America example.
At the moment, Bank of America common stock pays a dividend of $0.60 per share. Now, say the company hits a rough patch and cuts that dividend.
This would be bad for investors holding common shares. But it wouldn't affect those holding preferred shares.
Remember, preferred stocks pay a fixed dividend, usually every month or quarter. Again, this makes them a bit like bonds. And the company has to satisfy these payments before it pays a dividend on its common stock.
Interest Rates Matter Here
Like bonds, preferred stocks are also very sensitive to interest rates.
When interest rates go up, preferred stock values go down. The opposite is also true. When interest rates go down, preferred stock values go up.
Let me walk you through an example.
Say you bought preferred stock in McDonald's Corp. with an annual dividend set at $4 per share. You'd continue to receive that dividend for as long as you held your shares. (In some cases, the company can call in the stock after a fixed date.)
Now, imagine this $4 annual dividend translates to a 5% dividend yield. And, when you bought your preferred stock, the 10-year Treasury note was yielding 1.5%.
At that point, you were sitting pretty.
Then the Federal Reserve decided to raise interest rates. This increased the yield on the 10-year Treasury note to 3.0%.
Since the 10-year Treasury yield, which comes virtually risk-free, shot up, but the yield on McDonald's preferred stock stayed at 5%, your McDonald's preferred stock is now less valuable.
That's not good, which is why you need to pay close attention to interest rates before buying preferred stocks.
Interest Rates Are Not Going Up Anytime Soon
If you own preferred stocks, interest rates are your friend right now.
Here's why…
The Fed kept interest rates near 0% from 2008 to 2016. This made it much cheaper for businesses to borrow money, pushing up the prices of things like houses and stocks.
Then the Fed started to hike interest rates. This continued for nearly two years.
Eventually, the weight of higher rates—and the Fed signalling they would head even higher—became too much to bear. The combination sent stocks plummeting 20% from October to December last year.
The big market selloff seemed to spook the Fed into abandoning higher interest rates. At this point, I'm confident the Fed won't raise interest rates for at least another two years. If anything, I think we can expect lower rates within that timeframe.
This all bodes well for preferred stocks. I think they're more attractive now than ever.
My 3 Favorite Dividend Stocks for 2019
I've recently put together a special report where I reveal some of my favorite bulletproof dividend stocks for 2019. It's free for a limited time. Claim your copy now.