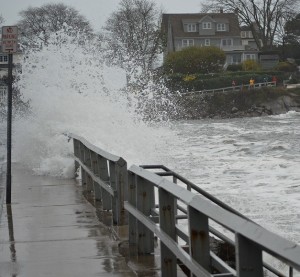 For the first time since 1888 when a snowstorm with 40-foot drifts bombarded New York, the financial markets will remain closed for consecutive days due to weather. Hurricane Sandy, a super storm of epic proportion about 1,000 miles in diameter, has wreaked havoc across the eastern United States; leaving structures in ruin with floods, snowstorms, downed trees and fire.
Several states remain in a "state of emergency" with evacuations in effect and the streets barren aside from first responders looking for any citizens who failed to heed warnings to leave the area.
Officially, the storm dubbed "Frankenstorm" by some, made landfall last night at 8 PM ET near Atlantic City, New Jersey with winds at 80 miles per hour. This timing unfortunately coincided with high tides along the eastern seaboard, sending water pouring over retention walls and sand dunes. Sandy invaded the most populous part of the United States with such force that rivers were expected to flow backwards.
The storm brought a record water surge of more than 13 feet to downtown Manhattan, according to the National Weather Service. Hurricane Donna in 1960 set previous record high surges of 10 feet.
Experts said that it was not the sheer strength of Sandy that made it unique, but rather its scope, with cities from Maine to South Carolina feeling a wrath that continues to blast through inland states as far as the Illinois.
A sampling of the results as of Tuesday morning:
---
---
This is just a sampling of the carnage. Damages are already forecasted to be in excess of $10 billion, but the slow-moving storm is still making its way across the States. Blizzards are hitting Maryland and West Virginia, with as much of 15 inches already falling on parts of the country and more to come. Flooding is expected in the Great Lakes area with waves in excess of 20 feet being predicted for Lake Michigan and Lake Huron, threatening major cities like Cleveland and Chicago.
DISCLOSURE: The views and opinions expressed in this article are those of the authors, and do not represent the views of equities.com. Readers should not consider statements made by the author as formal recommendations and should consult their financial advisor before making any investment decisions. To read our full disclosure, please go to: http://www.equities.com/disclaimer