Voyager Therapeutics Signs Deal with Neurocrine for Parkinson's Disease and Friedreich's Ataxia
Edward Kim Follow |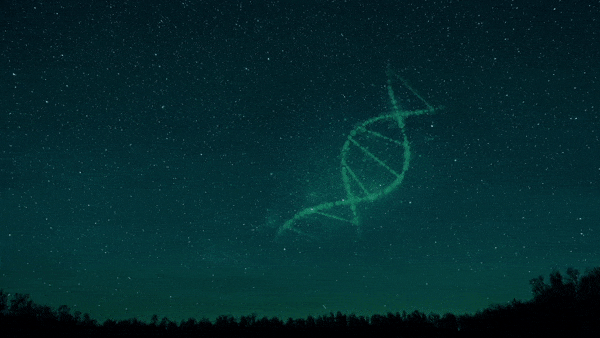 ~ Neurocrine Biosciences to pay Voyager Therapeutics $165 million upfront + up to $1.7 billion in potential milestone payments for collaboration in Parkinson's disease and Friedreich's ataxia ~

According to the Parkinson's Foundation, about 60,000 people are diagnosed with Parkinson's disease each year in the US, and there will be nearly one million people in the US living with Parkinson's disease by the year 2020—more than the number of people diagnosed with multiple sclerosis, muscular dystrophy and Lou Gehrig's disease combined. Worldwide, more than 10 million people have Parkinson's disease. While incidence does increase with age, the Parkinson's Foundation estimates that 4% of people with the disease are diagnosed before they turn 50 years old.
Friedreich's ataxia is a rare genetic disease of the nervous system that causes progressive damage and problems with movement. It is the most common form of hereditary ataxia in the US, according to the National Institute of Neurological Disorders and Stroke, part of the NIH, affecting about one in every 50,000 people. Friedreich's ataxia usually begins between the ages of 5 and 15, as nerve fibers in the spinal cord and peripheral nerves degenerate and become thinner. Degeneration can also occur in the cerebellum, and one-third of affected individuals will develop hypertrophic cardiomyopathy, an enlargening and weakening of the heart muscle. Some patients may also develop diabetes or scoliosis.
Cambridge, Massachusetts, based Voyager Therapeutics VYGR is developing gene therapy treatments for severe neurological diseases, leveraging its expertise in adeno-associated virus (AAV) vector engineering and optimization. The company announced a strategic collaboration with Neurocrine Biosciences NBIX focused on the development and commercialization of Voyager's gene therapy programs for Parkinson's disease and Friedreich's ataxia, as well as rights to two additional programs to be determined.
Neurocrine will pay Voyager $165 million in cash, which includes a $115 million upfront payment plus a $50 million equity investment based on a price of $11.96 per VYGR share. Critically, Neurocrine will pay for all costs incurred in these collaboration programs, including the Phase 2-3 pivotal program for VY-AADC, Voyager's Parkinson's disease program, and the Phase 1 clinical trial of VY-FXN01, Voyager's Friedreich's ataxia program. After the respective data readouts, Voyager will have the option to co-commercialize either program with Neurocrine on a cost- and profit-sharing basis or to grant Neurocrine with global rights (VY-AADC) or US rights (VY-FXN01) in exchange for milestone payments and royalties. In addition, Voyager is eligible to earn up to $1.7 billion in development, regulatory and commercial milestone payments across the four programs.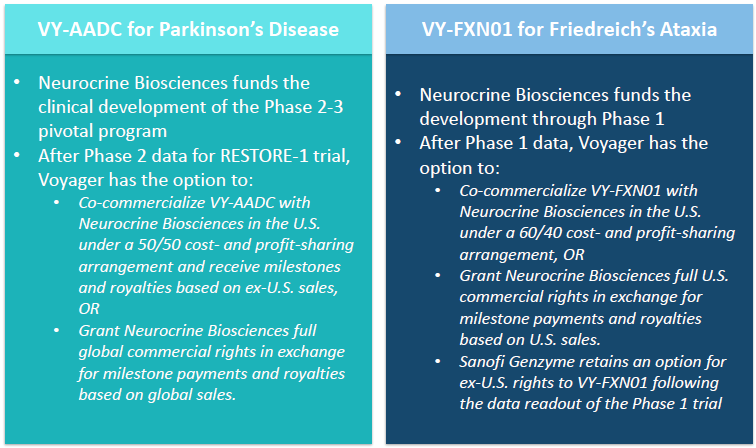 Source: Voyager Therapeutics presentation, Jan. 29, 2019

The partnership with Voyager allows us to expand our clinical development pipeline addressing neurological disorders, leverage Voyager's expertise in CNS-focused gene therapy, and develop potential treatments for diseases, such as Parkinson's disease and Friedreich's ataxia, which have significant unmet clinical needs.

- Kevin Gorman, PhD, CEO, Neurocrine Biosciences.
The FDA granted Regenerative Medicine Advanced Therapy (RMAT) designation for VY-AADC for the treatment of Parkinson's disease in patients with motor fluctuations who are refractory to medical management. RMAT designation was granted based on clinical data from the Phase 1b trial, in which VY-AADC showed "robust and durable improvements" in motor function along with substantial reductions in the use of levodopa and other Parkinson's disease medications.

In a preclinical model of Friedreich's ataxia, Voyager's gene therapy vector durably improved ataxia and sensory function, and showed dose-dependent and durable responses for more than 10 months after a single administration, preventing central and peripheral disease progression.

Neurocrine Biosciences is an ideal partner with its proven expertise developing and commercializing treatments for movement disorders and other neurological diseases. This is a transformational collaboration for Voyager that greatly enhances our efforts towards becoming the leading, fully-integrated gene therapy company focused on severe neurological diseases while allowing us to continue to invest in our additional pipeline programs and platform.

- Andre Turenne, President and CEO, Voyager Therapeutics.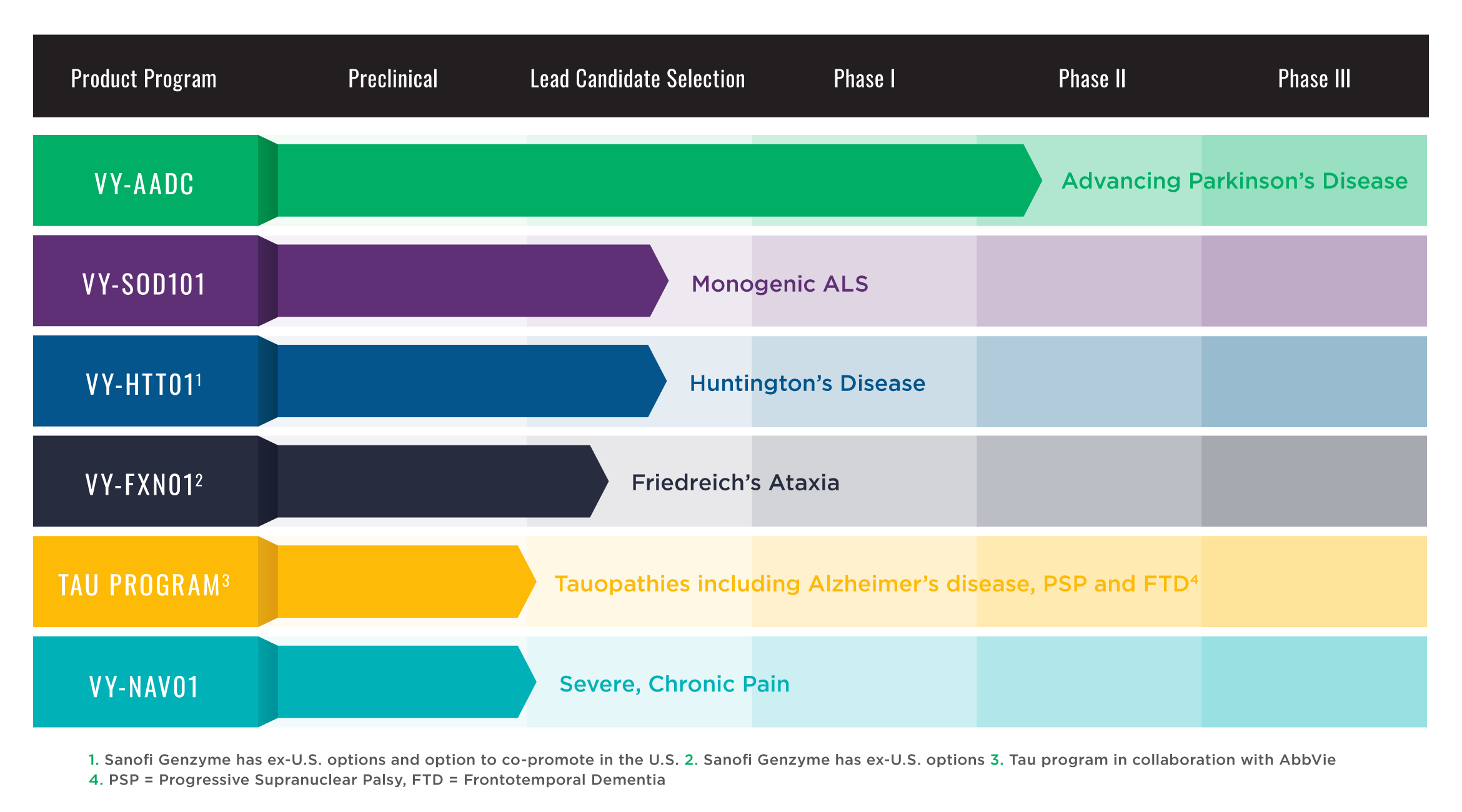 Source: Voyager Therapeutics website

Investment issues to consider
$165 milliion in upfront cash is a notably large amount for these types of milestone-dependent transactions. Voyager was in good shape anyway, with $180 million in cash, equivalents and marketable securities as of September 30, 2018. When it announced its Q3 2018 results, the company said it expected to end 2018 with "above the previously guided range of $125 million to $135 million" in cash, equivalents and marketable securities, which would cover operations into early 2020. This Neurocrine deal extends the cash runway into 2022.
Voyager stock has completed a round trip in the past 18 months, from the $8.50 level to north of $30.00 and back down below $8.50 a couple of weeks ago. The stock spiked this morning to breach $13.00 before settling down to $11.00 in late afternoon trading. That puts the market capitalization of this company at just under $360 million, which seems modest given where the stock has been, the company's pipeline, the cash in the bank and Neurocrine's vote of confidence. Further, the company outlined today a full list of milestones that it expects to achieve in 2019. We would recommend that investors keep close watch over this list.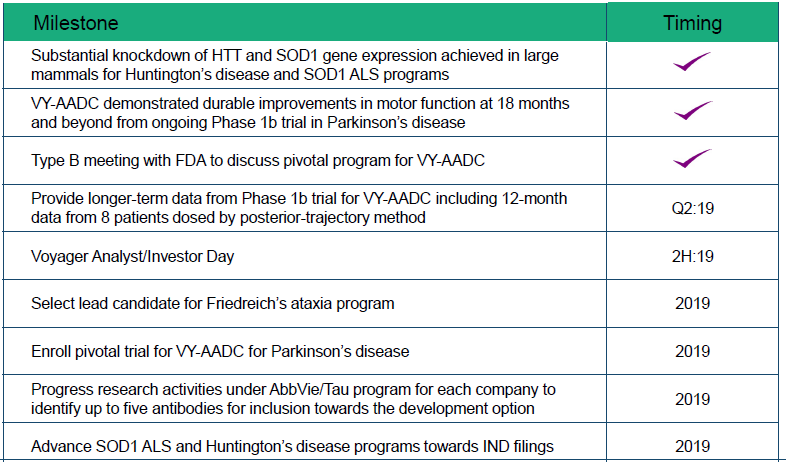 Source: Voyager Therapeutics presentation, Jan. 29, 2019

Please email us at content@equities.com to see our Case Studies and Testimonials.
Please click here for information on our trading platform.

Please click here to see our daily newsletter.
Stock price data is provided by IEX Cloud on a 15-minute delayed basis. Chart price data is provided by TradingView on a 15-minute delayed basis.
DISCLOSURE: The author holds no positions or any other beneficial interest in, and has not received any compensation from, the companies mentioned in this article.

---
The views and opinions expressed in this article are those of the authors, and do not necessarily represent the views of equities.com. Readers should not consider statements made by the author as formal recommendations and should consult their financial advisor before making any investment decisions. To read our full disclosure, please go to: http://www.equities.com/disclaimer.
Trending Articles
Market Movers
Sponsored Financial Content