We highlighted Voyager Therapeutics (Nasdaq: VYGR) and its gene therapy programs in this space in July 2017. While the company's nearest term prospects lie in the field of Parkinson's disease research (the FDA cleared Voyager's Investigational New Drug application for VY-AADC, its lead Parkinson's program, in January 2018, enabling the company to formally initiate clinical trial sites, screen and begin dosing patients for its pivotal Phase 2-3 program), Voyager also has programs targeting multiple other neurological diseases. The company's anti-tau program for Alzheimer's disease received significant validation with the announcement today that it has entered into an exclusive strategic collaboration and option agreement with AbbVie (NYSE: ABBV) to develop and commercialize vectorized antibodies directed against tau proteins.
Voyager will receive:
Upfront cash payment of $69 million
and potentially may receive:
Up to $155 million in potential preclinical and Phase 1 option payments
Up to $895 million in development and regulatory milestones for each vectorized tau antibody compound
Tiered royalties on the global commercial net sales of the vectorized antibodies for tauopathies, including Alzheimer's disease and other neurodegenerative diseases.
Source: CNN
This collaboration combines AbbVie's monoclonal antibody expertise, global clinical development and commercial capabilities with Voyager's gene therapy platform and expertise that enables generating adeno-associated viral (AAV) vectors for the treatment of neurodegenerative diseases.
In healthy individuals, tau is an abundant protein in the brain that promotes cellular stability and function. In the diseased brain, altered tau accumulates, resulting in impaired brain function and neuronal cell loss. The progressive spread of abnormal tau in the brain closely correlates with progressive neurodegeneration and symptom severity. However, one of the current limitations with the use of weekly or biweekly infusions of biologic therapies for neurodegenerative diseases is that only a small amount of drug is able to make its way into the brain. This collaboration seeks to develop a potential one-time treatment using Voyager's gene therapy platform to reduce tau pathology through the delivery of an AAV vector antibody that encodes the genetic instructions to produce anti-tau antibodies within the brain.
AbbVie is focused on developing treatments to meet the crushing public health crisis presented by Alzheimer's and other neurodegenerative diseases. Voyager's vectorized antibody platform presents an innovative approach to addressing challenges in treating neurological disorders associated with the administration of biologic therapies. This collaboration has the potential to address the needs of patients who live with conditions such as Alzheimer's disease, progressive supranuclear palsy and frontotemporal dementia.
– Jim Sullivan, PhD, VP Pharmaceutical Discovery, AbbVie
Combining AbbVie's leadership and deep expertise in monoclonal antibody discovery, development and commercialization and our ability to vectorize monoclonal antibodies is a natural fit, and we are very pleased to collaborate with AbbVie to advance this strategy towards the clinic in an effort to bring innovative treatments to patients. This collaboration also represents an important advance in our strategy to leverage our AAV gene therapy platform and programs through partnerships with biopharmaceutical companies that bring complementary expertise and capabilities, in addition to capital.
– Steven Paul, MD, President and CEO, Voyager
Under the terms of the collaboration and option agreement, Voyager will perform research and preclinical development of vectorized antibodies directed against tau, after which AbbVie may select one or more vectorized antibodies to proceed into IND-enabling studies and clinical development. Voyager will be responsible for the research, IND-enabling and Phase 1 studies activities and costs. Following completion of Phase 1 clinical development, AbbVie has an option to license the vectorized tau antibody program and would then lead further clinical development and global commercialization for tauopathies, including Alzheimer's disease and other neurodegenerative diseases. Voyager has an option to share in the costs of clinical development for higher royalty rates.
Voyager Therapeutics' Pipeline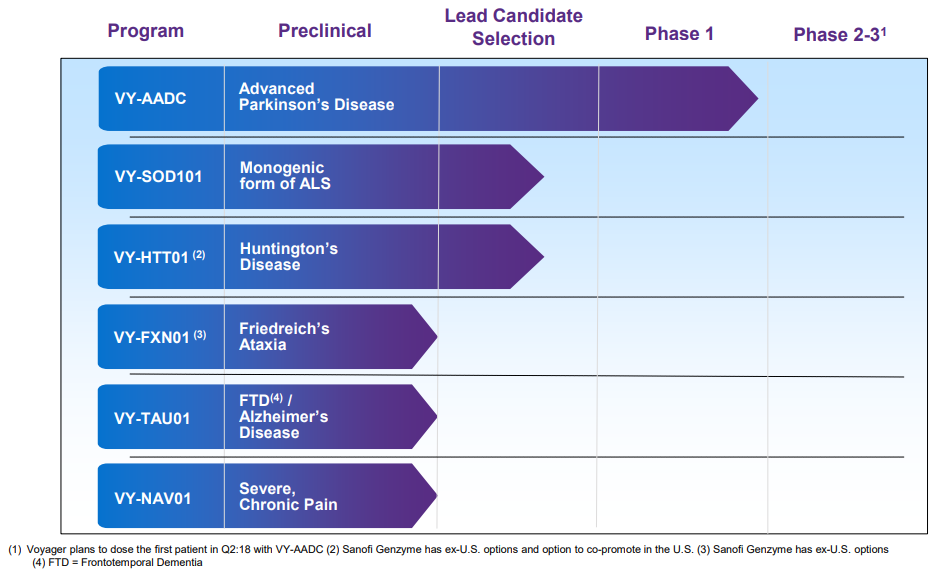 Source: Voyager Therapeutics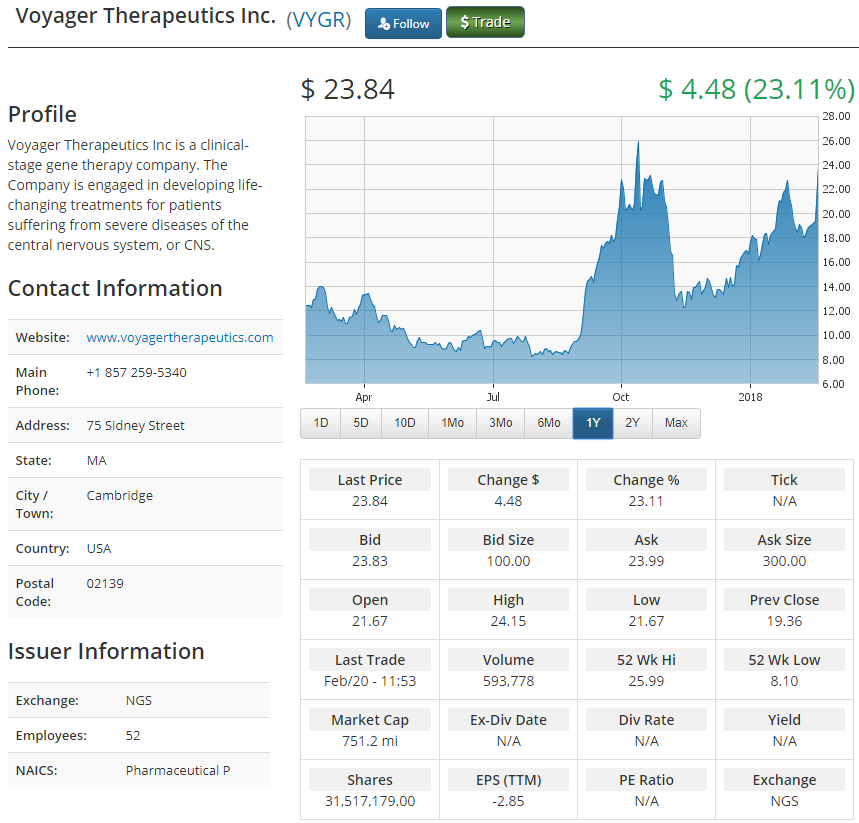 Please email us at [email protected] see our Case Studies and Testimonials.
Please click here for information on our new trading platform.