After skin cancer, prostate cancer is the most common cancer among American men, according to the American Cancer Society. Nearly 165,000 new cases of prostate cancer will be diagnosed in 2018, and over 29,400 deaths from prostate cancer will occur. About one out of nine men will be diagnosed with prostate cancer during his lifetime. About 60% of cases are diagnosed in men aged 65 or older. As with all cancers, early detection greatly increases the chances of successful treatment and long-term survival.
VolitionRx VNRX is developing simple, cost effective blood tests that diagnose a range of cancers. The company's tests are based on its proprietary NuQ platform, which is based on the identification and measurement of nucleosomes in the bloodstream or other bodily fluids. Nucleosomes are the body's fundamental units of chromatin, each containing about 146 base pairs of DNA and eight proteins called histones.
The company announced today that preliminary data from a multi-centered proof of concept study of 84 men showed that a panel of five different assays identified 94% of high-grade prostate cancers that require treatment vs 33% identified by Prostate-Specific Antigen (PSA) testing alone.
Source: VolitionRx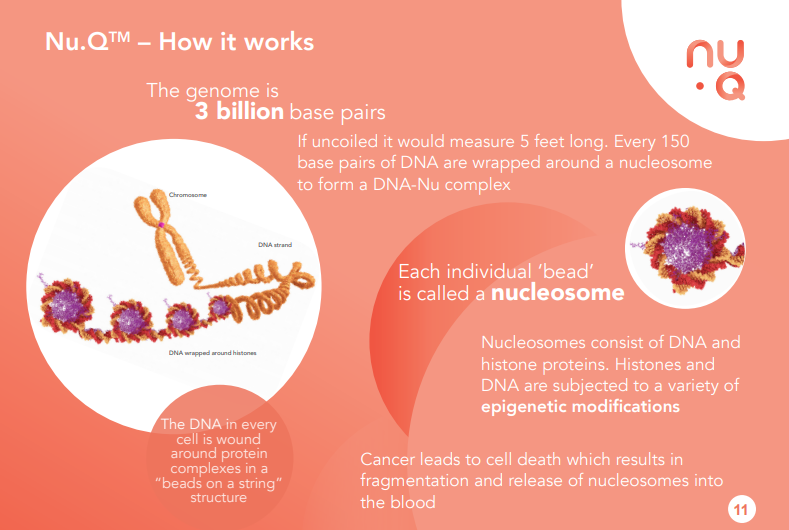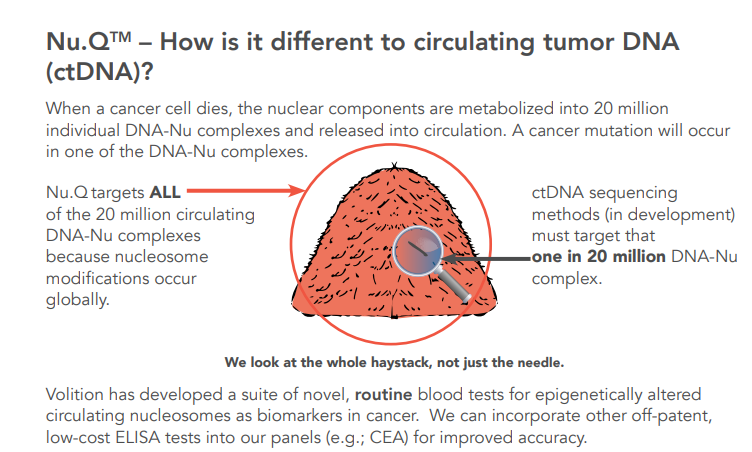 Source: VolitionRx, May 2018
Volition is based in Isnes, Belgium, with offices in London, Texas and Singapore. The company's initial product candidates are targeted at detecting colorectal, pancreatic and lung cancers, and are currently being tested in trials with over 100,000 patient samples. Colorectal cancer kills 700,000 people worldwide each year. CEO Cameron Reynolds has stated that Volition aims to launch its colorectal cancer diagnostic in Europe and Asia in 2019, with a US launch to come in 2020 or 2021.
In the prostate cancer study, blood samples were tested from men referred for prostate biopsy in three Belgian hospitals. The men were grouped by biopsy findings as having (1) no cancer but mostly elevated PSA levels, (2) low-grade cancer or (3) high-grade cancer. The samples were tested with a panel of five assays: PSA, two of Volition's proprietary assays and two inflammatory biomarkers. The assay results correlated with the Gleason Score, which is one of the main predictors for aggressive prostate cancer determined on biopsy. This suggests the assays may provide better risk stratification than that available using PSA tests alone for men with actual or suspected prostate cancer, leading to potentially better patient management and fewer unnecessary biopsies.
The preliminary data from this study showed that Volition's panel of assays identified men with potentially lethal high-grade prostate cancer with much greater accuracy than PSA alone. Based on this data, we believe that this test could assist clinicians in more accurate patient selection for prostate biopsy and treatment and substantially reduce the amount of unnecessary procedures in men with low-grade tumors or no tumor. The next step is to confirm these statistically significant findings in independent larger clinical trials.
Dr. Jake Micallef, Chief Scientific Officer at Volition.
A non-invasive test to help in the risk stratification of men with suspected or actual prostate cancer will be a major step forward in the management of this disease. The correlation of the panel blood test results with Gleason Score shows great promise in this regard.
– Professor Thierry Roumeguere, Principal Investigator, Head of Urological Services, Erasme Hospital, Brussels.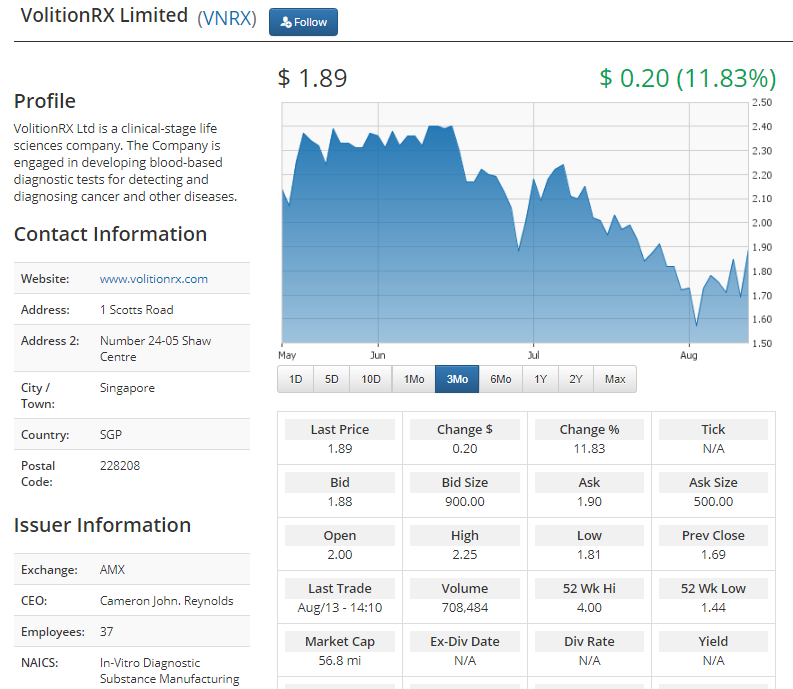 Please email us at [email protected] to see our Case Studies and Testimonials.
Please click here for information on our new trading platform.
Please click here to see our weekly newsletter.