Viz.ai Gets FDA Approval for Early Warning System for Stroke Care
Edward Kim Follow |

According to the CDC, stroke is the fifth leading cause of death in the US, killing about 140,000 people each year. More than 795,000 people in the US have a stroke each year, adding up to an estimated $34 billion in health care services, medicines to treat stroke and missed days of work. Detecting signs of a potential stroke early can be critically important to preventing long term disability or death. Patients who arrive at the emergency room within three hours of their first symptoms often have less disability than those who received delayed care.

Viz.ai, based in San Francisco and Tel Aviv, is developing "direct-to-intervention" healthcare treatment systems. The company received FDA approval yesterday to market its ContaCT application, clinical decision support software designed to analyze computed tomography (CT) results that may notify providers of a potential stroke in their patients.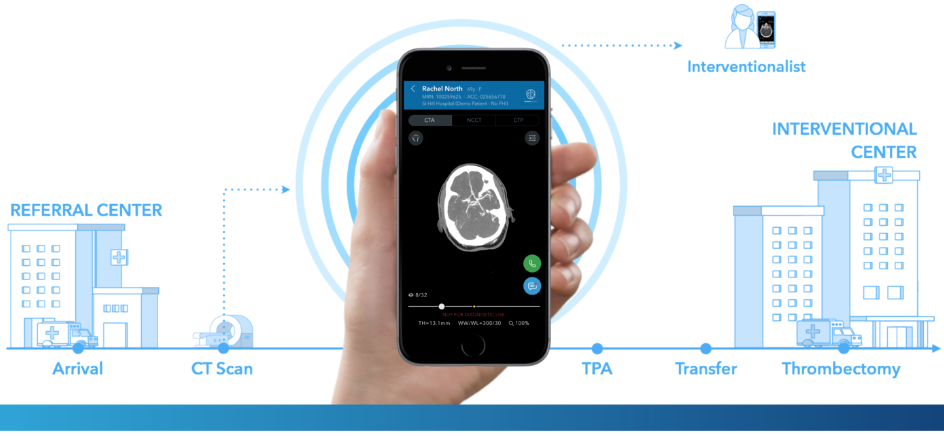 Source: Viz.ai

Strokes can cause serious and irreversible damage to patients. The software device could benefit patients by notifying a specialist earlier thereby decreasing the time to treatment. Faster treatment may lessen the extent or progression of a stroke.
- Robert Ochs, PhD, acting deputy director for radiological health, Office of In Vitro Diagnostics and Radiological Health, FDA's Center for Devices and Radiological Health.
Viz.Ai's ContaCT system is designed to analyze CT images of the brain and send a text notification to a neurovascular specialist if a suspected large vessel blockage has been identified. The algorithm will automatically notify the specialist during the same time the first-line provider is conducting a standard review of the images, potentially involving the specialist sooner than the usual standard of care in which patients wait for a radiologist to review CT images and notify a neurovascular specialist. The notification can be sent to a mobile device, such as a smart phone or tablet, but the specialist still needs to review the images on a clinical workstation.
We note the rapid progress that Viz.ai has made since closing its $7.5 million seed round of financing in just May 2017. That round was led by DHVC (Danhua Capital), Innovation Endeavors (founded by Eric Schmidt of Alphabet) and AME Cloud Ventures (led by Jerry Yang of Yahoo fame). The company announced in January 2018 that it received the CE (Conformité Européenne) Mark of its system, signifying that it complies with the essential requirements of the relevant European health, safety and environmental protection legislation.
Please email us at content@equities.com to see our Case Studies and Testimonials.
Please click here if you would like information on our new trading platform.
Please click here if you would like to see our weekly newsletter.
DISCLOSURE: The views and opinions expressed in this article are those of the authors, and do not necessarily represent the views of equities.com. Readers should not consider statements made by the author as formal recommendations and should consult their financial advisor before making any investment decisions. To read our full disclosure, please go to: http://www.equities.com/disclaimer.
Trending Articles
Market Movers
Sponsored Financial Content