Over the past several years, athleisure apparel has taken the retail industry by storm. A portmanteau of "athletic" and "leisure," the look is defined as athletic clothes that can be worn casually. It has since permeated the fashion industry so completely that even non-active consumers have adopted the stylish trend to their everyday wardrobe.
These days, popular culture and consumers have embraced this new dress code of comfort – presently a $44 billion industry – for a number of essential reasons. First, the importance of healthy living is a key driver in this space. Millennials, a dominant force in the athleisure movement, value exercising and eating right more than previous generations. Second, athleisure wear is created from high-performance, technical athletic wear functional enough for modern, busy lives.
"I often get asked whether the bubble around athleisure will burst anytime soon, and the answer is no," said Matt Powell, an advisor for the NPD Group.
But as a result of the immense popularity of athleisure wear, fashion has overtaken function in the athletic apparel market, with luxury houses like Louis Vuitton, Fendi, Dior and Chanel all jumping on the bandwagon along with fast-fashion retailers like H&M and Zara. This has left some serious athletes confused as to what apparel on the market can actually stand up to intense training and which ones are best suited for just looking the part.
It's a primary reason why major athletes, such as mixed martial arts fighters and serious CrossFitters, have been flocking to the Virus Performance Apparel brand, which offers a range of cutting-edge sportswear specifically engineered for training at a high level. The company has infused some novel technology into its products, designed to enhance and accommodate the very specific needs of the athletes who wear them.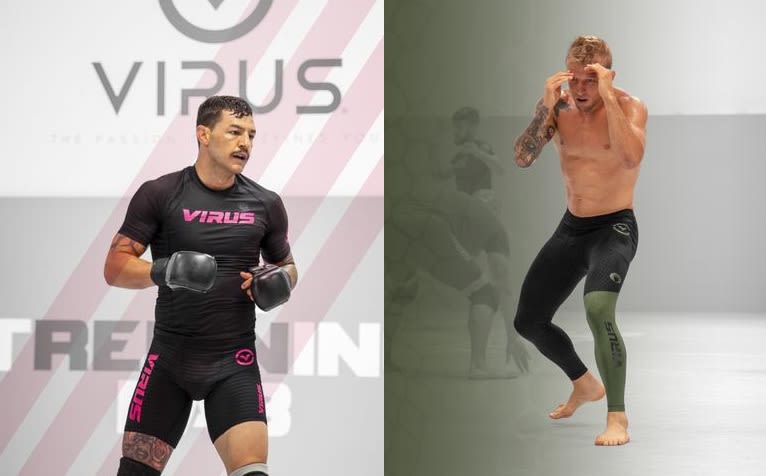 Professional MMA fighters Cub Swanson (left) and TJ Dillashaw (Right)
Apparel Designed to Serve the Needs of the Most Intense Athletes
Virus – named for the contagious passion that consumes serious athletes – has created a groundswell movement in the CrossFit™, MMA, Olympic lifting and other action sport communities.
It is easy to see why, as the company is manufacturing the latest in nanotechnology, technical fabrics and biomechanical patterning. Just as these athletes are pushing the limits of what humans can do, Virus' advanced technology laboratories are pushing technical fabrics further to help athletes recover, stay cool and keep warm like never before.
The company has a growing collective of ambassadors sporting the brand's distinct glowing V logo everywhere from the UFC Octagon to Supercross tracks and wrestling mats across the world.
In fact, the versatility of Virus' proprietary nanotechnology apparel is beloved by mixed martial arts athletes. For instance, John Cruz Tuck, an upstart fighter with an upcoming bout at UFC Fight Night 135, is a member of Virus' VTeam and swears by the company's Bioceramic Tech Shorts.
"The double layer on these shorts provides the ultimate support for all of my training sessions, and the all-white look is like nothing else out on the market," Tuck commented on his Virus Team profile page.
Later in the same card at UFC 135, Luke "Cool Hand" Sanders, another Virus Ambassador, will look for back-to-back wins when he takes on Rani Yahya, and TJ Dillashaw, the current bantam weight title holder and newest VTeam member, swears by the company's Cool Jade™ Compression collection as he trains for his first title defense at UFC 227. Dillashaw and Virus are working together to create a collaborative line specifically built for mixed martial arts fighters and fans.
"I love wearing compression wear when I train, and when I learned about Virus' technology they made for training and recovery, I had to try it out firsthand," Dillashaw has said.
Fabric Technology that is Truly Pushing the Limits
Virus' high-intensity gear has a faithful following well outside of the Octagon too. The company's clean aesthetic and logo are conspicuous at Reebok's Annual CrossFit Games, and their singlet is a staple at most professional weight lifting competitions. Virus resonates with athletes because it is made by athletes who personally understand the wear and tear action sports can inflict on the body.
Particularly in a highly competitive setting, every detail counts, and apparel that limits range of motion, overheats the wearer or constricts muscles can be the difference between winning and losing. These rigorous conditions are precisely where Virus' superior technology shines.
For example, Virus' Cool Jade™ Technology, engineered yarn infused with recycled jade stone shavings, has proven to reduce skin temperatures by up to 10°F by providing a natural cooling effect and high-performance moisture wicking. On the other end of the spectrum, the company's Coffee Charcoal™ fabric is designed for use in cold weather, as recycled coffee beans and charcoal trap heat against the body. This technology provides an insulated natural barrier from the cold and potentially raises skin temperatures by up to 10°F. The Bioceramic™ Performance series emits far-infrared to boost immunity and regeneration of tissues.
Ultimately, with a direct-to-consumer business model and world-class athletes across the sporting world donning their gear, Virus is truly a rebel name to know in the soaring athletic apparel market. Similar to other important retail sectors, branding and identity is paramount in the sporting community, and Virus' high-performance gear has certainly established itself as a name on the rise, and one that the big names across the industry need to watch closely.
For more information, visit the company's website here.
---
In the interest of full disclosure, we call the reader's attention to the fact that Equities.com, Inc. is compensated by the companies profiled in the Spotlight Companies section. The purpose of these profiles is to provide awareness of these companies to investors in the micro, small-cap and growth equity community and should not in any way be considered as a recommendation to buy, sell or hold these securities. Equities.com is not a registered broker dealer, investment advisor, financial analyst, investment banker or other investment professional. We are a publisher of original and third party news and information. All profiles are based on information that is available to the public. The information contained herein should not be considered to be complete and is not guaranteed by Equities.com to be free from misstatement or errors. The views expressed are our own and not intended to be the basis for any investment decision. Readers are reminded to do their own due diligence when researching any companies mentioned on this website. Always bear in mind that investing in early-stage companies is risky and you are encouraged to only invest an amount that you can afford to lose completely without any change in your lifestyle. Equities has been compensated with cash, common shares and/or warrants for market awareness services provided.