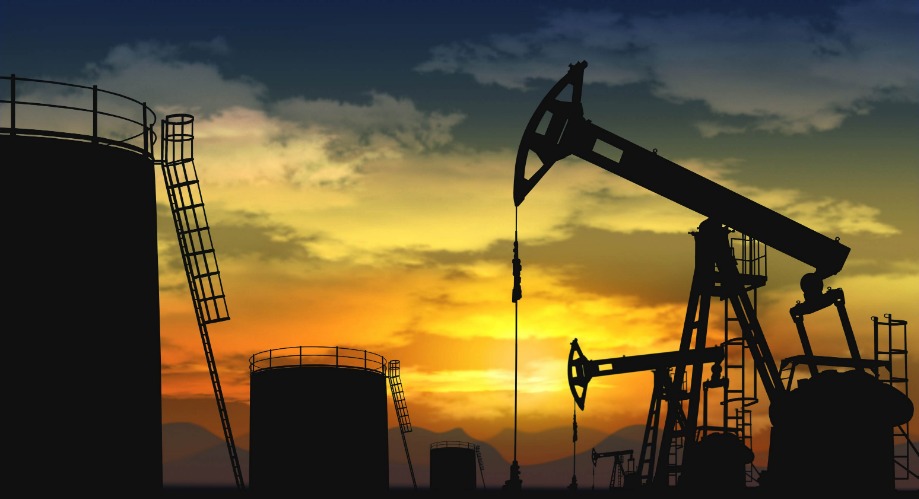 Increases Proven Oil and Gas Reserves by ~ 10.5 Million BOE — ~ 4 Times 2017 Levels
Potentially Quadruples Revenue Run Rate
Gulf Coast Assets Receive a Premium Over WTI Benchmark Prices
In March 2019, we highlighted Viking Energy Group's VKIN acquisition of majority working interest in multiple oil and gas fields throughout Texas and Louisiana—including 58 conventional, producing oil and gas wells and 31 salt water disposal wells—that increased the company's overall proven oil and gas reserves by approximately 10.5 million barrels of oil equivalents (BOE).
This week, Viking Energy provided details of the increased revenue, assets and proved reserves from the acquired properties, which now reside under the company's newly formed subsidiary, Ichor Energy Holdings, LLC. The acquisition caps the most active period of growth and corporate progress in the company's history.
Key Milestones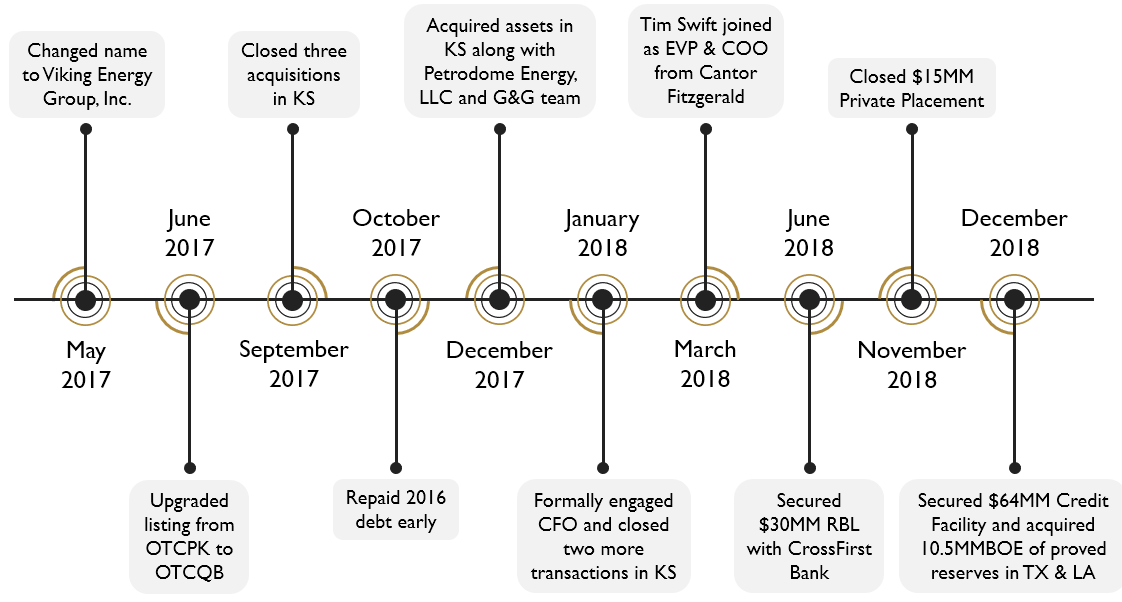 Source: Viking Energy Group corporate overview, April 2019
Ichor Energy Holdings
Critically, the newly acquired properties under the Ichor umbrella reaffirm Viking Energy's long-standing commitment to its shareholders to pursue cost efficiencies by targeting producing properties with untapped proved undeveloped reserves that provide future upside. Consistent with the company's focus on operational efficiencies, the Ichor properties will require minimal additional general and administrative costs to operate and are in close proximity to Viking Energy's other assets, which should enable the company to enhance its profile in this prolific region—whose historically strong demand for oil and gas has supported consistent, premium pricing over the West Texas Intermediate benchmark.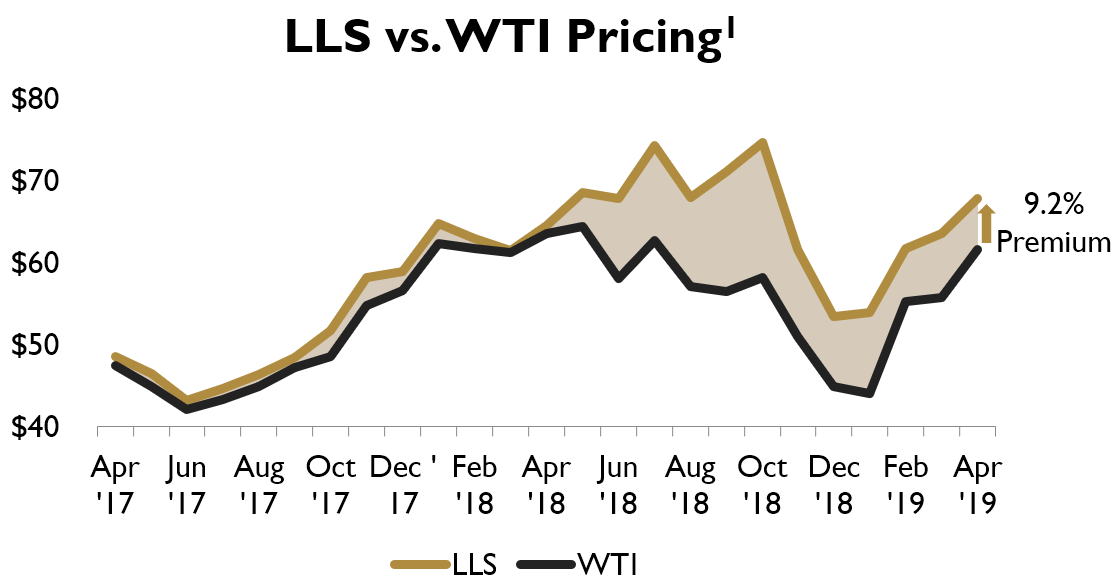 Source:Light Louisiana Sweet (LLS) and West Texas Intermediate (WTI) crude oil prices from OilPrice.com.
Financial Highlights of Acquired Properties
Net production from the acquired properties averaged over 2,300 BOE per day.
The acquired properties generated revenue in excess of direct operating expenses of about $31.3 million in the year ended Dec. 31, 2018.
Total acquired proved reserves were about 6.3 million barrels of oil and 25.7 million cubic feet of gas, or about 10.5 million BOE (where one barrel of oil is deemed to have the same amount of energy content as 6,000 cubic feet of gas).
The future cash flow of the estimated proved reserves is about $150.2 million, which reflects an applied annual discount rate of 10%.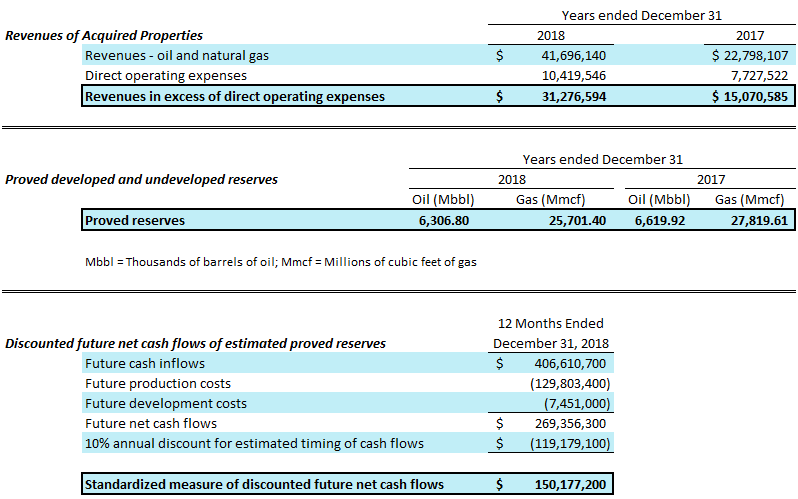 Source: Viking Energy Group Form 8-K/A, filed Feb. 28, 2019.
Robust Reserve and Production Growth
Viking Energy's proved reserves grew nearly 210% in 2018, due in large part to the Ichor acquisition. Production increased over 250% in 2018, and may continue to grow if the company is further able to exploit the proved developed non-producing (PDNP) reserves and proved undeveloped (PUD) reserves associated with the Ichor assets in addition to identifying other development and enhancement initiatives.
The acquisition is large, from both a monetary and production standpoint, relative to the size of our company… as it quadruples our current revenue-rate. While significant, it is merely a small step within a more comprehensive long-term acquisition and growth strategy. We are committed to operating these assets, along with our other assets, as efficiently as possible, and to identifying and evaluating additional growth opportunities across all company divisions.

– James Doris, President and CEO, Viking Energy Group
Investment Issues to Consider
Viking Energy has closed eight successful acquisitions since the second quarter of 2017, with the most recent acquisition of the Ichor properties serving as the most significant transaction in the company's history. Viking Energy has secured a reserve based loan (RBL) with a reputable commercial bank, closed on various financing transactions and increased proved reserves by 11 million BOE.
The success of the Viking Energy's approach, however, hasn't been reflected in the stock, which closed at $0.19 on April 10, 2018, giving the company a market capitalization of only $17.3 million. The stock hasn't participated in the sharp rebound in oil prices, which are up over 50% from their December 2018 lows. In fact, Viking Energy stock is down nearly 30% since oil bottomed on Christmas Eve.
We believe this performance spread to be unwarranted and expect Viking Energy to close the gap in 2019, as more investors appreciate the significance of the addition of 10.5 million BOE and the associated $150 million in discounted future cash flows from the Ichor acquisition.