Verrica (VRCA) Shows Positive Phase 3 Results in Molluscum Contagiosum at AAD Annual Meeting
Edward Kim Follow |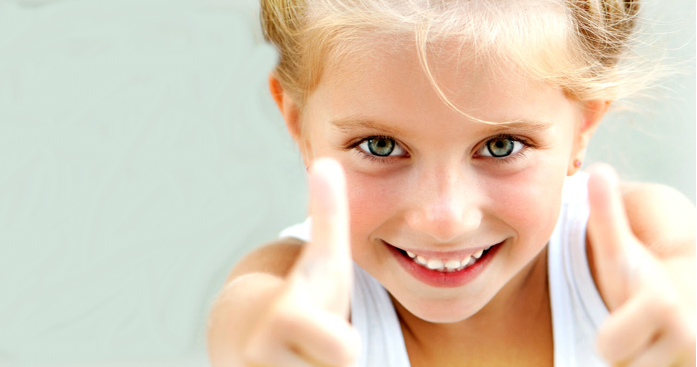 We discussed Verrica Pharmaceuticals (VRCA) in this space in June 2018 as the West Chester, Pennsylvania, based medical dermatology company was preparing for its initial public offering. Verrica, which successfully raised $86.25 million in gross proceeds at $15 per share via BofA Merrill Lynch, Jefferies and Cowen, had initiated two Phase 3 trials of its lead candidate, VP-102, for the treatment of molluscum contagiosum in the first quarter of 2018, and it had released positive topline data from those trials in January 2019. Today, March 2, 2019, in a late-breaking oral presentation at the American Academy of Dermatology (AAD) annual meeting in Washington, DC, Verrica made its first scientific presentation of the impressive data set.
In each of Verrica's trials—known as CAMP-1 and CAMP-2 (Cantharidin Application in Molluscum Patients)—a clinically and statistically significant proportion of patients treated with VP-102 showed complete clearance of all treatable molluscum lesions in 12 weeks.

While it may sound like a spell that Ron Weasley might have botched at Hogwarts, molluscum contagiosum is a highly contagious, significantly undertreated, viral skin disease that affects about six million people in the US, many of who are children. The virus causing the disease produces multiple raised flesh-colored papules, or lesions, on the skin. Sufferers typically exhibit 10 to 30 such lesions, but may exhibit over 100 of them. The disease can take 13 months to resolve without treatment, but has been known in some cases can to remain unresolved for several years. Molluscum frequently leads to anxiety and social challenges for the patients, while additional complications can arise including skin irritation, inflammation, conjunctivitis and cellulitis .

The data from the Phase 3 CAMP-1 and CAMP-2 trials provide evidence of VP-102's potential to treat and eradicate molluscum, a highly contagious viral skin infection for which there are no FDA-approved treatments. Current methods of treatment have significant limitations including pain, scarring, unproven efficacy and many are unsuitable for use in children. VP-102 addresses an unmet medical need to treat these serious skin lesions which can quickly spread among children and within families, and when left untreated, can lead to social stigma, anxiety, skin inflammation and secondary infections.

- Lawrence Eichenfield, MD, Chief of Pediatric and Adolescent Dermatology at Rady Children's Hospital-San Diego and lead investigator for the VP-102 Phase 3 molluscum program.

Phase 3 results
The two Phase 3 trials were identically structured, except CAMP-1 was conducted under a Special Protocol Assessment (SPA) with the FDA. The SPA is designed to facilitate the drug review process by enabling the FDA to evaluate the proposed design and size of pivotal Phase 3 trials before they start. By receiving preliminary input from the FDA, companies can mitigate risk and potentially accelerate program development.

The combined trials enrolled 528 patients who were two years of age and older with molluscum at 31 centers across the US. Patients were treated once every 21 days with a topical solution of 0.7% cantharidin via a novel single-use applicator for up to four applications. While cantharidin has been used for many years by dermatologists to treat molluscum, its effectiveness is limited by highly variable purity and availability. According to Verrica, VP-102 contains the first GMP-controlled formulation of cantharidin with a defined pharmaceutical batch process and an active pharmaceutical ingredient (API) that is greater than 99% pure.
46% of VP-102 patients in CAMP-1 and 54% of VP-102 patients in CAMP-2 achieved complete clearance of all treatable molluscum lesions at the end of 12 weeks, compared to 18% and 13%, respectively, who were treated with placebo. VP-102 treated patients showed a 69% and 83% mean reduction in the number of molluscum lesions in CAMP-1 and CAMP-2, respectively, compared to a 20% increase and a 19% reduction for patients on placebo.
This is the first scientific presentation of our Phase 3 data for VP-102 and we are pleased to unveil these pivotal results at the AAD annual meeting. Complete clearance of molluscum lesions in a short amount of time is important to patients, especially parents of young children who are impacted by this highly contagious skin infection. These important data reinforce the potential for VP-102 as a first-in-class topical therapy to become the standard of care for molluscum.

- Ted White, President and CEO, Verrica Pharmaceuticals.
Pipeline
Verrica is planning to submit a New Drug Application (NDA) for VP-102 in molluscum in the second half of 2019. VP-102 is also currently in a Phase 2 trial for the treatment of common warts, with an additional Phase 2 trial planned in genital warts. A second product candidate, VP-103, is in pre-clinical development for plantar warts.

(1) Phase 2 ready assuming leverage of data from VP-102. Source: Verrica Pharmaceuticals
Investment issues to consider
VRCA stock was in demand immediately following the IPO, with investors driving it north of $23 per share, a week after it began trading. The stock sold off rather sharply in the second half of last year, hitting its trough of $6.44 just before Christmas, coinciding with the expiry of the IPO lockups. VRCA has rallied by 88% since that December 2018 low, closing Friday at $12.11 per share, but even with that rally, the stock is still trading below its IPO price, with a current market capitalization of just $311 million. Given the meaningful progress that Verrica has made in molluscum, and the milestones the company expects to achieve in 2019, we still like where the stock sits on the risk-reward spectrum.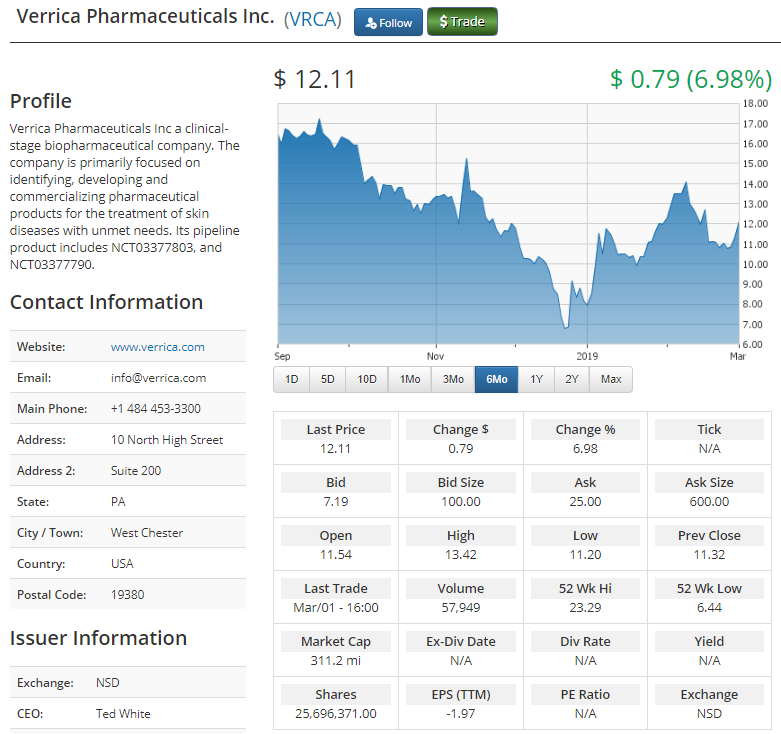 Please email us at content@equities.com to see our Case Studies and Testimonials.

Please click here for information on our equity trading platform.
Please click here to receive our free daily newsletter.
DISCLOSURE: The author has no positions or any beneficial interest in, and has received no compensation from, the companies mentioned in this article.

---
The views and opinions expressed in this article are those of the authors, and do not represent the views of equities.com. Readers should not consider statements made by the author as formal recommendations and should consult their financial advisor before making any investment decisions. To read our full disclosure, please go to: http://www.equities.com/disclaimer
Companies