Molluscum contagiosum is a common, highly contagious skin infection caused by a pox virus. It is most commonly suffered by children, though it can affect adults as well, particularly those with weakened immune systems, according to the Mayo Clinic. Estimates of molluscum incidence vary widely, as many if not most cases are never treated. According to Ashish Bhatia, MD, Associate Professor of Clinical Dermatology at Northwestern University's Feinberg School of Medicine, molluscum accounts for 1% of all skin disorders diagnosed in the US. The prevalence rate in patients with HIV is reported to be in the 5% to 18% range, and as high as 33% in those patients with very low CD4 cell counts. Dr. Bhatia says that that molluscum is more prevalent in tropical areas.
West Chester, Pennsylvania, based Verrica Pharmaceuticals (proposed Nasdaq: VRCA) has been developing therapies for molluscum, common warts and other dermatological indications. The company's initial public offering via BofA Merrill Lynch, Jefferies and Cowen, is expected to price next week, according to BioPharmCatalyst. Verrica plans to offer five million shares between $14 and $16 per share, for a post-money market capitalization of $374 million before any overallotment.
Verrica estimates that about six million people in the US have molluscum with a 5% to 11% prevalence rate in children and the greatest incidence in individuals aged one to 14 years old. The company believes that this represents a total addressable market of over $1 billion in the US, with a similar prevalence rate in the European Union.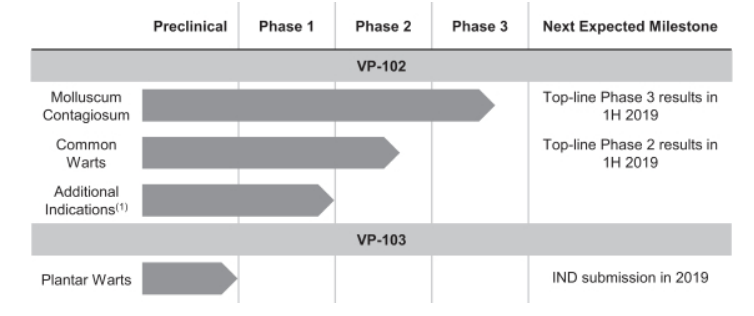 Source: Verrica Pharmaceuticals
The company's lead product candidate, VP-102, is a proprietary drug-device combination of a novel topical solution of cantharidin, a widely recognized, naturally sourced agent to treat topical dermatological conditions, administered through Verrica's single-use precision applicator. The company has recently initiated two Phase 3 clinical trials of VP-102 for the treatment of molluscum and expects to report top-line results from these trials in the first half of 2019.
Verrica is also developing VP-102 for the treatment of common warts, which are believed to affect 22 million people in the US, another potential $1 billion total addressable market with an equivalent opportunity in the EU.
There are no FDA-approved therapies for either molluscum or common warts. Compounded cantharidin has been used for many years by dermatologists to treat molluscum, but its effectiveness is limited by highly variable purity and availability. Verrica says that compounded cantharidin is often not produced in accordance with good manufacturing practices, and that its formulation and administration is not standardized and poorly controlled. Other existing therapies, such as cryotherapy, curettage and laser surgery are often painful and may lead to scarring. The potential for scarring and pain makes many of these treatments particularly unsuitable for children.
There is also no FDA-approved therapy for common warts. Available over-the-counter products are slow acting, and common warts tend to be highly stubborn, resulting in multiple treatments or consultations. Verrica believes that cantharidin's role as a widely recognized and effective blistering agent for the treatment of skin lesions, coupled with VP-102's safety and efficacy data in Phase 1 and Phase 2 trials, will enable VP-102 to address many of the shortcomings associated with current therapies.
CEO Ted White was most recently the president and general manager of Aqua Pharmaceuticals, a dermatology-focused branded pharmaceutical company. He led the launch of six medical dermatology products at Aqua, growing revenues from $65 million to over $500 million in his six years there. Prior to Aqua, Mr. White held key leadership positions at Novartis for over twenty years including Managing Director where he had full P&L responsibility for $3 billion in sales across six primary care and five specialty brands. He helped launch over 15 drugs at Novartis, including Diovan which became a $ 1 billion brand.
Verrica's majority shareholder is Paul B. Manning (PBM Capital), who holds 58.4% of the stock pre-IPO and 46.7% post-offering assuming a 5 million share deal. Other large holders include Perceptive Life Sciences (12.1% pre, 9.7% post) and OrbiMed (6.4% pre, 5.1% post).
Please email [email protected] to see our Case Studies and Testimonials.
Please click here for information on our new trading platform.
Please click here to see our weekly newsletter.