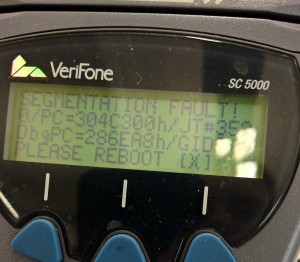 VeriFone Systems, Inc. (PAY) took a 33.5 percent hit, down to $21.32, in afterhours trading on Wednesday after the payment processing hardware/software Company warned that it would be missing its first and second quarter projections by a rather long-shot.
Q1 projections had the company on track to bring in $494 million of revenue and an Earnings-Per-Share of $0.73, but the company revised its estimates down to the $425-430 million range with an EPS of $0.47 to $0.50.  The Q2 shortcomings were much the same, with the company expecting revenue of $435 to $450 million, well short of the $517 million estimate, while the $0.80 cents EPS was downgraded to $0.45 to $0.50 cents.
The company, having already shed 3.5 percent to close $31.89 on the day, offered a number of reasons for the rather drastic downward revision.  A weak and unstable European economy, deferred revenue from large shipments to new customers in Africa and the Middle East, the potential for an unpredictable political situation in Venezuela tied to the declining health of president Hugo Chavez, lower revenue from the Brazilian market, the decision by several major customers to delay projects until the first quarter has passed, and finally the focus on longer-term investments and service initiatives at the expense of more immediate hardware and software projects, were all cited as reasons for drastic reduction in expectations.
The company's CEO Douglas Bergeron also brought up "internal challenges" without being in any way specific, before referring to quality of VeriFone's products and services, as well as the strength of its business model, before reassuring investors that the company is "confident in [its] ability and committed to executing against [its] strategic priorities to drive shareholder value."
DISCLOSURE: The views and opinions expressed in this article are those of the authors, and do not represent the views of equities.com. Readers should not consider statements made by the author as formal recommendations and should consult their financial advisor before making any investment decisions. To read our full disclosure, please go to: http://www.equities.com/disclaimer