~ For relapsed/refractory chronic lymphocytic leukemia, small lymphocytic lymphoma and follicular lymphoma ~
Non-Hodgkin's lymphoma, a group of cancers that originate in white blood cells called lymphocytes, is among the most commonly occurring cancers, accounting for about 4% of all incidences in the US according to the American Cancer Society. About 75,000 people will be diagnosed with non-Hodgkin's lymphoma in 2018, and about 20,000 deaths will be attributable to it. According to the National Cancer Institute, there were over 686,000 people in the US living with non-Hodgkin's lymphoma in 2015, including nearly 350,000 patients suffering from one of three related indications: chronic lymphocytic leukemia (CLL), small lymphocytic lymphoma (SLL) and follicular lymphoma (FL). Many of these patients will eventually relapse or develop refractory disease.
Boston-based Verastem VSTM announced yesterday that it received its first FDA approval for COPIKTRA (duvelisib), an oral inhibitor of phosphoinositide 3-kinase (PI3K), and the first approved dual inhibitor of PI3K-delta and PI3K-gamma. COPIKTRA was approved for the treatment of adult patients with relapsed or refractory CLL/SLL after at least two prior therapies and accelerated approval for the treatment of adult patients with relapsed or refractory FL after at least two prior systemic therapies. The PI3K signaling pathway is a key regulator in cancer proliferation and metastasis. The gamma and delta isoforms are primarily expressed in lymphocytes such as B cells and T cells.
Readers may recall that Verastem licensed duvelisib in 2016 from Infinity Pharmaceuticals INFI for what amounted to a free call option on the drug candidate. Verastem paid Infinity nothing upfront and was only committed to $28 million in milestone payments. In 2014, Abbvie ABBV had paid Infinity $275 million upfront for the rights to duvelisib, but that collaboration didn't succeed in the clinic. Verastem, in contrast, did succeed in clinical trials, achieving a progression-free survival rate in a Phase 3 trial in CLL/SLL patients of 13.3 months with duvelisib vs 9.9 months for the standard of care, ofatumumab. A Phase 2 study in FL patients showed an overall response rate of 41%.
Source: Verastem
COPIKTRA is an important addition to the evolving treatment paradigm for patients with CLL/SLL and FL. The approval of COPIKTRA for the treatment of relapsed or refractory CLL/SLL after at least two prior therapies, or relapsed or refractory FL after at least two prior systemic therapies, is based on clinical trial data gathered from the treatment of over 400 adult patients. COPIKTRA is a significant addition to physicians' treatment armamentarium that I believe will address an unmet need for patients who have limited options once they have progressed after two prior therapies.
– Ian Flinn, MD, PhD, Director of the Lymphoma Research Program at Sarah Cannon Research Institute and lead investigator of Verastem's Phase 2 and Phase 3 studies.
We note that the FDA did include a black box warning with this approval, citing four serious and potentially fatal toxicities: infections, diarrhea or colitis, cutaneous reactions and pneumonitis. Verastem is implementing an informational Risk Evaluation and Mitigation Strategy to provide appropriate dosing and safety information to better support physicians in managing their patients on COPIKTRA.
Patients living with CLL/SLL or FL are in need of additional treatment options, and new therapies such as COPIKTRA are crucial because each patient's treatment journey is unique. We appreciate the commitment from companies like Verastem Oncology that research and develop these therapies with the goal of reaching a day when lymphoma is managed as a chronic disease – and eventually cured.
– Meghan Gutierrez, CEO, Lymphoma Research Foundation.
We are excited to offer a new treatment that can allow patients to manage their disease with an oral monotherapy. We continue to hear from physicians and patients that there is a great need for additional treatment options to fight chronic cancers such as CLL/SLL and FL. In preparation for this approval, we have assembled an experienced oncology commercial team, established our distribution network, and we are ready to make COPIKTRA commercially available to patients.
– Joseph Lobacki, EVP and Chief Commercial Office, Verastem.
On the conference call to discuss the approval (a replay of which is available on Verastem's website for the next 90 days), Mr. Lobacki said that the company had 50 sales representatives ready to go, supported by a marketing and market research team and a medical and science liaison group that has been working with physicians for months in anticipation of the product launch.
It is no small feat to get that first drug approval from the FDA, and Verastem stock has had a strong run this year as clinical data pointed to this approval. The stock has sold off in the last day, as there appears to be some concern about the ultimate market size of PI3K inhibitors. We believe, however, that the drug has significant potential in other cancer indications, both as a monotherapy and in combination with other compounds that may further improve efficacy while mitigating toxicity.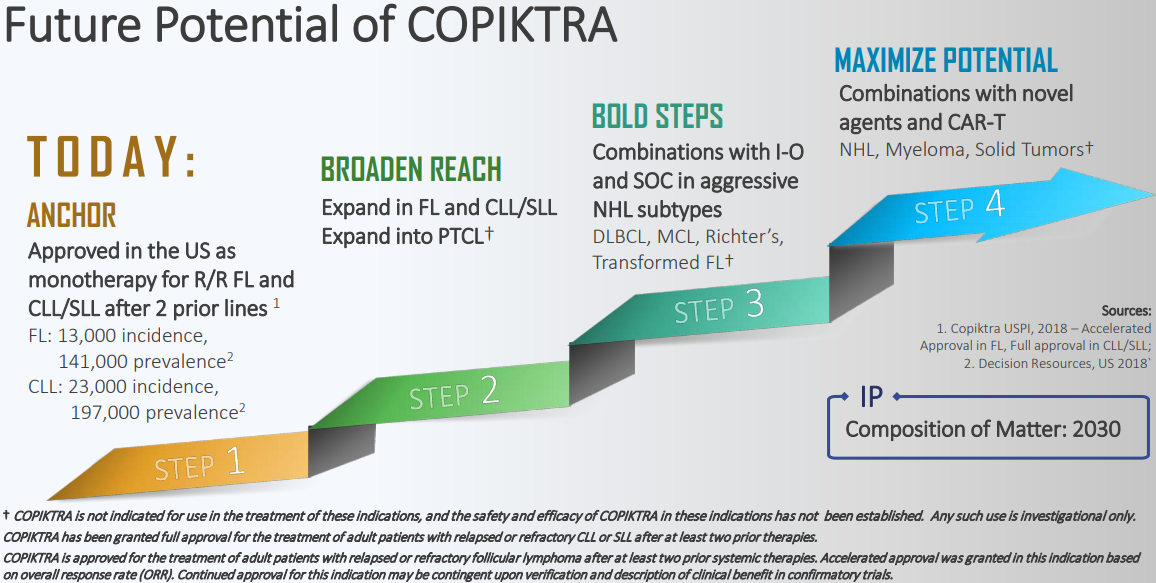 Source: Verastem corporate presentation, Sept. 24, 2018.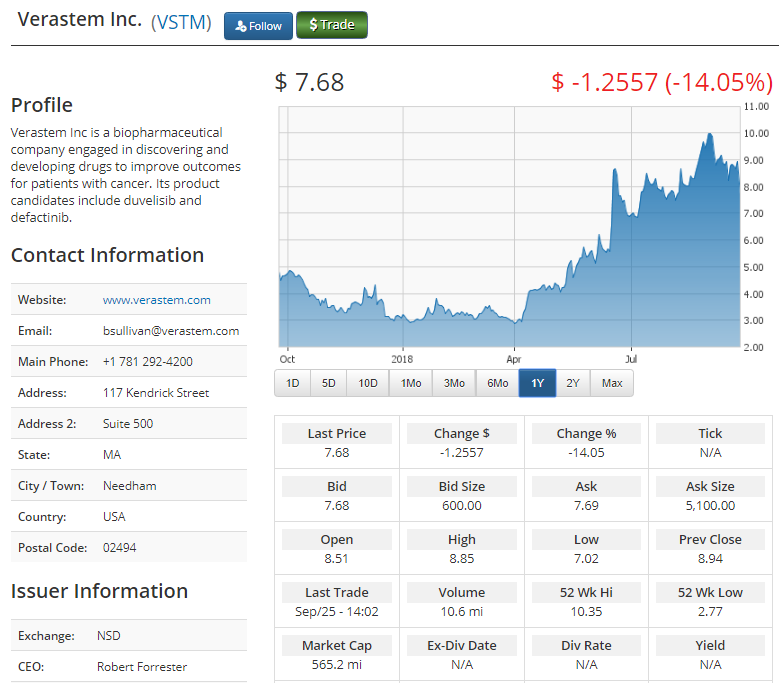 Please email us at [email protected] to see our Case Studies and Testimonials.
Please click here for information on our new trading platform.
Please click here to see our daily newsletter.
DISCLOSURE: The author has no positions or any other beneficial interest in the companies mentioned in this article.