Vapotherm's $60 Million IPO Expected Next Week for Respiratory Distress Treatment Systems
Edward Kim Follow |

~ Company markets the only mask-free, clinically validated alternative to the standard of care for respiratory distress ~

Respiratory distress occurs when a person is not taking in enough oxygen or is having severe difficulty in breathing. It can be caused by several serious underlying conditions, including pneumonia, chronic obstructive pulmonary disease (COPD), asthma and heart failure. Patients with respiratory distress require immediate support ranging from supplemental oxygen therapy to invasive mechanical ventilators, often in the emergency room setting. Respiratory distress often leads to other severe complications in the hospital, including blood clots, pneumothorax (collapsed lung), scarring of the lung and infections.

Exeter, New Hampshire, based Vapotherm (pending Nasdaq: VAPO) develops and sells high velocity nasal insufflation (Hi-VNI) technology products used to treat patients of all ages suffering from respiratory distress. The company's Precision Flow systems deliver noninvasive ventilatory support to patients by providing heated, humidified and oxygenated air at a high velocity through a small-bore nasal interface. As of Sept. 30, 2018, Vapotherm has a global installed base of over 13,000 systems, with more than 1.5 million treated patients.


Vapotherm is offering 4 million shares at $14 to $16 via BofA Merrill Lynch and William Blair. At the midpoint of the filing range, it would be a $60 million deal at a post-IPO market capitalization of about $250 million. Since inception in 1993, the company has raised a total of about $163 million in net proceeds from private placements. The largest shareholders include 3x5 Partners with 26.2% (19.9% post-IPO), SightLine Partners with 10.4% (7.9%), Gilde Healthcare Partners with 8.6% (6.5%), Questmark Partners with 7.9% (6.0%), Morgenthaler Ventures with 7.7% (5.9%), Redmile Group with 7.5% (5.7%) and Perceptive Advisors with 6.7% (5.1%).




Source: Vapotherm


According to Vapotherm, its Hi-VNI technology is the only high flow nasal cannula approach that has been shown to be clinically effective as traditional nasal intermittent positive pressure ventilation (NIPPV) as a tool for treating the signs and symptoms of adult patients experiencing undifferentiated respiratory distress. The nasal cannula used with Vapotherm's Hi-VNI technology is designed to be comfortable for patients, while reducing the risks and care complexities associated with standard-of-care mask therapies. The system is used in hospitals as a Technology is a front-line tool for respiratory distress conditions including hypoxia (oxygen deficiency), hypercapnia (excessive carbon dioxide) and dyspnea (labored breathing).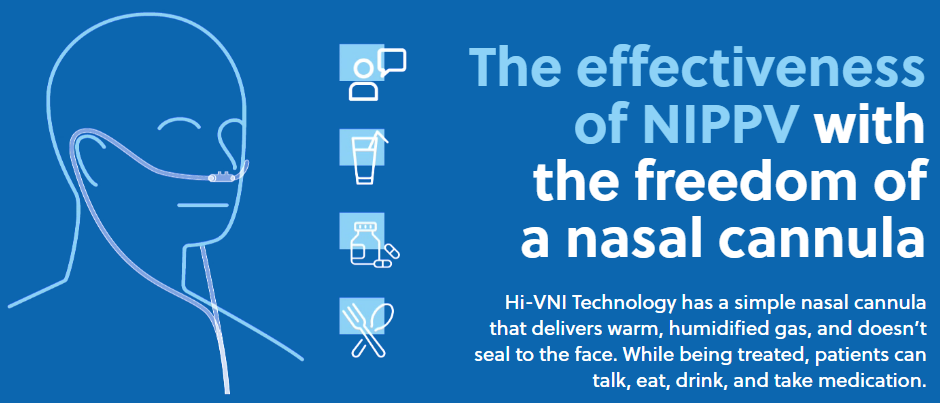 Source: Vapotherm

Joseph Army has been President, CEO and a board member of Vapotherm since June 2012. He previously was President and CEO of Salient Surgical Technologies, which was acquired by Medtronic (MDT) in 2011 for $525 million. Prior to Salient, Mr. Army served Westaim Biomedical as VP of Finance & Supply Chain Operations. Earlier in his career, he was a turnaround and strategy consultant for Coopers & Lybrand Consulting.

In May 2018, Vapotherm was named MedTech Company of the Year at the 2018 NEVY Awards, hosted by the New England Venture Capital Association (NEVCA). In October 2018, the FDA granted Vapotherm's latest version of its Precision Flow Hi-VNI system, a new product category and product code (QAV). The FDA also granted an expanded indication for the system that states it may be used to augment breathing of spontaneously breathing patients suffering from respiratory distress in a hospital setting. This patient population is similar to that treated by other forms of non-invasive ventilation, making the Precision Flow Hi-VNI system a viable alternative to Non-invasive Positive Pressure Ventilation (NiPPV) for most patients. The Vapotherm Precision Flow Hi-VNI system is currently the only product in the QAV category.
Revenue for the trailing 12 months ended Sept. 30, 2018, was about $41.1 million. About 25% of revenue was from sales of capital units, and about 66% was from sales of single-use disposables, with the balance from leasing and services. It does appear to be a cash-intensive business, as the company posted an operating loss of about $35.0 million over the trailing 12 months, but we're encouraged by the revenue growth of 21.8% in the latest 9-month period compared to the same period last year. According to Retail Roadshow, the IPO is expected to price on or about next Wednesday, Nov. 14.

Please email us at content@equities.com to see our Case Studies and Testimonials.
Please click here for information on our new trading platform.
Please click here to receive our free daily newsletter.
DISCLOSURE: The author has no positions or any beneficial interest in, and has received no compensation from, the companies mentioned in this article.

---
The views and opinions expressed in this article are those of the authors, and do not represent the views of equities.com. Readers should not consider statements made by the author as formal recommendations and should consult their financial advisor before making any investment decisions. To read our full disclosure, please go to: http://www.equities.com/disclaimer