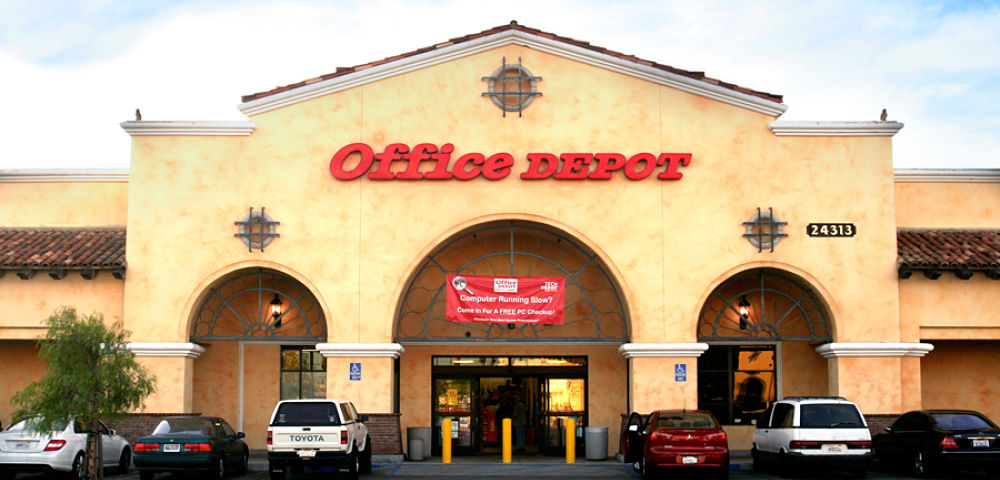 Image via Mpcastillo22/Wikimedia
We love finding well-known companies that are selling for a low price. Now we're looking for another winner with Office Depot (ODP), suggests Bill Mathews, editor of The Cheap Investor.
We've recommended Office Depot in the past, and it proved to be a profitable investment; our last recommendation was at $1.75 in August 2012. In 2015, it shot up to a high of $9.41 or +438% from that recommendation.
Office Depot is a leading provider of office supplies, business products and services delivered through an omnichannel platform; it had 2016 annual sales of approximately $11 billion with 1,400 retail stores and a global network of wholly owned operations, franchisees, licensees and alliance partners,
Office Depot has a good balance sheet with $788 million ($1.53 per share) in cash, a book value of $3.96 per share and a hefty debt of $1 billion. However, debt like that is quite common in the retail industry.
The top three institutional holders are Blackrock, Vanguard Group, and Dimensional Fund Advisors, which own a total of about 137 million shares. For the most recent quarter ended September 30, 2017, those top three institutions bought about 5 million more shares than they sold.
Office Depot continues to expect total company sales in 2017 to be lower than 2016, primarily due to the impact of planned store closures, prior year contract customer losses, continued challenging market conditions, hurricane impacts and returning to a 52-week fiscal year.
However, the company expects the rate of sales decline to improve in the fourth quarter of 2017 on a comparable 13-week basis based on implementation of new customer wins, customer retention efforts and growth from strategic business initiatives.
Office Depot expects to maintain substantial financial flexibility with low balance sheet leverage, strong liquidity, and positive free cash flow available for debt repayment, capital returns to shareholders and growth initiatives.
Office Depot and its subsidiary, Office Max, are two of the most well-known retail chains in the country. Office Depot is still integrating Office Max and its recent acquisition, CompuCom.
That restructuring includes closing less-profitable stores to end up a leaner, more competitive company. In addition, Office Depot gives a $0.10 per year (2.9%) dividend. We think Office Depot could move 50% to 100% over the next couple of years. It could also be an acquisition candidate.
Bill Mathews is founder and editor of The Cheap Investor.
Subscribe to Bill Mathews' The Cheap Investor here…
About MoneyShow.com: Founded in 1981, MoneyShow is a privately held financial media company headquartered in Sarasota, Florida. As a global network of investing and trading education, MoneyShow presents an extensive agenda of live and online events that attract over 75,000 investors, traders and financial advisors around the world.