Amid a devastating flu season that has already claimed the lives of 53 children, there's a glimmer of hope from our friends across the pond. Vaccitech, a company that was spun out of Oxford University in 2016, recently closed a £20 million (US$27 million) Series A round to fund its clinical trials for a universal flu vaccine.
The funding round was led by GV, the venture capital of Alphabet (Nasdaq: GOOGL), Sequoia China and original investor Oxford Sciences Innovation, which manages £600 million aimed at Oxford University spinouts. Neptune Ventures also participated in this round, which brings Vaccitech's total raised to £30 million since inception.
Source: CNBC
Vaccitech has a pipeline of six indications based on inducing cellular immune responses using non-replicating viral vectors for treatment or prophylaxis against diseases at various stages. The company says that the CD8+ T-cell responses induced by the proprietary platform are among the highest reported in any human trials. Its lead product candidate, for which a Phase 2 is underway that will ultimately involve 2,000 subjects, is a flu vaccine for patients aged 65 and older.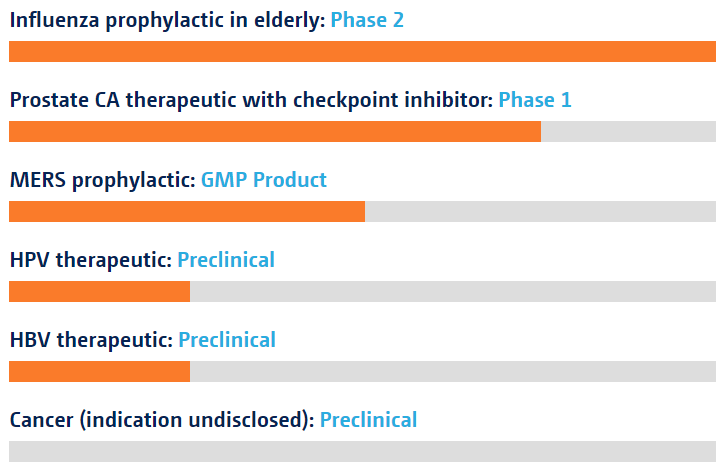 Source: Vaccitech
Vaccitech is commercialising the research of vaccine development specialists Adrian Hill and Sarah Gilbert, who developed the underpinning technology at Oxford University's Jenner Institute. The work of Hill and Gilbert attracted Thomas Evans as its CEO, who relocated from the US to the UK for the role. Evans is a vaccine veteran bringing with him over a 15 years' experience at Vical (Nasdaq: VICL), as Global Head of Infectious Diseases Research at Novartis (NYSE: NVS), and as CSO and CEO at the tuberculosis vaccine-focused biotech Aeras. Vaccitech has also added vaccine veteran Pierre Morgon to its Board of Directors.
When you look at the 250 million people chronically infected with hepatitis B globally, or the number of people killed by the flu each year, it becomes clear just how much potential impact Vaccitech's portfolio of vaccine products could have on the world. You add Oxford into the mix, where you have unprecedented ability to do advance products through outstanding vaccine science and tremendous translational medicine capability, and Vaccitech is clearly well positioned to have an important impact on global health.
– Thomas Evans, CEO, Vaccitech
Please email us at [email protected] to see our Case Studies and Testimonials.
Please click here if you would like information on our new trading platform.
Please click here if you would like to see our weekly newsletter.