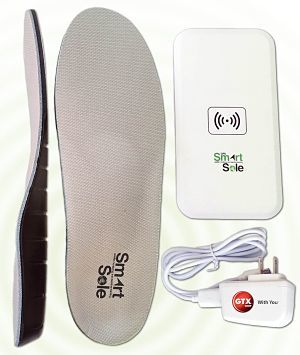 A lot of people out there may have started to take GPS for granted. It's right there on their phone, making it easy for you to know where you are whenever you want. But what if it's not you but your elderly aunt you need to locate? What if she doesn't have her phone with you?
That reality is one many Americans are living through with some frequency, needing locate family or friends with cognitive disorders who may wander off or a child who has gone missing. In this case, GPS is less a convenience than a necessity.
That's why GTX Corp (GTXO) has developed SmartSoles. These devices can allow a family to track their loved ones and avoid having to contact authorities and conduct an expensive and unfocused search. We got a chance to talk with the CEO of GTX Corp, Patrick Bertagna, about the new product.
EQ: You had a big product launch this week. GPS embedded insoles?
Patrick Bertagna: Yes, we call them SmartSoles, the next big step in wearable technology.
EQ: Why don't you talk a little bit more about sort of the marketplace is creating demand for this sort of product and how these specifically are going to fill that need?
Patrick Bertagna: We're going after the needs market, people that absolutely need to be monitored and tracked. Typically that is people with cognitive memory disorders such as Alzheimer's, dementia, autism, or traumatic brain injury, just as examples.
There's about 35 million people in the world today that have some form of a cognitive memory disorder. That population has a tendency to wander, most of them will wander on a regular basis and if not found within the first 24 hours the statistics are not good. Most of them could either be injured or lose their life.
In any kind of search and rescue it's critical that you find people that go missing in the least amount of time as possible. This product enables law enforcement or caregivers to do just that.
EQ: So will these devices primarily help coordinate a search with law enforcement or allow caretakers to conduct their own?
Patrick Bertagna: Both. A caregiver can easily check on their phone or computer and get the exact location of the wearer. However, in the event of an urgent need, you can also call the police and just say "please go pick up my mom, she is on the corner of 1st and Main" as opposed to calling 911 to say "Mrs. Smith is missing and she could be anywhere." It's far different for the police to go out and start looking for someone that is missing versus going to pick someone up when you can tell them the person's exact location.
EQ: Talk to us a little bit about why this particular evolution of this kind of product is something that you see as a major improvement over previous generations of wearable GPS devices like in a bracelet or around someone's neck?
Patrick Bertagna: First of all, most people with a memory disorder don't want to be stigmatized. When they are lucid, they don't want to be asking questions like "what is this thing around my wrist? What is this around my neck?" They want to preserve some dignity.
Secondly, you really don't want people to go out and be branded or marked like they have an ailment of some sort and therefore need to be monitored, again preserving their dignity. But also, a lot of these diseases have an onset of paranoia. It's not uncommon for someone with dementia or Alzheimer's to try to rip something off of them or discard something that they're not familiar with. There's been cases where people have gnawed away on their wristbands and have taken a knife and actually injured themselves trying to cut that wrist band off of them because they just don't know what it is. They get scared and panic due to the paranoia.
For those reasons, it's just better to slip a comfortable insole inside their shoes where they really don't even know it's there. They have no idea that they're being monitored.
The other thing is that when people leave their house or their facilities, they will put their shoes on. If you have some kind of device that is not locked on them, there's a good chance that person took off that device when they went to sleep, they took it off when they went to the shower, and they're not going to remember to put it back on. If they had the memory skills to bring a tracking device with them they wouldn't need to be tracked in the first place.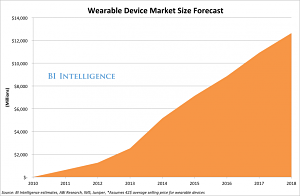 EQ: These insoles, was comfort considered when you designed them?
Patrick Bertagna: Yes, we use the finest materials and the factory that makes them, Atlantic Footcare has been in this business for over 20 years making comfortable orthotic insoles. They are trimmed to fit, and we offer them in multiple sizes. You take out the existing insole out of your existing pair of shoes and then you lay one on top of the other and then you cut around. They're just like a normal orthotic Doctor Scholl's insoles.
EQ: Obviously people with memory disorders represent a huge need in the marketplace but do you see any other applications for this product?
Patrick Bertagna: Yes, absolutely. Especially with what's going on in the world today, a lot of journalists are being abducted. There's a lot of uncertainty throughout the world. We're seeing a new demand come in for high level executives, diplomats, non-government agency employees, support staff, anybody who is a government worker that travels in certain parts of the world that are may not be very safe right now for Americans. Or even just because you're a high net-worth individual who might be at risk of being kidnapped.
Just the other day, we were speaking to a journalist and she said this would be great for her and how It would be nice to know that she has a tracking device on her and yet, nobody else knows that she has it on except for coworkers or loved ones.
EQ: I imagine if you're wearing something on your wrist in a lot of those situations it's much more likely to be removed and discarded than something in your shoes.
Patrick Bertagna: One-hundred percent. In that particular scenario, if you are abducted by the bad guys, the first thing that they're going to do is pat you down and take off anything you have on you that is electronic. So your phones, tablets, and even if you have a tracking device on where it's visible then it's going to be taken off of you and probably broken right there and then on the spot.
To have something that is covert, that is invisible, and that is just in your shoes is the key differentiator. Even if someone takes off your shoes and they look inside your shoes they're just going to see a pair of insoles. The insoles themselves, there's no way of telling there's any electronics inside of them. They're completely seamless. We even have inductive charging so there's no holes. There's no mini USB port for charging them. You just take them out of your shoes and you lay them on top of a charging pad. That's how you recharge them.
EQ: How long between charges are you able to go?
Patrick Bertagna: Typically anywhere between two to four days.
EQ: That's a lot of battery life.
Patrick Bertagna: Yes because unlike a cellphone, you're texting, you're emailing, you're web surfing, you're making phone calls; that has a big drain on your battery. Basically all this does is report your location every five minutes.
EQ: Any closing comments?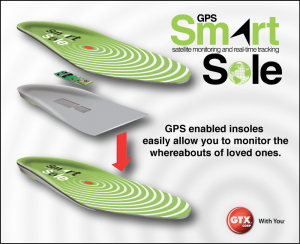 Patrick Bertagna: 2015 looks very strong. We know this product is in big demand, in the explosive wearable technology space and you're going to see a lot of positive things coming out of GTX Corp this year.
DISCLOSURE: The views and opinions expressed in this article are those of the authors, and do not represent the views of equities.com. Readers should not consider statements made by the author as formal recommendations and should consult their financial advisor before making any investment decisions. To read our full disclosure, please go to: http://www.equities.com/disclaimer