A strategy that is based firmly on an organization's culture is one that will prevail. A culture that invites introspection, eagerly evaluates itself and employs meaningful measurements allows a strategy to take root and flourish.
There are many evaluative tools to help focus your team and identify if and where changes need to be made. The SWOT analysis is one tool that is widespread and effective. A similar tool employed during the Paterson StratOp process is called "Four Helpful Lists." The outcome isn't just a list of problems but rather a conversation for finding solutions.
What is Right? (Optimize)
What is Wrong? (Change)
What is Confused? (Clarify)
What is Missing? (Add)
Instead of going into each definition, let me use Guardian Group's StratOp as an example. As you read through this list, you will see it relates back to information shared in previous articles.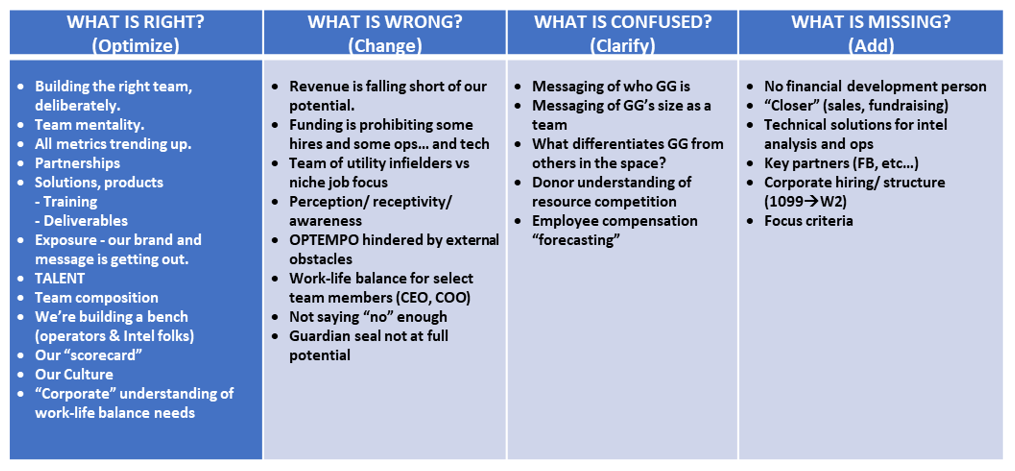 What is Right? – We deliberately built a team that shares a common culture with core ethics and we continue to develop and expand that team. This culture shines through in our brand messaging and all of our metrics are trending up.
If we would just stop here, we would feel pretty good. But there's more.
What is wrong? – We are still falling short of our potential. Although we have extremely talented team members, they were initially selected for their "athleticism" and their ability to do just about anything well. But what we need now are some specialists. As a "startup" we did not say no enough and began to lose some of our work-life balance.
That analysis is a little more sobering. But there's more.
What is Confused? – Because Guardian Group is a non- profit that thinks like a business and drives both an offensive and defensive approach to counter sex trafficking the messaging can get confusing. We work nationally but are still a small team that needs additional resources to expand. Without being able to forecast revenue, it is difficult to commit compensation to expand the team.
Ooh, that was even more sobering. But there's more.
What is Missing? – To realize more of our potential for revenue we needed a business development professional and a sales director ("closer") to establish the criteria to help us say no better. We needed to invest in more technical solutions for our core task of analysis and develop a timeline for transitioning our contracted work force into employees with a benefits structure.
I am pleased to say that within 90 days of using the Four Helpful Lists, what is right is still right. We've improved what was confused and added a business development professional, sales director, and executive assistant to our team. And, we are no longer contractors but full-fledged employees.
It doesn't mean that now we are on cruise control. In fact, we will run through the Four Helpful Lists again at the end of this month and will keep building upon this model.
Everything is trending up. We worked hard to get that flywheel turning and we have even more reason now to be ruthless with our introspection, with rigorous candor in our evaluations, and ever more critical of our measurements. This culture of staring at our faults and missteps head on will allow our strategy to be adaptive and forward thinking for years to come.
Guardian Group (www.theguardiangroup.org) complements resource-constrained law enforcement, ensuring sex-trafficking safe-havens are disrupted and eliminated. We currently operate in over 20 states and have completed hundreds of successful sex-trafficking engagements in direct support of law enforcement and families that need our help. We are in the process of developing strategic partnerships with worldwide and world-class organizations that understand the social and business benefits of tackling this exponentially increasing social injustice. Guardian Group is a non- profit that hires retiring U.S. Veterans from Army Special Operations Forces, specifically those within the intelligence, analytical, and tactical divisions of the force.
Paterson Center (https://patersoncenter.com/ ) StratOp is a strategic system that helps your team clarify where you are, where you're headed, and how to get there. It's used by organizations big and small, from billion-dollar global corporations to entrepreneurs and startups. Many companies are not focused around a central plan, and many leaders are left wondering how to maximize potential. With StratOp, your entire team will be focused around the same unique mission and vision, and will have a clear plan to make that vision a reality.