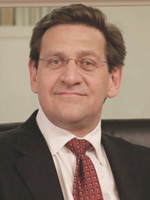 Stock market sell-offs create opportunity. Whether you are a trader or an investor, when fear breaks out you can make money going the other way.
Many of the stocks I look at- or the indexes for that matter- all came to the "bottom of the envelop" – offering opportunity. Remember it is never easy; these trades only look easy when you look back. We have now seen a post-recovery record in terms of number of consecutive days down and consecutive weeks down in a row. This has created the window, whether you take stocks home or not.
The chance to add to best positions above your average price (not averaging down!) or play the bounce off the bottom. Even if you are bearish, this may not be the best time to put on a short.
We will not know for a month maybe, but so far the seven pullbacks since March 2009 have each led to a higher high. I would not be selling positions here.
We know emotional trading usually backfires. Use other people's fears to buy and once again when we see over-bought conditions, raise some cash to buy pullbacks.
This material is being provided to you for educational purposes only. No information presented constitutes a recommendation by T3 LIVE or its affiliates to buy, sell or hold any security, financial product or instrument discussed therein or to engage in any specific investment strategy.
DISCLOSURE: The views and opinions expressed in this article are those of the authors, and do not represent the views of equities.com. Readers should not consider statements made by the author as formal recommendations and should consult their financial advisor before making any investment decisions. To read our full disclosure, please go to: http://www.equities.com/disclaimer