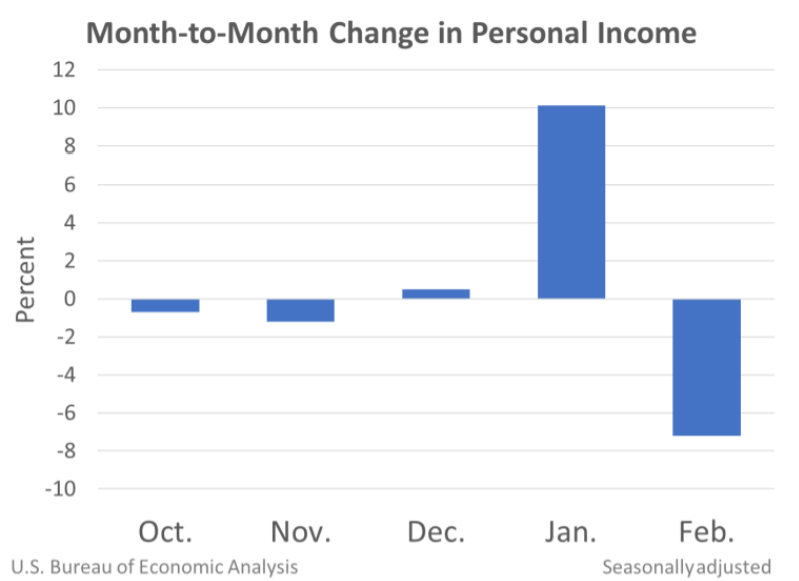 Consumer spending and personal incomes took a tumble in February, as severe winter weather gripped many parts of the US and the federal government finished its distribution of $600 relief payments. Despite the drops, the US Department of Commerce is forecasting a rebound this month as more Americans are vaccinated and many receive a second, larger round of COVID-19 pandemic aid.
In its "Personal Income and Outlays" report for February, the Commerce Department reported that consumer spending, which accounts for more than two-thirds of economic activity in the US, dropped 1% after a 3.4% rebound in January.
February's decline was the largest since April 2020, when consumer spending tumbled 12.4%. as the country was besieged by the coronavirus outbreak and businesses were shut down as a result.
According to the Commerce Department, Americans spent less across the board, particularly on pharmaceutical products, recreational goods and takeout food, which helped offset increases in outlays on housing, healthcare, utilities and gasoline due to higher prices.
After rising 10.1% in January, personal income declined a record 7.1% in February, a period in which the government was wrapping up the majority of $600 stimulus payments from December's $900 billion relief bill.
On Wednesday, the Internal Revenue Service, US Department of the Treasury and the Bureau of the Fiscal Service reported they have made 127 million payments totaling $325 billion in the first two weeks after President Joe Biden signed the $1.9 trillion economic stimulus package into effect.
Gregory Daco, chief US economist at Oxford Economics, told The Associated Press Friday that the $1,400 stimulus checks, combined with improving health conditions and warmer weather, have US consumers "ready for a spring bloom."
Economists also believe spending in 2021 will be supported by a buildup in personal savings over the past year as Americans stayed home and canceled vacations, the Associated Press noted.
According to the Commerce Department, the overall economy grew at an annual rate of 4.3% in the fourth quarter, concluding a year when the GDP dropped 3.5%, the biggest decline in more than seven decades.
Strong consumer spending will help the GDP grow at an annual 5.1% this quarter and rise for the rest of the year, giving the economy 6% growth for all of 2021, Mark Zandi, a chief economist at Moody's Analytics, told The Associated Press.
"The economy will be helped by an end to the pandemic, which will make people feel comfortable about going out, along with massive support from the federal government and pent-up demand from consumers," he said.
_____
Source: Equities News