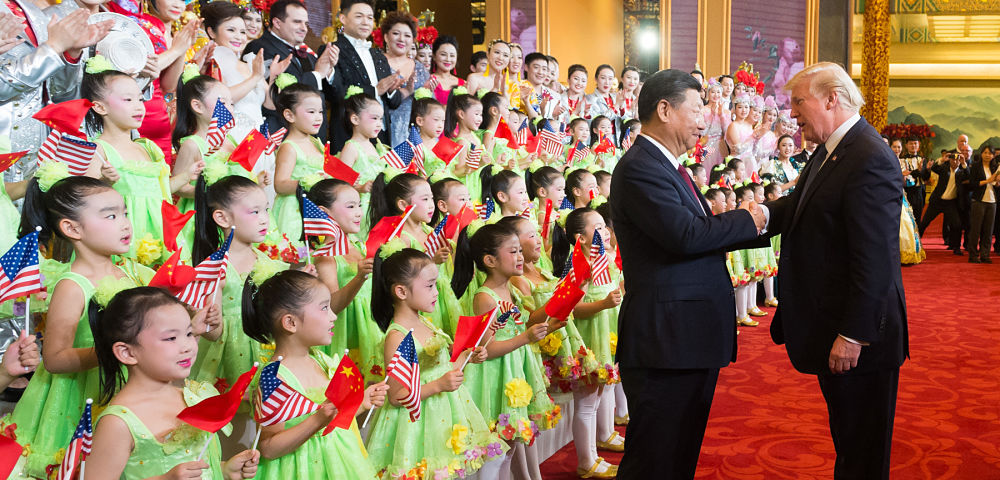 WASHINGTON (AP) — President Donald Trump has boldly declared that trade wars are easy to win. He's about to find out.
Barring a last-minute breakthrough, the Trump administration on Friday will start imposing tariffs on $34 billion in Chinese imports. And China will promptly strike back with tariffs on an equal amount of U.S. exports.
And just like that, a high-risk trade war between the world's two biggest economies will begin — one that could quickly escalate.
"I see us running into a full collision course in a few days," said Ashley Craig, a trade lawyer at Venable LLP. "It seems as if both sides are fairly dug in."
Here's a look at what's happening this week and its likely impact.
WHAT IS THE U.S. DOING?

The White House last month announced plans to slap 25 percent tariffs on roughly 1,100 goods imported from China, worth $50 billion a year. It had originally proposed the tariffs in April, starting with 1,333 Chinese products. After receiving public feedback, the administration cut 515 imports from the blacklist and added 284 others.
Starting Friday, the U.S. will tax 818 Chinese products, worth $34 billion a year, from the original list. It won't target the 284 additions, worth $16 billion, until it gathers further public comments.
HOW IS CHINA RESPONDING?

China has warned that it won't yield to Trump's pressure. If the U.S. starts taxing Chinese imports Friday, Beijing plans to impose 25 percent tariffs on 545 U.S. products worth $34 billion a year — from soybeans and lobsters to sport-utility vehicles and whiskey. China is considering a follow-up tariff on an additional 114 U.S. goods, worth $16 billion a year.
Beijing's target list of U.S. goods to penalize is heavy on agriculture. That's hardly a coincidence. Its tariffs are meant to deliver pain to American farmers, who overwhelmingly backed Trump in the 2016 election and whose interests are represented by powerful lobbyists and members of Congress.
In the meantime, Trump has told his U.S. trade representative, Robert Lighthizer, to identify an additional $200 billion in Chinese goods for 10 percent tariffs. These penalties would take effect, Trump has said, if Beijing fails to reform its trade practices and proceeds with retaliatory tariffs.
The stakes could rise further yet: Trump has threatened tariffs on still another $200 billion in Chinese products if Beijing continues to retaliate.
WHAT'S BEHIND THE U.S.-CHINA RIFT?

The Trump administration has accused China of using predatory tactics in a lawless drive to overtake America's technological supremacy. U.S. officials point to Beijing's long-range development plan, "Made in China 2025," which calls for creating powerful Chinese entities in such areas as information technology, robotics, aerospace equipment, electric vehicles and biopharmaceuticals.
Foreign business groups argue that "Made in China 2025″ is unfairly forcing them to the sidelines in those industries. The Office of the U.S. Trade Representative concluded after an investigation that China's tactics range from requiring U.S. and other foreign companies to hand over technology in return for access to the vast Chinese market to outright cyber-theft. The U.S. also asserts that Beijing uses state money to buy American technology at prices unaffordable for private companies.
In May, the White House had said it would announce curbs on Chinese investment in U.S. technology by and impose those restrictions shortly thereafter. But last week, it dropped that plan.
WHAT HAPPENED TO THE INVESTMENT RESTRICTIONS?The administration settled last week on a less draconian plan: It would back an effort in Congress to strengthen reviews of foreign investment under the existing Committee on Foreign Investment in the United States, or CFIUS. This committee, led by the Treasury secretary, considers whether a foreign investment poses a risk to America's national security. These reviews apply to all countries — not just China — and are conducted on a case-by-case basis.
The House has approved a bill to strengthen the CFIUS law, and the bill will likely be considered by a House-Senate conference committee for a Senate-approved defense measure.
WHAT'S THE LIKELY IMPACT FROM A U.S.-CHINA TRADE WAR?

The initial fusillade of tariffs will likely do little damage to the United States, China or the global economy. But if they escalate, the pain will deepen and spread.
Economists at Bank of America Merrill Lynch have warned that a full-fledged trade war, especially one that lasts more than a year, would slow the U.S. economy. By disrupting supply chains, eroding business confidence and heightening uncertainty, a trade war, they say, could "push the economy toward full-blown recession" and jeopardize America's economic expansion — the second-longest on record.
Many individual businesses could soon endure hardship, too. Consider American soybean farmers, who send about 60 percent of their exports to China. Their shipments will now be subject to a 25 percent tariff, which will instantly make their crops far costlier in China.
What's more, the U.S. tariffs on imported Chinese products could end up hurting American manufacturers. The Peterson Institute for International Economics calculates that 85 percent of the Chinese products to be hit by the initial Trump tariffs are machinery and components used in finished goods made in the United States. A result is that U.S. manufacturers will have to pay more for parts and equipment, thereby putting them at a competitive disadvantage to foreign rivals.
ISN'T THE U.S. ALSO SPARRING WITH OTHER TRADING PARTNERS?

Yes. Trump is battling in just about every direction. He has slapped tariffs on imported steel and aluminum — action that has drawn retaliatory tariffs from U.S. allies like Canada, Mexico and the European Union. The president is also threatening to impose tariffs on imported vehicles and auto parts on the grounds that they pose a threat to America's national security.
And he is pressuring Canada and Mexico to agree to rewrite the North American Free Trade Agreement to shift more auto production to the United States and encourage companies to move investment from Mexico to the United States.
By brawling with America's friends, critics say, Trump has squandered an opportunity to build a united front against China. After all, Europe, Japan and other rich countries have the same complaints about Chinese trade practices that America does.
IS THERE ANY REASON TO EXPECT A RESOLUTION?

Maybe. For a time, it looked as though peace might be at hand. In May, Treasury Secretary Steven Mnuchin declared the trade war "on hold." The Trump administration suspended its tariffs after Beijing agreed to increase its purchases of U.S. goods, especially in agriculture and energy. The idea was that China's additional purchases would shrink its trade surplus with the United States. Yet the cease-fire was short-lived. Critics dismissed Beijing's commitments as vague, and Trump decided to proceed with the tariffs after all.
The top White House economic adviser, Larry Kudlow, has said the two countries are "in communication" — although there's been no word of any formal negotiations. Trump himself told Fox News Channel's "Sunday Morning Futures With Maria Bartiromo" that "China wants to make a deal, and so do I, but it's got to be a fair deal for this country."
Follow Paul Wiseman on Twitter at https://twitter.com/PaulWisemanAP