January 29, 2020 — The US Census Bureau
Last month, the Census Bureau — along with other federal agencies, academic institutions, the tech industry, and private institutions — unveiled over 15 new projects that used open data to create digital tools specifically designed to serve the public.
The projects are all part of The Opportunity Project, now in its fourth year, which coordinates fast-paced tech development sprints over 12 to 14 weeks.
The sprints bring together teams of technologists, data experts, community leaders, government representatives, and industry leaders, such as Redfin, Zillow and Amazon.
Teams collaborate to address specific challenges faced by federal agencies that serve the needs of the general public.
This year, teams tackled two challenges: "Investing in the American Workforce" and "Innovating the 2020 Census."
Annual Demo Day
Every year on Demo Day, teams show their innovative products to industry executives, government leaders and the media.
This year, many tech tools focused on community.
"We work with partners to create reports and data tools for understanding well-being and opportunity in America," noted Kristen Lewis, director for Measure of America, a nonpartisan research group.
Measure of America created the Latino Power Map, which details locations of over 500 Latino nonprofits and 50 well-being indicators for the state of California. The map is designed to help local, state and federal leaders and officials learn about challenges in their community, including counting people in the 2020 Census.
New this year: Prize Challenge winners
Since its launch in 2016, The Opportunity Project has recognized that one of the greatest challenges associated with technology development is product sustainability and adoption. This year, it awarded five $20,000 prizes in different categories to assist organizations in continuing to deploy valuable data tools to the public.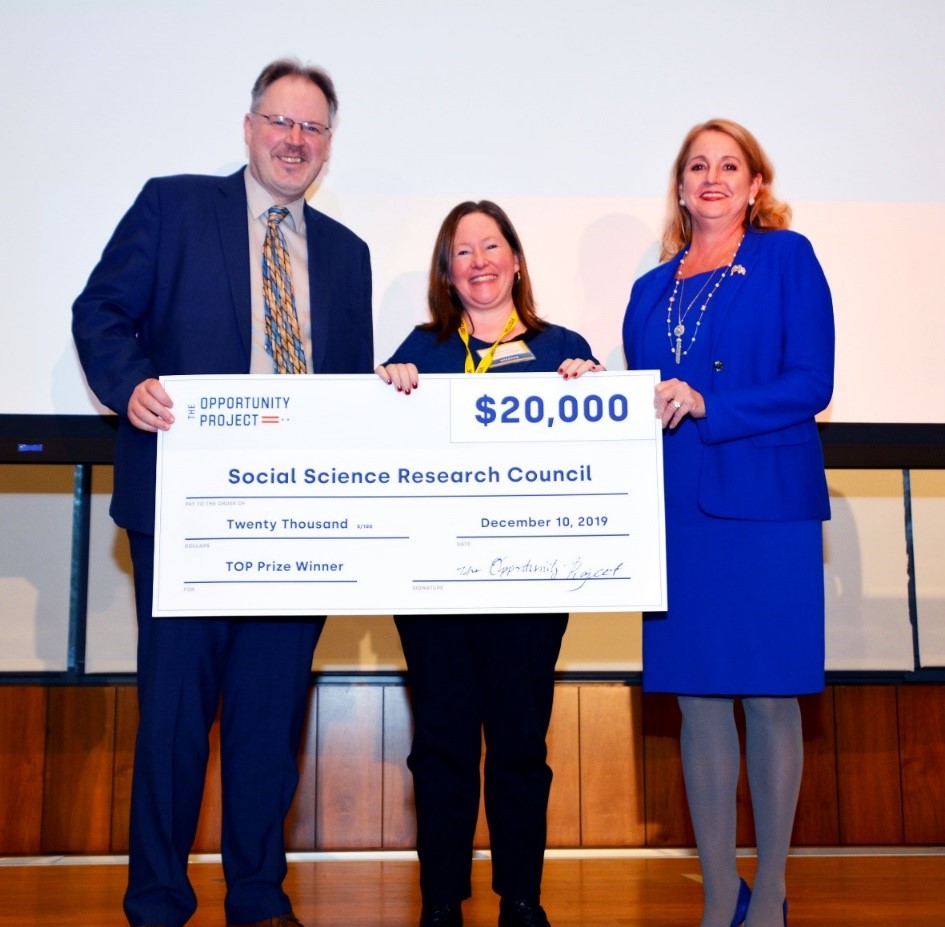 Image: Census Deputy Director Ron Jarmin (left) and Federal Chief Innovation Officer Suzette Kent (right) present a prize check to Measure of America Director Kristen Lewis (center). Measure of America is a nonpartisan research group under the Social Science Research Council. Source: US Census Bureau.
Drew Zachary, co-founder and director of The Opportunity Project, said panels of over 50 government and industry experts judged the competing products.
The products were evaluated on their design quality, cross-sector collaboration, use of federal data, sustainability and impact.
The 2019 Prize Challenge winners:
2020 Census: Reaching Hard-to-Count Communities — Measure of America, DATA2GO.NYC. It uses federal, state, and city datasets to provide reliable, up-to-date information on New York City neighborhood assets and challenges for all who work to improve the quality of life for New Yorkers in need.
Revolutionizing the Workforce — iCASA PR, PRADOS (Puerto Rico Address Database Operations Support). PRADOS combines datasets from the Census Bureau, U.S. Postal Service and the National Address Database to help municipalities and communities in Puerto Rico enhance their address infrastructure to support Census operations, improve emergency response and foster a more resilient future.
Building Thriving Communities — Burning Glass Technologies, Inclusive Development Dashboards. It uses federal open data to build a development network that includes leaders from the civic sector, government, and industry.
Resilient People and Places — Citi Ventures, City Builder. It uses Census Bureau, U.S Department of Agriculture, U.S. Department of Education, and U.S. Securities and Exchange Commission data to bring transparency to Opportunity Zones for investors, fund managers, wealth managers, and cities.
Creating the Future of Health — Composite Apps, CURA Patient. It leverages U.S. Department of Veterans Affairs and Centers for Medicare & Medicaid Services data to reduce physician burnout and hospital readmission rates for veteran heart failure patients.
The following groups received honorable mentions for their outstanding products and work: Emsi, Public Democracy, Ovela and Girls Computing League.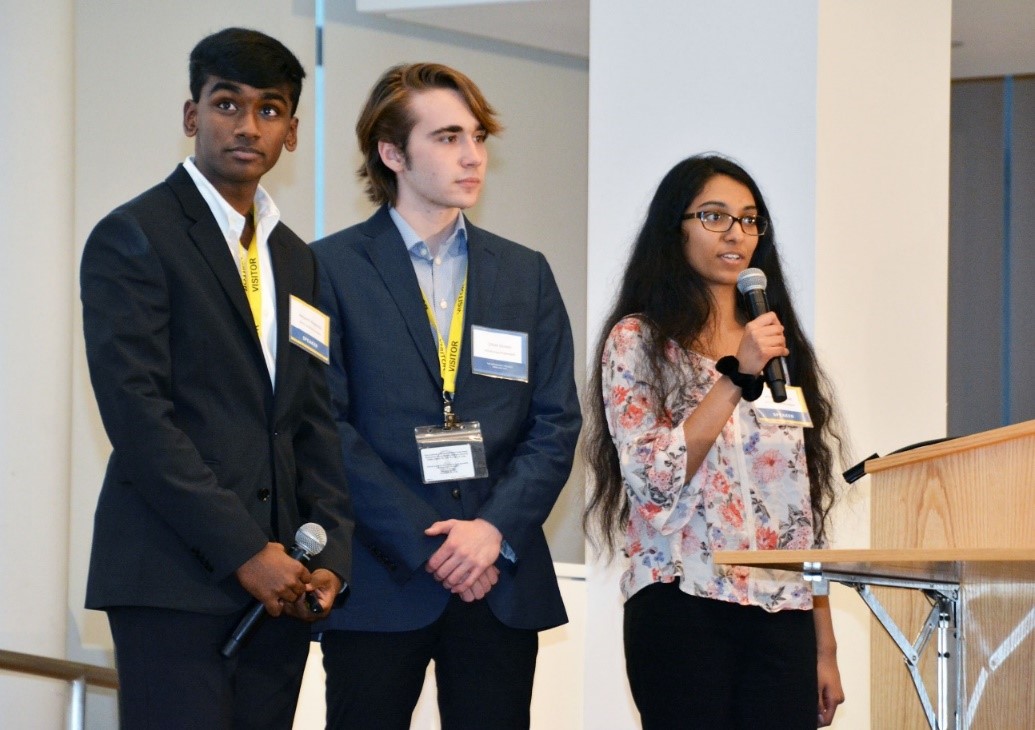 Image: From left: Neeyanth Kopparapu, Ethan Ocasio and Shreeja Kikisetti of Girls Computing League presenting the clinical trials selector created to help patients find clinical trials for which they may be eligible.
_____
Garrison M. Anderson is a Presidential Management Fellow in the U.S. Census Bureau's Public Information Office.
_____
Source: U
S Census Bureau