With food prices falling and new advancements in digital shopping grocery stores are battling to attract customers. The grocery store game has become quite cutthroat, but some things are clear: consumers want high quality, often organic or natural products, and they tend to value convenience over price, as outlined in this infographic from Rave Reviews.

Fight Over Falling Food Prices
In 2016, grocery prices experienced the longest stretch of falling prices since the 1950s.
Prices plummeted and continued to fall for 19 months straight:
Eggs -21.1%
Beef -6.3%
Dairy -2.3%
Food prices usually fall in a bad economy, but this time was different.
Lower costs of transporting goods
Less grocery exports to China and other countries
Production far outweighing demand
In 2018, grocery prices are projected to rise between 0.5% and 1.5%
Prices will remain lower than in 2015
January 2017, Kroger announced a drop in same-store sales for the first time in 13 years
January 2018, Walmart suddenly closed 63 Sam's Club locations without warning
Grocery stores have a tiny profit margin— usually 2-3% -— but are in a constant battle to offer the lowest prices.
How Low Can You Go?
German chains Aldi and Lidl offer deep discount prices and a no-frills shopping experience to attract US customers.
Aldi plans to have 2,500 U.S. stores by 2022, becoming the 3rd largest grocery chain in the U.S.
Directly targets Walmart shoppers with lower price offers, pressuring competitors to drop prices further.
Committed $5 billion to expanding and remodeling US stores
Lidl planned to open 100 stores in 2018, its 1st year in the US… but
Many sites have halted construction and only half of stores have opened
Kroger dropped prices as much as 13% to compete
Overall spending on food is increasing, but very little of that money is going to traditional grocery stores.
Battle To Keep Customers
Modern shoppers want more than low prices
American consumers…
Purchase frequently in smaller amounts
Value convenience over a good price
Demand high-quality, natural and organic products
Giving customers quality experiences
Walmart's Designer Cantaloupe
Created by Walmart & Bayer to taste great all year
Named "sweet spark" for the sunburst in Walmart's logo
Wegman's Market Local Produce
Publishes a calendar of local produce availability
Wegman's farm supplies sustainably grown, organic produce to 2 of the chain's stores
The Digital Revolution
People are turning to online shopping more than ever, but e-grocers face a unique challenge
Products ever purchased online:
Snacks 42%
Groceries 32%
Fresh food 12%
Frozen food 11%
Meal kits 9%
Customers worry their online grocery purchases:
Won't match what they ordered: 57%
Will be delivered when no one is home: 55%
Grocery Delivery
Use of grocery fulfillment service are growing in popularity
People already using or willing to use grocery fulfillment:
Delivery to home 85%
Pickup inside the store 77%
Drive-through pickup 71%
Pickup curbside outside the store 66%
Meal Kits
Consumer spending on meal kits is increasing 3X faster than traditional channels.
Millennials aren't the only ones whose shopping habits are changing:
Only 11% of millenials have purchased a meal kit
GenX-ers account for 51% of all meal kit spending
"When bricks and mortars catch up with the omnichannel world, they're going to give Amazon a run for their money." — Paco Underhill, Retail Consultant for Amazon.
Amazon Invades The Grocery Industry
Amazon Drops Prices at Whole Foods
August 24, 2017: Amazon announced merger with Whole Foods
Promised to immediately lower prices on everyday items
Prices on a basket of these items dropped 23%
Friday (before merger): $97.76
Monday (after merger): $75.85
Kroger stocks dropped 9% following the announcement
19% drop the day before, after announcing a second quarter of declining sales
Total $7 billion lost in two days
Grocery Delivery
Prime Now (AKA AmazonFresh)
Offers free 2 hour delivery to Prime members
Includes groceries from Whole Foods and products from Amazon
Target Buys Shipt Delivery Service
REDcard holders will get a discount on Shipt membership fees
Customers will get same-day delivery on anything in the store
Walmart Partners with Deliv
Offer in-home grocery delivery while customers are away
Grocery Pickup
AmazonFresh Pickup
Prime members can order online and pickup in 15 minutes
Cameras scan license plate to identify customers as they arrive
Kroger ClickList
Customers order online and schedule a pickup time
Pickup at one of 1,000 participating Kroger locations
Walmart Grocery
Offers free curbside grocery pickup for customers who order online
Speed & Convenience
Amazon Go
Customers grab sandwich and snacks from the shelves
Automatically billed when exiting the store
Kroger's Scan, Bag, Go
Customers use a wireless scanner as they walk through the store
Pay with their mobile app to skip the checkout lane
Sam's Club
Customers can scan and checkout using a smartphone app
Meal Kits
Amazon & Whole Foods
Amazon has started delivering meal kits in Seattle
Whole Foods partners with Purple Carrot to sell meal kits in stores
Kroger
Prep+Pared meal kits for customers to prepare themselves
"Easy for You" prepared foods to heat and serve
Walmart
Announced in March that it will offer meal kits in 2,000 stores by the end of 2018
Who will win the grocery store war?
The Future of Food Shopping
Technology will continue to make shopping faster and more convenient.
Stores will focus on offering high quality, personalized options.
Digital avenues of grocery shopping will continue to grow.
Grocery stores may be fighting for their future — but with more options and lower prices, shoppers are the true winners.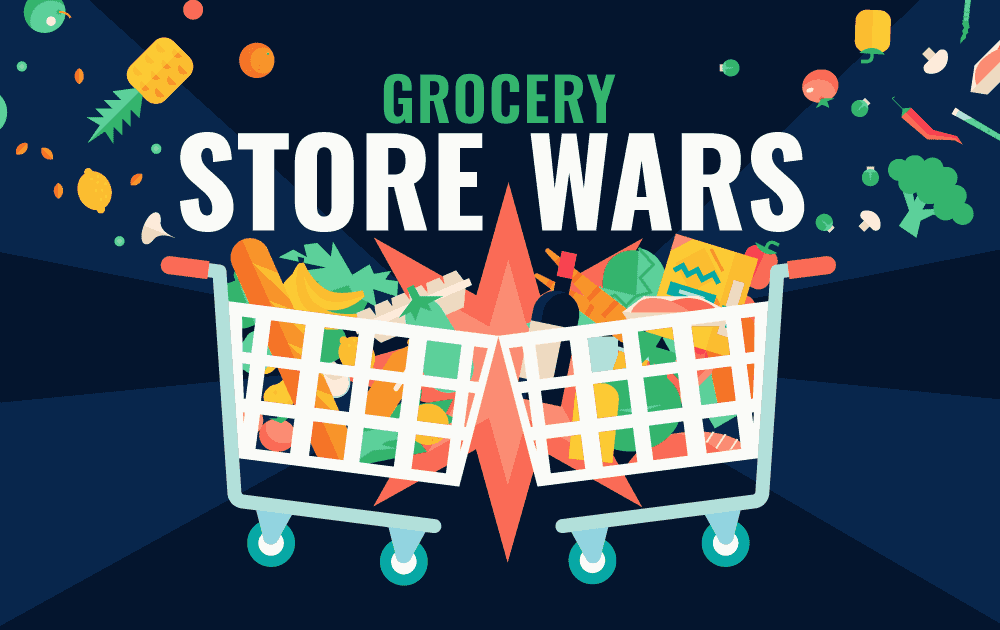 Sources:
https://www.npr.org/sections/thesalt/2017/09/06/54…
https://www.ers.usda.gov/data-products/food-price-…
https://www.ers.usda.gov/webdocs/DataFiles/50673/C…
https://www.forbes.com/sites/maggiemcgrath/2017/06…
https://www.cnbc.com/2018/01/11/walmart-to-shutter…
https://www.nbcnews.com/business/consumer/american…
https://www.cnbc.com/id/100794988
http://fortune.com/2017/06/12/german-grocery-chain…
https://www.bloomberg.com/news/articles/2017-06-13…
https://www.cnbc.com/id/49101716
https://www.bloomberg.com/news/articles/2017-05-04…
http://money.cnn.com/2018/03/05/news/companies/wal…
https://www.wcpo.com/news/insider/nutrition-test-h…
https://www.eater.com/2016/10/26/13388376/whole-fo…
http://abcnews.go.com/Lifestyle/amazons-meal-deliv…
https://finance.yahoo.com/news/amazon-just-got-ser…
http://www.businessinsider.com/lidl-us-expansion-s…
https://www.nbcnews.com/business/consumer/amazon-g…
https://www.cincinnati.com/story/money/business/20…
https://www.bloomberg.com/news/articles/2017-05-25…
http://money.cnn.com/2018/02/27/news/companies/sam…
http://phoenix.corporate-ir.net/phoenix.zhtml?c=17…
https://www.usatoday.com/story/money/2017/12/13/de…
http://www.businessinsider.com/whole-foods-prices-…
https://www.bloomberg.com/news/articles/2017-06-19…
https://www.marketwatch.com/story/the-future-of-gr…