Understanding the Colombian Emerald Mining Sector
Craig Dempsey Follow |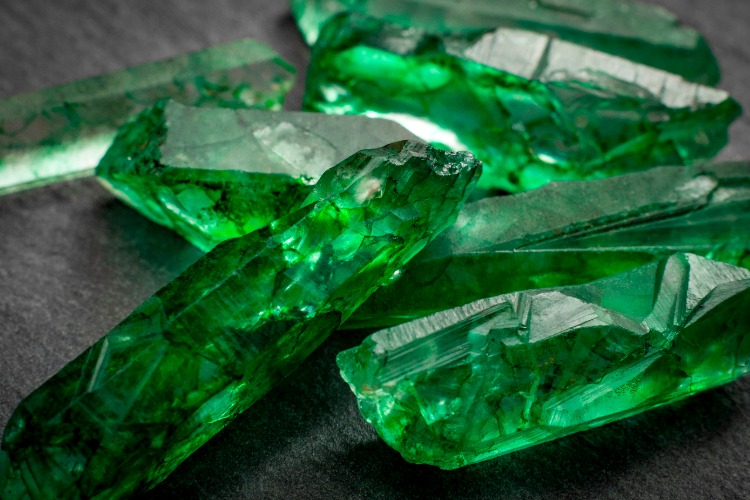 Image: iStock.com/Moussa81
A country famed for its fine emeralds since the time of Cleopatra, Colombia has seen a significant increase in foreign direct investment over the past decade or two, with businesses from the United States and indeed further afield expanding into the country to take advantage of the natural resources on offer. While locals have been grateful for the mass investment and job creation brought about by these excavations, the sector has been synonymous with criminal activity and labor issues in the past. With that said, business and the Colombian government have worked hard together to change the tides and ensure that the sector is safe and efficient while delivering returns to both shareholders and Colombian society as a whole.
With significant investment in Colombia and businesses modernizing their practices to increase their mining yields and reduce manual labor requirements, the sector has been going through something of a renaissance. Indeed, Colombians have been mining emeralds to sell as craft jewelry and other luxury products for centuries, but it's only in this current century when foreign nationals have discovered the huge potential of the sector, spending millions on sites and investing not only in people but in the wider mining and excavation industry.
Today, we pull back the curtain on one of the country's most interesting and prosperous sectors, explore the biggest challenges facing Colombian emerald mining businesses, and consider the future of the sector, which is proving to be more competitive than ever before.
Colombian Emeralds
Novo Nordisk To Acquire Dicerna Pharmaceuticals for $3.3 Billion
Emeralds in Colombia have a long and drawn out history. The stunning green emeralds we know and love today were formed 30 to 50 million years ago, but it's only within the past several hundred years when they were first mined. Colombia has sedimentary-metasomatic emerald deposits, located primarily in the Eastern Cordillera. According to The Culture Trip, 70-90% of the world's quality emerald market stems from Colombian emeralds, with the jewels in high demand among wealthy individuals, manufacturers, and indeed tourists coming into the country, many of whom stop by the Emerald Trade Center of Bogotá on Avenida Jiménez.
Criminal Activities Remain a Concern
Numerous multinational mining businesses operate in the Colombian emerald sector and, as competition begins to increase, such companies are working harder to increase their strongholds on the sector and reduce the chances of additional players taking their mines. The Minería Texas Colombia S.A (MTC) is the largest mining business and "most technical in Colombia", describing itself as an "avant-garde and ambitious exploitation scheme". The firm was awarded the concession to exploit the Muzo emerald mine in the country, investing millions of dollars in production to filter out emeralds and increase their yield.
One of the benefits of the Muzo municipality is that the majority of its citizens already work in the mining sector, meaning MTC was able to secure experienced, low-cost labor. The plant was invaded in January 2015, however, and production was stolen. One local was quoted in The Washington Post saying, "How could people be happy? They're putting tons of emeralds on a helicopter and flying it away."
In a sector that's filled with hard graft and indeed the risk of physical threats and invasions, firms such as MTC are always going to be controversial and divisive, but they demonstrate the need for reforms in the sector and increased security at sites where corruption and criminal gangs could gain access. According to the Ministry of Mines, 63% of mining activity in the country is currently informal, meaning there is limited legislation in place. It is clear that the government must do more to ensure firms are regulated and protected from wider threats.
Growing Discoveries
Fura Gems FURA:CA, a firm listed on the Toronto Stock Exchange, is another major emerald sector player, and in November 2018 completed its initial core drilling at the Coscuez project in Boyacá. In a press release, the firm said that it had identified a potential emerald bearing horizon of 632 meters with a thickness of up to 200 meters, highlighting the real value and opportunity for international firms who are willing to make an investment. After completing Phase 1 of the Bulk Sampling Program, where more than 12,845 carats of emeralds at 7.14 carats per tonne of emerald were recovered, the firm has announced it has begun Phase 2 with a larger size stope to further define the mineralization. Dev Shetty, the company's president, added that "In my years of drilling experience, it is the first time I have seen emeralds in cores in our first drill hole. It is a very encouraging sign."
New Market Entrants
Hexa Resources a UK private business, recently secured a deal in the sector, enabling them to become a formal market entrant. The company has ambitious growth plans, focused on securing controlling interests in various prospective projects, using its technical and commercial in-house skills, within the Colombian emerald sector. Perhaps one of the most interesting things about Hexa is that the group is an integrated mining business, i.e., it explores and mines for emeralds as well as cutting and trading its own gems and those from third parties. This means that it can access a more stable high margin business than many of the existing emerald miners can. The company's mid-term aim is to become a leading Lat Am colored gemstone miner and trader, and it's seeking funding from the equity market to fulfil its growth plans and move into commercial production. Hexa is looking to list in Canada later this year.
Christopher Harris, Managing Director at the firm, said that:
"Hexa Resources is a dynamic new emerald mining and trading business with a South American focus," and added that the company had "completed an acquisition of three license interests in Colombia next to the world-class Coscuez mine" in order to build its profile in the region and bolster its growth.

Green Gem Investments (GGI), a relatively new player in the market, has already announced some very ambitious plans and is led by a young, dynamic and capable team. Expect to hear more from this group in the future.
As the CEO and Founder of one of the leading advisory firms within the sector, Biz Latin Hub, I have seen significant foreign interest in the market, with numerous companies now actively considering entering the sector in order to capitalize on the immense financial returns. Although the initial upfront capital required to compete in the market is no doubt a major deterrent, being able to exploit gaps in the market, whether that be through mining expertise or technological prowess of the scale of an investment firm, will be the key to diversifying the emerald sector in Colombia, adding to the country's output, and bringing disruption to the market.
DISCLOSURE: I have economic interests in Biz Latin Hub, Green Gem Investments and Hexa Resources.

---
The views and opinions expressed in this article are those of the authors, and do not necessarily represent the views of equities.com. Readers should not consider statements made by the author as formal recommendations and should consult their financial advisor before making any investment decisions. To read our full disclosure, please go to: http://www.equities.com/disclaimer.
Trending Articles
Market Movers
Sponsored Financial Content