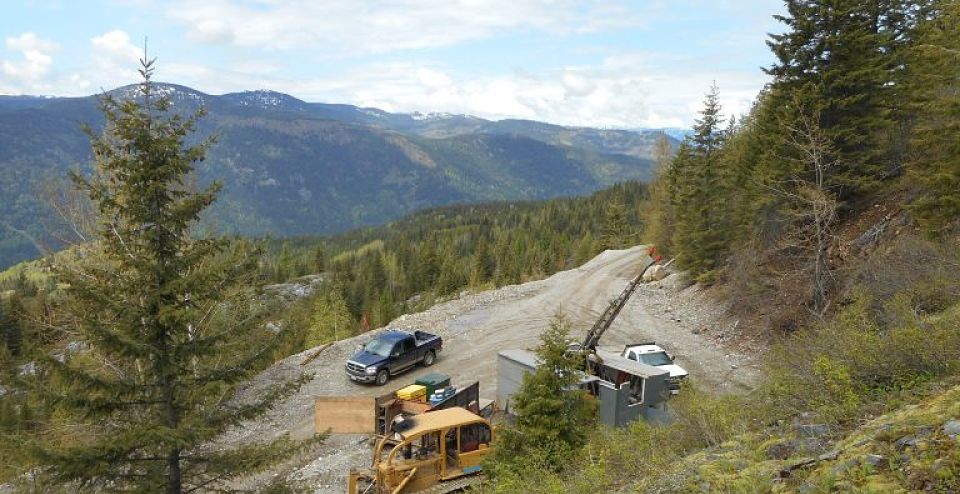 With an enviable land package that spans over 24,000 hectares in the Kootenay Arc region of British Columbia, Margaux Resources (MRL:CA)(MARFF) is clearly sitting on something big. But that isn't just true of the size of its property. It's the opportunity at hand that is truly colossal for Margaux Resources, and the company is aggressively seizing it. Margaux spent the bulk of 2017 consolidating and assessing the various properties in the historically neglected and underdeveloped mining district, intent on finally unlocking the full potential of the mineral-rich region. Going forward, the company is looking to advance its drilling program, particularly that of the Sheep Creek Gold District in 2018, to the next stage.
There are several advantages that Margaux is leveraging to do so. First, the various properties are now under one ownership for the first time ever, allowing for more efficiencies and streamlined processes. Second, the company is able to apply modern technologies and methods to the untapped lands. Third, Margaux's team is very much fixated on the big picture rewards of the Kootenay Arc that, for one reason or another, have been left unexplored historically. The company recently consolidated its gold properties into the Sheep Creek Gold District, which will likely be its primary focus in the near-term; and the Kootenay Arc Zinc District, which presents a very promising longer-term opportunity.
To get a better sense of how the company is executing on this promising strategy, Equities.com spoke with Linda Caron, Vice-President, Exploration for Margaux Resources, to recap the progress the company made in 2017, how that has positioned the company to execute on its 2018 goals, and shed more light on the company's gold, zinc and tungsten opportunities.
EQ: Margaux Resources has amassed one of the largest land packages in the prolific mining region of the Kootenay Arc district in Southern British Columbia. What is the significance of having this massive property under one ownership?
Caron: It's important because, historically, the ownership was very fragmented, which doesn't allow for understanding the geology across claim boundaries and it prevents you from forming a big picture understanding of what is going on. Also, even if you did have that understanding, you can't continue your exploration across the property boundaries, particularly in Sheep Creek. Historically, there were five different mills operating at a particular time, and there was an inefficiency of operations and an inefficiency in understanding the potential.
EQ: So, consolidating the land package helps to streamline this, and part of that streamlining is what Margaux did recently. The company announced that it was consolidating the projects into the Sheep Creek Gold District and Kootenay Arc Zinc District. Can you enlighten us to the decision of streamlining this messaging and the reasoning behind the way it was grouped?
Caron: We were getting external feedback that the messaging was just getting too complicated. We had tied up a bunch of properties and were referring to those properties by their historical names, or by the option agreements that we had with various people. It all made sense to those of us on the ground, but for somebody looking at it from a distance, it wasn't clear messaging. They were getting confused about which properties were gold and which were zinc. One of our big zinc projects was called Jackpot. Everybody heard Jackpot and thought that must mean gold. It was just getting confusing for the public to understand what we were doing. To address this and simplify the messaging, we grouped all our gold projects under the umbrella of the Sheep Creek Gold District and grouped all of our zinc projects under the umbrella of the Kootenay Arc Zine District.
EQ: geographically, are the projects that are now grouped together also close in proximity to one another? Are the gold projects grouped in the Sheep Creek Gold District located near each other? Are the zinc projects in the Kootenay Arc Zinc District near each other?
Caron: Absolutely. The zinc projects are all contiguous except Jackpot, which is separated by a few kilometers. There are two land packages, which together, make up the Zinc District. The same is true of the Sheep Creek Gold District. Most of the land is contiguous. It's one package, and then the Bayonne Property is separated by approximately 10 kilometers. In both cases, the style of mineralization is similar, so it makes sense to group them together under one umbrella.
EQ: In addition to the efficiencies and better understanding achieved by the consolidation of ownership, Margaux has also discussed how the Kootenay Arc properties have historically been neglected. What is the opportunity here for the company here in terms of applying modern technologies and methods to extract maximum value from the untapped potential of this region?
Caron: This is particularly the case with Sheep Creek. The main Sheep Creek District has been held by a family, and then later by a private company controlled by that family since mining ceased in the 1950s. There were a couple of times where that family did deals with junior companies, and those deals might have lasted a season or so, but for the most part it was individually controlled. They held all this historical data and they were really not focused on exploration. Their approach was more along the lines of going back underground in one of those old historic mines to see if there maybe was a block of 5,000 ounces or so left behind from the old timers. I don't think that really capitalizes on the potential of the district. Sheep Creek has had 800,000 ounces, give or take, of historical production at 14 grams per tonne grade.
In the past, the only way that veins were found was because they outcropped, or because when they were drifting to get to a vein that they knew, they happened to cross another one. There has really been no looking at what is controlling these veins or trying to understand why they are where they are. Are there places where there should be veins but nobody has looked? That kind of exploration hasn't been done here before. As a result, we think there is a lot of potential to discover new veins in this district by focusing on what the controls are to the system, how the veins form, what rocks they like to be in, or what structures they should be present in. By understanding all those factors, we can target for new veins.
EQ: Looking at what Margaux accomplished in 2017, the company said it really focused on what it considered to be the big picture drilling phase to assess what you have in this property. Can you give us some highlights in the findings you obtained and any key milestones for Margaux with regards to the Sheep Creek Gold District?
Caron: First, I want to point out that on our website, we've published a video where we've summarized our progress pretty well. It's about 20 minutes long and it goes through it all in detail. So, I would refer people to that video.
In terms of our drill program, we didn't want to just go back to a known vein and look for where there was a little remnant of ore, and then see if we could build a small resource. For 2017, we were aiming for that big picture.
There are two main anticlines at Sheep Creek and the veins are preferentially hosted within a particular rock type. As the rocks are folded, that unit may not always come to surface. So, we modeled where we felt that unit should be at depth, and then we looked at where the unit was on surface a few kilometers away. Could we project to depth and see if a vein existed on strike from a known vein? That was really the big-picture thinking that we were doing.
We were modelling where veins should be and drilling to test were they there. That is what we did with our 2017 drilling program and it was very successful. We found, I believe, three new veins that had not been seen before and we put the first drills into those. The gold grades weren't as high as everybody would have liked, but what I think is important to recognize is that you need to do a lot of close-space drilling to define a resource on a vein. Typically, only 30% or so of any vein is ore grade. To find a new vein in a place where we predicted it to be is a great success. Now we need to go back to do more drilling, and we need to see what the gold grade of that vein is.
EQ: Looking ahead into the rest of 2018, what is status and goal of the drill program for the Sheep Creek Gold District?
Caron: We're fully funded for our 2018 drilling program. We have a budget of $1.2 million and expect to drill about 8,500 to 9,000 meters. Our plan is to follow up on what we found in 2017, and also explore some additional targets. We have many more targets that we think have good potential but have no drill holes in them.
The best grades we got were in drilling the Bayonne veins. We went below the historic workings there and we wanted to see whether these veins continue to depths below where the miners stopped mining, and whether they have reasonable width. On the two veins that we tested there, we found in both cases that the answer was yes. We got a little over 15 g/t in one vein, and 12.7 g/t in the other. These are decent widths of about one to two meters. That is very successful to us. It is a place where we'll definitely go back and start building that up. Those veins are open to depth and they're open to strike, so those are great targets.
One of our other targets we found was a lovely looking vein and drill core. We were all very excited. When we got the results back, however, the gold grade was very, very low in the 1 g/t range. But what was encouraging was that the trace elements of gold—in other words, the other chemical elements that are also found when we see gold—were there too. That tells us that it's a gold-bearing system, and we just have to do more drilling to find the gold-rich portions of the vein.
EQ: I understand there was a study that showed the orogenic gold mineralization at Sheep Creek was analogous to the famed gold-producing Barkerville district. What are the implications there, considering the way that both properties have been handled historically?
Caron: it was Geoscience B.C. that did the study. It was a completely independent study, and they were looking at orogenic gold veins. It does show that Sheep Creek and Barkerville are analogies, but the difference is that Barkerville has had a lot of really good work done developing it. Just last year, they did about 150,000 meters of drilling. For comparison, we did 4,000 meters at Sheep Creek. They've got thousands of drill holes, and we have 20. So, it just shows that we're still very early-stage, but I think the upside potential to our property is there.
EQ: Margaux's drilling program in 2017 focused largely on the Sheep Creek Gold District property, with about two-thirds of the drilling done on the gold project. Will that be able the same for 2018?
Caron: I'll think you'll see a little bit of a higher percentage towards drilling the gold projects in 2018. We are going to continue to advance our zinc projects, but we have some other work that we feel needs to be done, such as geophysics, some geological mapping, and continuing with our modelling there. I don't think we'll be doing as much drilling on the zinc side in 2018.
EQ: With that said, what is the potential that you see for the Kootenay Arc Zinc District from a longer-term perspective?
Caron: I love the zinc potential. We have the Jersey and the Jackpot, which are the two areas where there has been the most historic work. Jersey has been a historic mine, but Jackpot has never had any mining done. We did drill at Jackpot last year and got very good results. So, that absolutely needs to be followed up on and will be where we'll do more work on zinc. We think it's the kind of project that is attractive to majors or other partners in the zinc world. So, we're working on building relationships with some of those groups.
EQ: In addition to the gold and zinc exposure, Margaux's Kootenay Arc land package has also shown some potential for tungsten as well. Can you tell us more about this aspect of the company's opportunity?
Caron: the big thing that we're doing on the tungsten side is our Jersey Tailings Recycling Initiative, in which we have partnered with CRONIMET as well as with a local environmental group called the Salmo Watershed Streamkeepers Society ("Streamkeepers"). I can't give a number on it, but there is a lot of contained metal in the historic Tungsten Tailings which originated from the Jersey property. What we are doing is assessing whether it is technically and economically feasible to recover that metal. We also want to show that we are a responsible mining company. We're concerned about the environment, and we want to come in and clean up the waste from the historic mining in area. It helps us build social license so that when we do get to the stage where we want to put a new mine in production, we have a record of being responsible and committed to the environment as well as to our shareholders.
EQ: This is obviously primed to be a big year for Margaux as you take the next phase of understanding the extent of the untapped potential of the Kootenay Arc. For investors watching the company and interested in your progress, how should they track and gauge your development going forward?
Caron: With the budget we have, our plan right now is to make that money go as far as possible. The way to do that is to drill most efficiently, and in order to drill most efficiently, we'll wait for all the snow to be gone. We want all our projects to be at that stage where we can just go right into our drill program. That would mean we would start drilling sometime in June. That would be my preference. I hate wasting money. I would love for us to start drilling in June for our drill program and be done in the fall sometime. I know the market would like us to have news sooner, and there is a balance in providing that news, but it's also recognizing that it's costing us more money to do it. We wrestle with that decision.
So, there may be news on other fronts before then, but I think that it will probably be early summer before we really have out-of-the-ground news to report.
EQ: Wonderful! Thank you for providing the time to update us on all the exciting progress and developments at Margaux Resources. Are there any final takeaways you'd like to leave our readers with to better understand the company and its opportunity?
Caron: I would say that I think we're not your typical junior. We don't act like your typical junior, so don't expect us to be your typical junior. Think of us in the bigger picture and longer term.
---
In the interest of full disclosure, we call the reader's attention to the fact that Equities.com, Inc. is compensated by the companies profiled in the Spotlight Companies section. The purpose of these profiles is to provide awareness of these companies to investors in the micro, small-cap and growth equity community and should not in any way be considered as a recommendation to buy, sell or hold these securities. Equities.com is not a registered broker dealer, investment advisor, financial analyst, investment banker or other investment professional. We are a publisher of original and third party news and information. All profiles are based on information that is available to the public. The information contained herein should not be considered to be complete and is not guaranteed by Equities.com to be free from misstatement or errors. The views expressed are our own and not intended to be the basis for any investment decision. Readers are reminded to do their own due diligence when researching any companies mentioned on this website. Always bear in mind that investing in early-stage companies is risky and you are encouraged to only invest an amount that you can afford to lose completely without any change in your lifestyle. Equities has been compensated with cash, common shares and/or warrants for market awareness services provided.