There rarely is a more interesting time to be observing the Bitcoin market than what we see now. In an article on CNBC, we read:
Digital currency bitcoin fell Tuesday as the 20 largest digital currencies by market capitalization all declined, according to CoinMarketCap.
Bitcoin traded 12 percent lower near $9,817 as of 1:19 p.m. ET, according to CoinDesk's bitcoin price index, which tracks prices from digital currency exchanges Bitstamp, Coinbase, itBit and Bitfinex.
Bitfinex was subpoenaed by the U.S. Commodity Futures Trading Commission on Dec. 6, Bloomberg reported, citing a source, midday Tuesday. Tether, which claims to link its coins to major government-backed currencies, was also subpoenaed, the report said. The companies and the commission did not immediately respond to a CNBC request for comment.
(…)
There was no significant driver behind the widespread drop late Tuesday morning. South Korea's Financial Service Commission did confirm to CNBC that new measures, such as bans on anonymous trading accounts, had been implemented. The U.S. Securities and Exchange Commission also announced Tuesday it obtained a court order to freeze the assets of an initial coin offering claiming to have raised $600 million.
The recent action is quite important. It is easy to jump to the conclusion that the recent sell-off is a result of panic after the government action in the U.S. and South Korea. This is, however, only the surface of the story. It might be the case that traders are reacting to the news of possible freezes or impediments to trading. At the same time, it is not the government that's the most important factor in the equation. It's people invested in Bitcoin. A lot of people have jumped on the Bitcoin bandwagon. The meteoric rise of the currency has attracted people who were not in Bitcoin for any other reason than to profit on further moves up. Now, we see that the appreciation has halted. Bitcoin has lost about 50% from the top (depending on what exchange you look at) and this might look like enough to scare people into selling the currency but you have to remember that very few people bought in exactly at the top. And so, there is probably still a lot of people who might sell Bitcoin if the price goes lower. Add to that the fact that they might get scared easily as they have expected enormous gains, not 30% losses and it all leaves us with a combustible environment where Bitcoin might go even lower. It doesn't have to, but the current reading of the market suggests that this is the more probable outcome.
Bitcoin Sells Off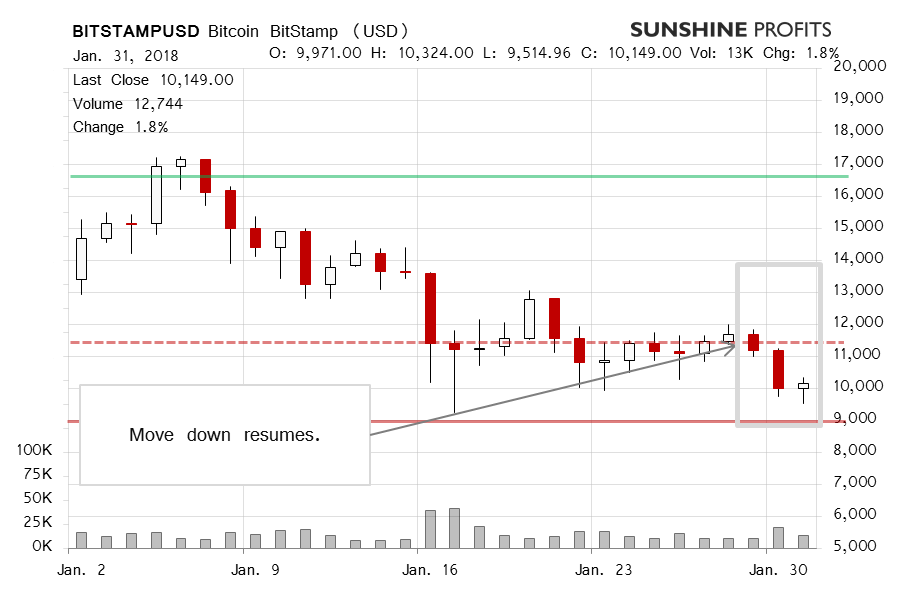 On BitStamp, in the last couple of days we have seen strong depreciation, particularly today. Recall our recent comments:
The situation hasn't changed much since our previous alert was posted. And even though the price hasn't moved significantly, the situation is not boring. Bitcoin is well below the 50% retracement and close to the 61.8% retracement. The move down is confirmed and we are still of the opinion that the situation remains bearish for the medium term. The one thing that makes the environment tense if that we haven't seen much indications as far as the short-term picture is concerned.
As far as what has changed is concerned, we saw a move above the 61.8% retracement. This is only a very mild bullish indication. Does it change anything? While it might be easy to say it does, for us it is only interesting as far as it really changes the situation. And our analysis suggests it probably doesn't have much bearing on the outlook at this time.
It would be easy to read the prior situation as a bullish indication. Bitcoin went above the 61.8% retracement after a sharp move down. This might have been construed as a point for a reversal. Not by us. By our analysis, we know that the 31.8% retracement is usually much more important than the 61.8% one. This mean that the previous situation was not really bullish. And the action that followed was in line with those indications.
Way Forward for Bitcoin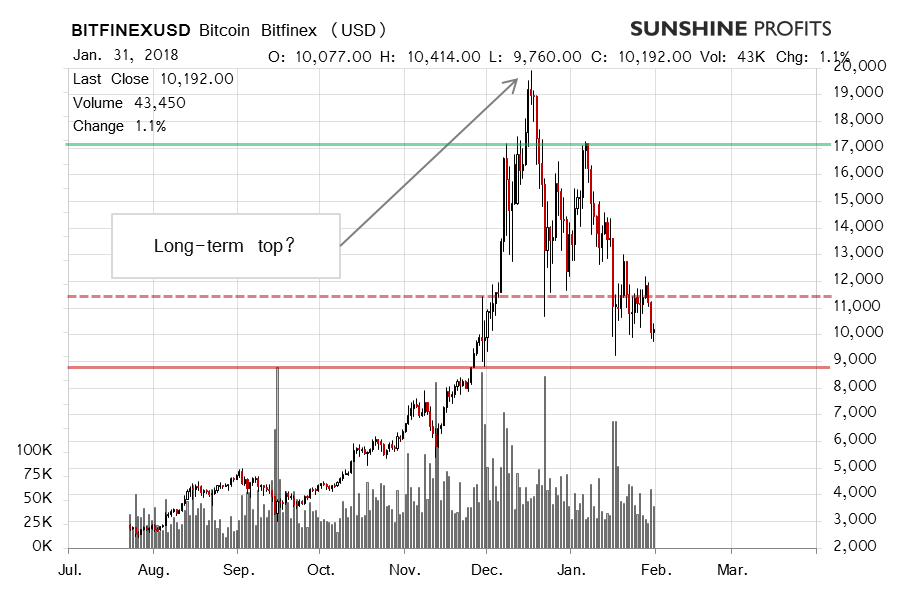 On the long-term Bitfinex chart, we see even more depreciation than before. Is this the beginning of the next part of the move down? It might be. Previously, we wrote:
Even though the move above the 61.8% retracement might seem important, we have already mentioned that it possibly isn't. Sometimes, it is easier to come up with reasons why a currency "should" move. We we would rather not seek for such "reasons" but rather analyze the market and present you with what is going on in the market. And currently we are in a position where Bitcoin is after a strong move down and a weak possible rebound. The whole picture is still very much bearish. So: Has anything changed? Not much. Is the situation important? It is. If the move down seems strong, remember that Bitcoin traded below $1,000 not a long time ago. So, the currency might still have a lot room to fall. The situation remains bearish, in our opinion.
As we wrote earlier, the 61.8% retracement, while one of the classic retracement levels, is not necessarily that important in the current situation. But you know that already since you have read our previous alerts. The comments from those alerts have been in line with what has happened since. And now, our hypothetical trading positions are already in the money. The situation seems more bearish now than it was a couple of days ago. This means that we might see even more depreciation as the prevailing trend is down.
If you have enjoyed the above analysis and would like to receive free follow-ups, we encourage you to sign up for our daily newsletter – it's free and if you don't like it, you can unsubscribe with just 2 clicks. If you sign up today, you'll also get 7 days of free access to our premium daily Gold & Silver Trading Alerts. Sign me up!.
Thank you.
Regards,
Mike McAra
Bitcoin Trading Strategist
Bitcoin Trading Alerts