X-linked hypophosphatemia (XLH) is an inherited disorder characterized by low levels of phosphate in the blood. XLH is a rare disease with an estimated prevalence of 3,000 pediatric and 9,000 adult patients in the US. According to the NIH, patients with XLH have abnormal kidney function causing a loss of phosphate in urine (phosphate wasting) and leading to soft, weak bones, or rickets. The symptoms of XLH can vary in severity, and in many cases, symptoms become apparent within the first 18 months of life, when a child begins to bear weight on the legs. Early signs and symptoms may include abnormal bone development, leading to bowing or twisting of the lower legs, and short stature or a slowing growth rate.
Ultragenyx Pharmaceutical (Nasdaq: RARE) announced this week that the FDA has approved Crysvita (burosumab) for the treatment of XLH in adults and children one year of age and older. Crysvita is a monoclonal antibody that binds to and inhibits the excessive activity of fibroblast growth factor 23 (FGF23), a hormone that causes phosphate urinary excretion and suppresses active vitamin D production by the kidney, thereby restoring normal phosphate reabsorption from the kidney. Crysvita also increases vitamin D production, which enhances intestinal absorption of phosphate and calcium. The drug was developed in collaboration with Kyowa Hakko Kirin (Tokyo: 4151), a subsidiary of Kyowa Kirin International.
Source: XLH Network
The safety and efficacy of Crysvita were studied in four clinical trials. In the placebo-controlled trial, 94% of adults receiving Crysvita once a month achieved normal phosphorus levels compared to 8% on placebo. In children, 94% to 100% of patients treated with Crysvita every two weeks achieved normal phosphorus levels.
Patients now have an approved breakthrough therapy that can help correct the underlying disease, transforming the treatment of XLH and reducing related bone disease in both children and adults living with this disease. This milestone represents Ultragenyx's second approved therapy in less than six months and validates our strategy to rapidly transform good science into effective therapies for rare diseases. This approval would not have been possible without the patients, their families and clinicians who participated and I would like to thank them for their commitment and dedication.
– Emil D. Kakkis, MD, PhD, CEO and President, Ultragenyx.
The approval of Crysvita is truly a watershed moment for patients with X-linked hypophosphatemia as it is the first therapy directed toward correction of renal phosphate wasting. By targeting this mechanism Crysvita leads to sustained improvements in phosphate metabolism with concurrent repair of the skeleton, even after prior treatment with conventional approaches. Most importantly, the dosing regimen for Crysvita is far less burdensome than for currently available therapies and should be readily acceptable by families. I expect it to revolutionize the care of patients with XLH.
– Tom Carpenter, MD, lead study investigator, Director of the Yale Center for X-Linked Hypophosphatemia, and Professor of Pediatric Endocrinology at Yale University School of Medicine.
In November 2017, Ultragenyx received FDA approval of MepseVII (vestronidase alfa), the first available therapy for Mucopolysaccharidosis VII, a progressive and debilitating disease that causes multi-system tissue and organ damage, and the company anticipates numerous clinical and regulatory catalysts over the coming year.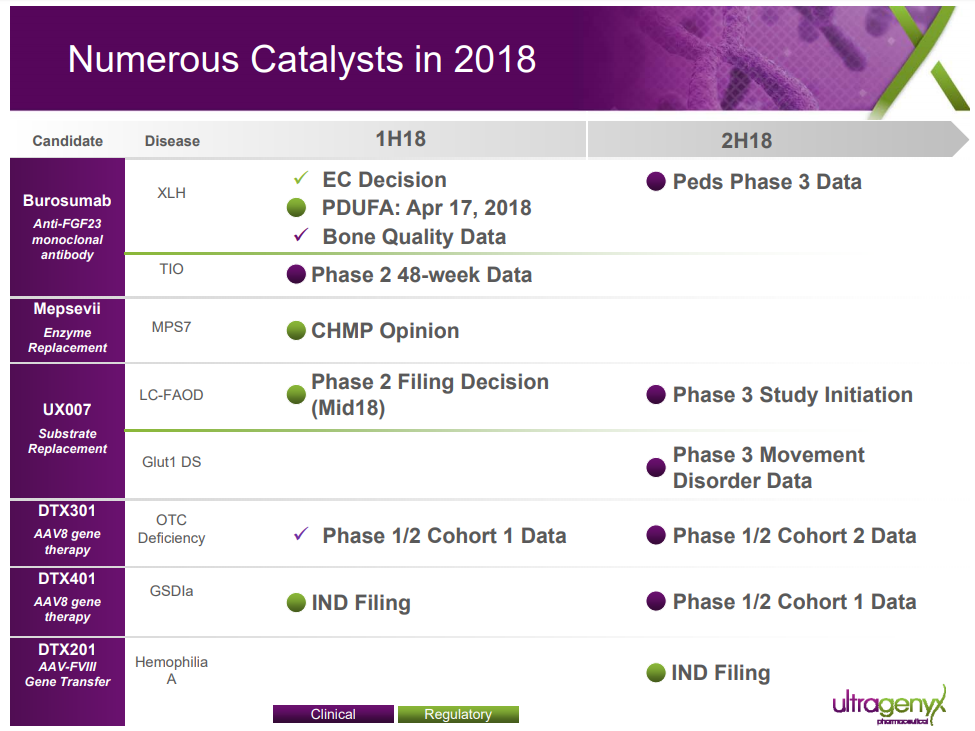 Source: Ultragenyx Pharmaceutical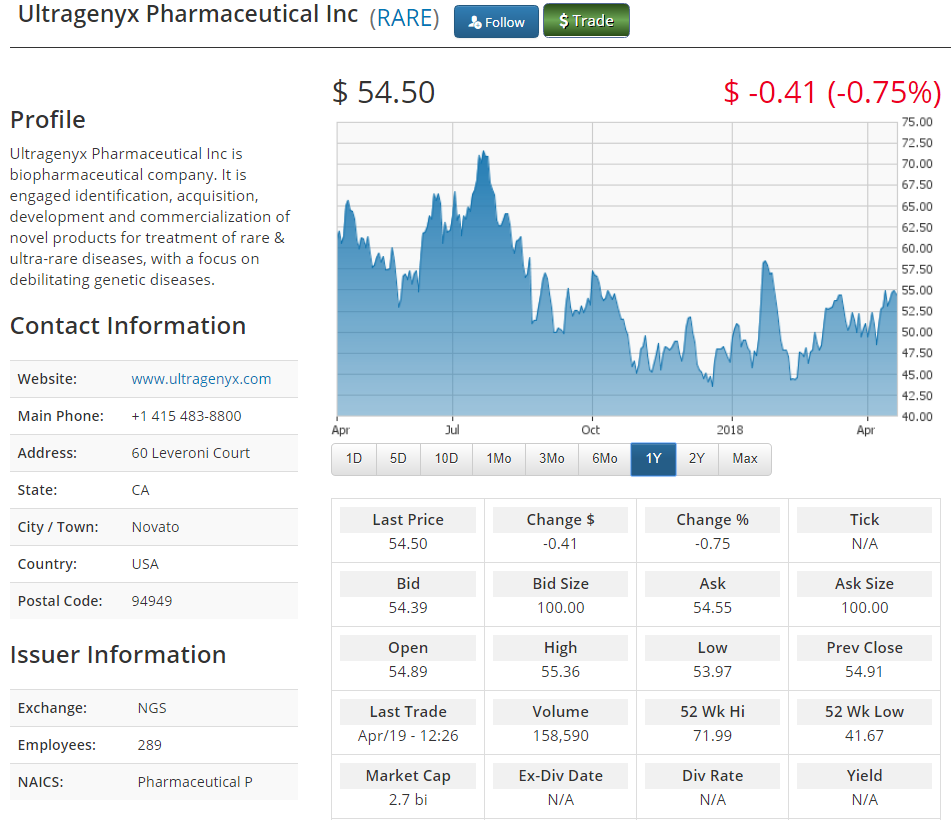 [email protected] to see our Case Studies and Testimonials.
Please click here for information on our new trading platform.