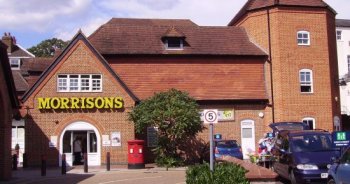 M&A deals continue to pop up, with predators making the most of a low interest rate environment (more deals today in insurance, gaming and oil), and depressed shares prices. The UK's supermarket sector is back in focus after a troublesome few years (intense price competition, profits warnings, accounting irregularities, insider dealing) and it's the turn of middle-of-the-road WM Morrison ($MRW) to attract attention as a potential candidate for acquisition. This follows news that South African billionaire Christo Wiese, whose $25bn investment vehicle recently bagged UK leisure chain Virgin Active (£682m), fashion chain New Look (£780m) and a 19% stake in grocery chain Iceland during a high street spending spree, whilst saying he still had a £1bn war-chest for new businesses. A continental supermarket deal between Dutch Ahold (AMS) and Belgian Delhaize ($DELB) has also increased sector interest this year.
Could the charismatic and successful 73 year-young Afrikaans investor now be eyeing up yet another UK purchase, this time within the struggling grocery sector? Does he see value in heavily shorted shares which have given up 40-50% over the last two to five years, fallen 10-25% over last six months and sit close to 10 to 15 year lows whilst undergoing restructuring that has seen asset sales, store closures, jobs losses, management departures and dividend cuts result in hitherto loyal income investors jumping ship? UK incumbents continue to be dogged by intense price competition from rapidly expanding discount rivals such as German rivals ALDI and LIDL (both privately held) having been victims of too-rapid historical expansion and an assumption that oligopolistic good times would never end.
Why MRW? Quite simply, size matters. A £15.1bn, already heavily discounted price ticket for market leader Tesco (TSCO) is out of the question (without significant help), and even if it was, being in the midst of major restructuring to cut its £22bn debt ridden balance sheet by selling major assets (£4bn sale of South Korean Homeplus confirmed yesterday) means the picture is too muddy near term to justify a bid. Fellow middle-of-the-roader ASDA is not listed but its US parent Wal-Mart (WMT) , worth a mammoth $210bn stateside, 'sold' ASDA (restructuring, transfer to a subsidiary) for £6.9bn in 2009 meaning it is also likely too much to take on.
Sainsbury's ($SBRY) represents a more affordable option at £4.5bn, however, the Qatari Investment Authority's ($QIA) 26% stake would make an approach unnecessarily complicated. This leaves mid-market Morrison at £3.9bn as the only real candidate, potentially complimenting Wiese's existing ownership of South Africa's largest food retailer ShopRite and his fondness for the discount sector (he's taken stakes in several UK discount chains over the years). Online grocer Ocado ($OCDO), which distributes a combination of branded, own brand and Waitrose (part of John Lewis partnership) products, is another option, better performing and smaller (£1.9bn), however, its existing online tie-up with Morrison (Morrisons.com) means a deal with the latter would kill two 'bids' with the one stone already providing access to the fast-growing £8bn UK online grocery market, which could be particularly lucrative for Wiese, and what he's really after. BOGOF - Buy One Get Online Free.
DISCLOSURE: The views and opinions expressed in this article are those of the authors, and do not represent the views of equities.com. Readers should not consider statements made by the author as formal recommendations and should consult their financial advisor before making any investment decisions. To read our full disclosure, please go to: http://www.equities.com/disclaimer