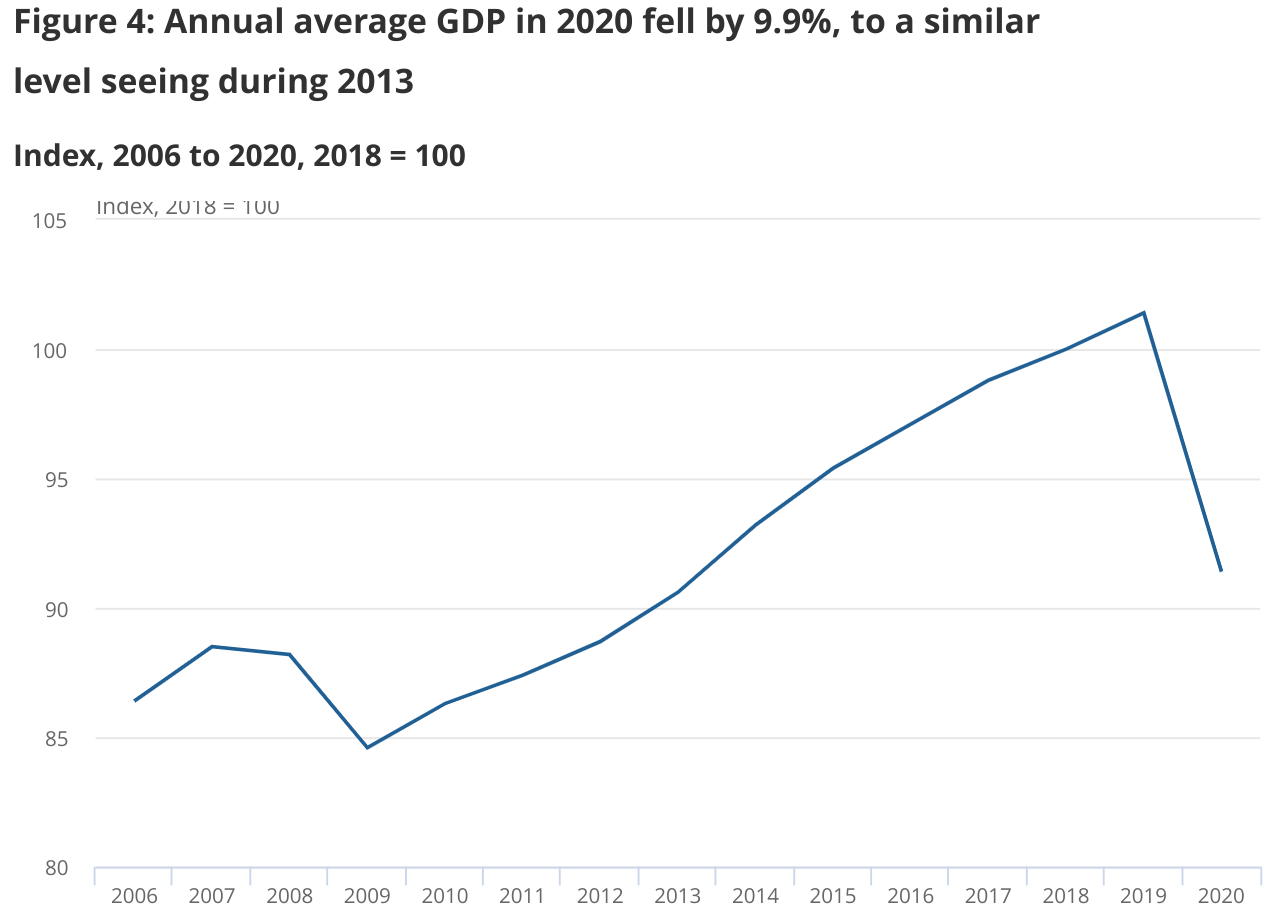 Image source: Office for National Statistics
COVID-19-related travel restrictions, stay-at-home orders and business closures in 2020 caused the British economy to suffer a record decline.
Output shrank 9.9% last year, more than double the decrease in 2009 at the height of the global financial crisis and narrowly worse than the 9.7% slump in 1921 when the country was recovering from World War I and the Spanish flu pandemic, the Office for National Statistics (ONS) said Friday.
According to ONS statistics, the service sector, which represents about 80% of the country's economy, declined 8.9% last year. Output from hospitality businesses tumbled 55% from pre-pandemic levels, while construction fell 12.5% and manufacturing dropped 8.6%.
The UK's top treasury official, Chancellor of the Exchequer Rishi Sunak, said in a statement, "Today's figures show that the economy has experienced a serious shock as a result of the pandemic, which has been felt by countries around the world."
"While there are some positive signs of the economy's resilience over the winter, we know that the current lockdown continues to have a significant impact on many people and businesses," Sunak said.
The Chancellor said he plans to unveil new measures to protect jobs and boost the economy during his annual budget statement to officials next month.
Britain's economy was hit harder by COVID-19 than most other industrialized countries. In 2020, GDP shrank 8.3% in France, 5% in Germany and 3.5% in the US.
During the final months of 2020, there were some positive signs, with UK GDP estimated to have grown 1% in the fourth quarter following record growth in the third, according to ONS data. October and December, however, saw big swings in output due to restrictions imposed to contain spikes in coronavirus cases.
ONS deputy national statistician Jonathan Athow told BBC News he believes "an increase in COVID-19 testing and tracing also boosted output" and that "despite the additional restrictions in November," the economy "continued to grow in the fourth quarter as a whole."
The latest lockdown, which went into effect Jan. 5, is projected to hit the economy hard during the first quarter of the year and reverse the trend of growth.
In an effort to relax restrictions, the UK has been focused on rolling out vaccinations across the country. More than 13.5 million people, about 20% of the population, have received at least one dose of the COVID-19 vaccine, The Associated Press reported.
The ONS first measured GDP following World War II, and output has never previously dropped more than 4.1% in a year. Bank of England's records go back centuries and shows 2020's contraction was the largest since 1709, when a cold spell caused a 13% drop in what was then a primarily agricultural economy, BBC News noted.
_____
Source: Equities News