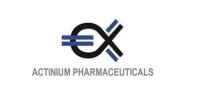 NEW YORK, June 3, 2015 - According to the World Health Organization, over 14 million new cases of cancer are reported each year and cancer cases are expected to surge 57% worldwide over the next 20 years. The fastest growing hospital treatment in the United States to treat this disease is Hematopoietic Stem Cell Transplantation; the transplantation of multipotent hematopoietic stem cells derived from bone marrow, peripheral blood, or umbilical cord blood.
Actinium Pharmaceuticals, Inc. (NYSE-MKT: ATNM) is biopharmaceutical company developing innovative targeted payload immunotherapeutics for the treatment of advanced cancers. The Company's products are based on patented technology co-developed with Memorial Sloan Kettering Cancer Center (MSKCC) for combining monoclonal antibodies (mAb) for targeting specific types of cells with alpha emitting radioisotopes. The company has developed drugs for treating leukemia, metastatic colorectal and prostate cancers, antiangiogenesis (prevention of blood supply to and growth of many solid cancers), and bone marrow ablation (a treatment for leukemias, lymphomas and multiple myeloma).
An analyst report on ATNM that includes a company overview, market and competition breakdown, recent events, outlook, valuation, analyst summary and recommendation can be viewed by using the following link at no cost:
http://bit.ly/--ATNM--AnalystReport
Copy and paste to browser may be required.
About RedHawk Investments
We make the connection between sophisticated investors and high quality public companies. An issuer of reports written by chartered financial analysts (CFA's) who provide a straightforward assessment of the profiled company and have pledged to remain free of influence when writing research reports. They include stocks traded in the NYSE, NASDAQ, and OTCBB exchanges.
COMPLIANCE PROCEDURE
Content is researched, written and reviewed on a best-effort basis. This document, article or report is written and authored by Caprock Research, Charles I. Reed, CFA. However, we are only human and may make mistakes. If you notice any errors or omissions, please notify us below. We do not engage in high frequency trading. This report was prepared for informational purposes only. A full disclaimer can be found by viewing the full analyst report.
FORWARD-LOOKING DISCLAIMER
This report may contain certain forward-looking statements and information, as defined within the meaning of Section 27A of the Securities Act of 1933 and Section 21E of the Securities Exchange Act of 1934, and is subject to the Safe Harbor created by those sections. This material contains statements about expected future events and/or financial results that are forward-looking in nature and subject to risks and uncertainties. Such forward-looking statements by definition involve risks, uncertainties and other factors, which may cause the actual results, performance or achievements of mentioned company to be materially different from the statements made herein.
CFA® and Chartered Financial Analyst® are registered trademarks owned by CFA Institute.
Source: Red Hawk Investments, LLC
Contact: ir@redhawkinvestments.com
DISCLOSURE: The views and opinions expressed in this article are those of the authors, and do not represent the views of equities.com. Readers should not consider statements made by the author as formal recommendations and should consult their financial advisor before making any investment decisions. To read our full disclosure, please go to: http://www.equities.com/disclaimer