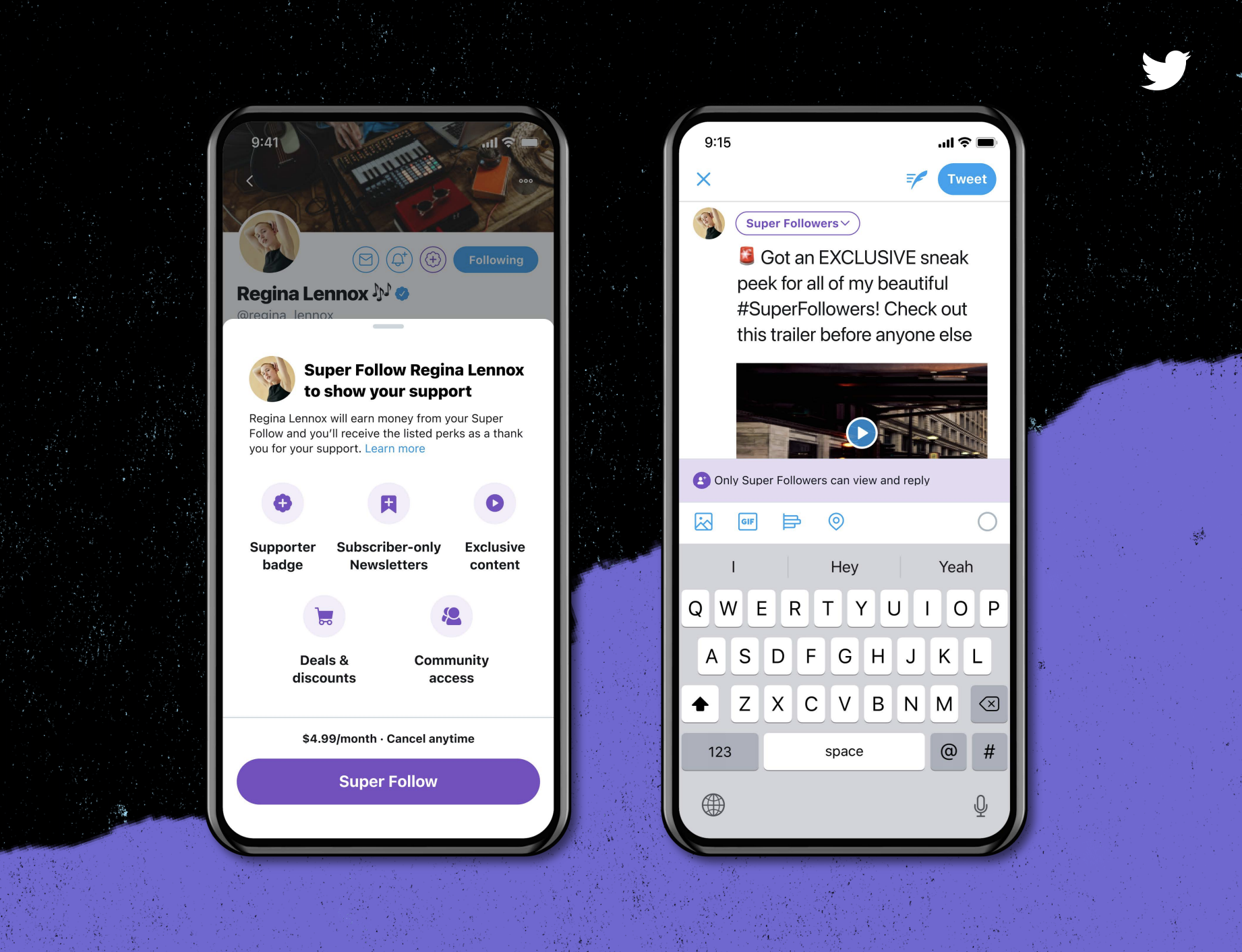 Image source: Twitter
Twitter Inc (Nasdaq: TWTR ) is working on a new pay-to-follow model that will enable users to subscribe to their favorite accounts in order to get access to extra content.
During its Analyst Day presentation Thursday, the San Francisco-based social media company teased its new feature, which is called "Super Follows," which would give users the ability to charge for exclusive material not shown to regular followers. The content can include subscriber-only newsletters, videos, discounts and deals, all of which would be available for a monthly subscription fee.
"We're rethinking incentives and exploring solutions to provide monetary incentive models for creators and publishers to be directly supported by their audience," Twitter said during the presentation.
In response to slowing ad revenue growth, the social media platform has been exploring subscription options as a way to make money from its users and diversify beyond its core advertising business. A subscription-based model is also something the platform's users, as well as company's investors, have long been requesting, according to The Associated Press.
In July 2020, Twitter chief executive officer Jack Dorsey told investors, "You will likely see some tests" over the next year of various approaches and said he has "a really high bar for when we would ask consumers to pay for aspects of Twitter."
The company did not specify how much a subscription would cost nor how big of a cut it would take, though it did use an example of $4.99 per month in its Analyst Day presentation.
Super Follows is not available yet, but Twitter said it will have more details in coming months about when the new feature will launch.
Direct payment tools have become increasingly important for social media influencers and creators in recent years. Patreon, Facebook, YouTube, Substack and OnlyFans have all launched platforms that enable users to make money from their online popularity.
Twitter also announced another soon-to-be released feature called Communities, whereby users can create and join groups around specific topics, similar to Facebook Groups. Twitter Spaces, an audio chat feature that is meant to be a competitor of popular invitation-only audio chat app Clubhouse, will be rolled out soon, too.
The platform also said its aims to more than double its annual revenue to $7.5 billion by the end of 2023 and grow its daily active users from the current 192 million to 315 million.
_____
Source: Equities News