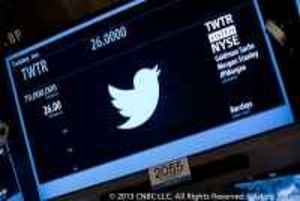 Twitter (TWTR) releases their much-anticipated quarterly earnings after the bell on Monday. As is par for the course for the social media industry, the analysts won't be as concerned with the revenue or the earnings as much as they will be with user growth.
To be sure, revenues won't be out-and-out ignored. Internally, Twitter called for revenues to fall in the $330-$340 million range, while Wall Street is betting that the microblogging service is pulling an Apple (AAPL) and purposefully downplaying sales to make upending expectations easier. Analysts see revenues coming in around $350 million for the quarter. Earnings are expected to come in at a penny a share. The market will welcome any profitability on Twitter's part.
But in the scheme of things Twitter is still relatively young. Hard as it may be to swallow the idea that the $30 billion company hasn't reached maturation, their chief rival Facebook (FB) shows there's plenty of room to grow in the social media space. After all, Facebook is one of the largest companies on the planet, with a total worth north of $200 billion and a billion users to boot.
Which brings it back to those all-important regular users: when Twitter reports what investors should really be keeping an eye on is the number of people who are adopting the service. What makes this quarter special is the fact that Twitter's growth might have been artificially affected by the global popularity of the World Cup the previous quarter.
While earnings and revenues cannot be outright ignred, the real story will be the all-important MAU (Monthly Average User) number. If Twitter can sustain the bump they got from the World Cup, or even approach it, good work. Right now, analysts expect Twitter to pull in 14 million more users, a drop from the 16 million the previous quarter.
But if the drop-off is more severe, they're in big trouble. Twitter won't have another World Cup to bail them out for 3.75 years. And in a fickle social media industry that is really less than a decade old, by the point the game will have changed, and Facebook will have pulled away for good.
DISCLOSURE: The views and opinions expressed in this article are those of the authors, and do not represent the views of equities.com. Readers should not consider statements made by the author as formal recommendations and should consult their financial advisor before making any investment decisions. To read our full disclosure, please go to: http://www.equities.com/disclaimer