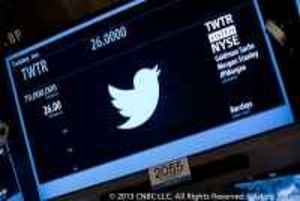 Twitter (TWTR) released earnings on Monday after the bell, and the results confirmed our suspicions: the earnings and revenue were basically inline with expectations, but the user growth subsided. In turn, shares of the company dropped sharply and four major analysts downgraded Twitter's shares.
In attempting to mitigate the problem, Twitter has made several substantial changes to their design, all aimed at making the service more mainstream, more like Facebook (FB) . But so far it hasn't worked, and has only seemed to alienate their core techie contingent while failing to attract those new monthly users they so desperately crave.
Twitter is down 33 percent on the year now. Compare this to rival Facebook, who have notched a whopping 47 percent gain on the year. Twitter sure would like those numbers and has tried to do what they can to follow Facebook's playbook: utilizing big cover images and integrated videos; abandoning the single vertical timeline to include suggested feeds; integrating suggested accounts the user isn't subscribed to. In short, Twitter looks more like Facebook.
Twitter has so far stayed away from adopting a full-on Facebook impression, but they have certainly mulled that option. Some floated ideas include losing the hashtag/at-reply functions and the chronological timeline – both seen as stumbling blocks towards mainstream acceptance of Twitter, yet both indelible hallmarks of the Twitter brand.
So Twitter has taken the approach of borrowing some of the features of Facebook and Google+ (GOOG) , but not going as far as to abandon what makes them Twitter. And so far, it's not working. Twitter sported 4.8 percent user growth in this quarter, worse than the previous quarter's mark of 6 percent.
Recognizing the downward trend, Twitter has tried to take the Facebook route and go simpler and prettier while integrating more ads. What's happened n turn is growt slowdown, especially in the United States. Of the 13 million users added last quarter, only 3 million were in the US. The "American Problem" has been seen in social media before with lost causes MySpace and Friendster, which saw their service's popularity migrate overseas. This drove away advertisers who didn't give a whit if their products were being shilled to an increasing number of people in say, Southeast Asia (where Friendster last found success).
What attracts and retains a social media audience? It's sticking to what makes the product unique. In Twitter's case, a lot of that is its real-time, chronological timeline, which stands in stark contrast to Facebook's "Top Stories" secret-sauce algorithm. It's also what Twitter hinted they might abandon back in September with the Wall Street Journal reporting that the CFO hinted that Twitter's signature timeline "wasn't the most relevant experience for a user."
That kind of timeline works great for Facebook. If Twitter would adopt it, they could potentially increase their growth. But they could also put off those who prize Twitter for standing apart from Facebook, and lose their uniqueness.
Twitter is at a crossroads, where they can either become Facebook Jr. or double down on being Twitter. But for now, splitting the difference doesn't appear to be working too well for them.
DISCLOSURE: The views and opinions expressed in this article are those of the authors, and do not represent the views of equities.com. Readers should not consider statements made by the author as formal recommendations and should consult their financial advisor before making any investment decisions. To read our full disclosure, please go to: http://www.equities.com/disclaimer