Synthetic biology is the science of building new biological systems and redesigning existing biological systems. Recent advances in synthetic biology have led to the development of tools such as CRISPR, new drugs and chemicals, and new molecular diagnostic tools. According to BCC Research, the overall market for synthetic biology products is expected to grow from $4.4 billion in 2017 to over $13.9 billion by 2022.
The synthetic biology market broadly covers three groups along its value chain:
Enabled products: pharmaceuticals, agricultural crops, industrial chemicals and materials and molecular diagnostics.
Core technologies and products: biological components including synthetic genes and cells, integrated systems and ingredients that form the building blocks for the enabled products
Enabling technologies: tools such as DNA synthesis and sequencing, gene editing and digital data storage, that are needed to produce both the core technologies and enabled products.
San Francisco-based Twist Bioscience (pending Nasdaq: TWST) has developed a novel DNA synthesis platform that involves "writing" DNA on a silicon chip. The company has combined the technology with proprietary software, commercial infrastructure and e-commerce to create an integrated technology platform to address the limitations of throughput, scalability and cost inherent in legacy DNA synthesis methods. Twist Bioscience manufactures a broad range of synthetic DNA-based products, including synthetic genes, tools for next generation sample preparation and antibody libraries for drug discovery and development. The company serves 600 customers across the three areas of the synthetic biology market in a broad range of industries. Revenue was $20.5 million for the trailing 12 months ended June 30, 2018, and revenue in the quarter ended Sept. 30, 2018, the company's fiscal year end, is estimated to be between $8.0 million and $8.3 million. Ginkgo Bioworks, which Wired just profiled this week, is Twist Bioscience's largest customer, accounting for 32% of revenue.
Twist Bioscience is offering 5,000,000 shares at $14 to $16 via JP Morgan and Cowen. At the midpoint of the filing range, it would be a $75 million transaction with a post-IPO market capitalization of $399 million. The company was founded in 2013 and has raised $292 million in equity venture capital since inception. The largest holders include Ever Alpha Fund with 14.9% (12.1% post-IPO), ARCH Venture Partners with 14.8% (12.1%), Illumina ILMN with 7.7% (6.3%), Tao Capital with 5.9% (4.8%), Fidelity with 5.7% (4.6%) and Paladin Capital with 4.9% (4.0%).
Source: Twist Bioscience
Twist Bioscience's semiconductor-based synthetic DNA manufacturing process features a high-throughput silicon platform that enables the company to miniaturize the chemistry necessary for DNA synthesis. Such miniaturization enables reduction of reaction volumes by a factor of 1,000,000 while increasing throughput by a factor of 1,000. This enables the synthesis of 9,600 genes on a single silicon chip at full scale, compared to traditional synthesis methods that produce a single gene in the same physical space using a 96-well plate.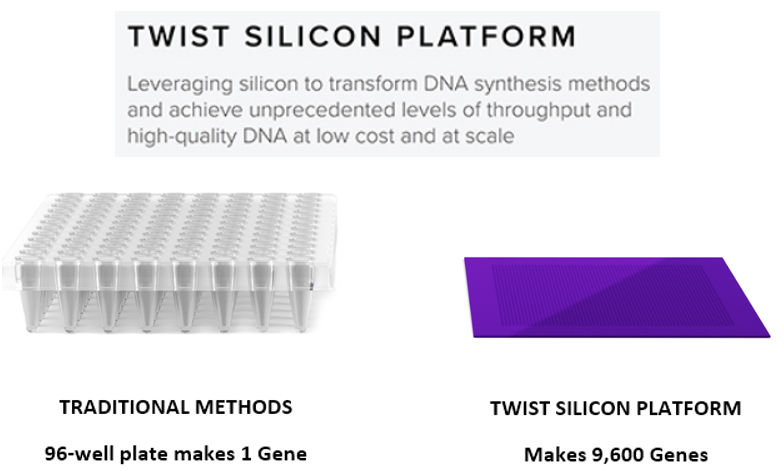 Source: Twist Bioscience
Beyond its current applications, Twist Bioscience is pursuing numerous target markets for its synthetic DNA-based products. Notable among these efforts is a drug discovery collaboration with Distributed Bio, a leader in the computational design and optimization of antibody discovery platforms, and collaborations with Microsoft MSFT and the University of Washington to develop DNA as a data storage medium. Twist Bioscience is an OEM supplier of synthetic DNA to four competing synthetic DNA manufacturers.

Source: Twist Bioscience
The company launched an e-commerce platform to existing customers in October 2017. Customers are able to design, validate and place on-demand orders of customized DNA online, and can receive real-time customized quotes and order tracking.
Source: Twist Bioscience

Co-founder and CEO Emily LeProust, PhD, previously held escalating positions at Agilent Technologies A culminating as its Director, Applications and Chemistry R&D, where she designed the SureSelect product line that lowered the cost of DNA sequencing and explained mechanisms responsible for dozens of genetic diseases. Dr. LeProust also developed the Oligo Library Synthesis technology, designing and developing multiple commercial synthesis platforms to streamline microarray manufacturing and fabrication. In 2015, Dr. LeProust was named one of Foreign Policy's 100 Leading Global Thinkers for fast-tracking the building blocks of life, and Fast Company named her one of the most creative people in business for synthesizing DNA faster than ever.

We note one prominent risk factor hovering over this IPO is ongoing litigation in which Agilent has alleged a claim of trade secret misappropriation against Twist Bioscience and trade secret misappropriation and other related claims against Dr. LeProust. Agilent first filed suit in February 2016, and the next relevant date is December 7, 2018, when the Superior Court of California, Santa Clara County, will convene on Agilent's recent motion for leave to amend its complaint.
Twist Bioscience has grown revenue rapidly, and appears to be well positioned to participate in the ongoing growth of the synthetic biology market. We're encouraged by the demonstrated ability of management to execute in its chosen markets, but the active litigation is a concern. As the attorneys say, an adverse result from this litigation could harm the company's business and results of operations. On the other hand, a result in Twist Bioscience's favor could provide a boost to the relatively modest IPO valuation. The deal is expected to price on or about Tuesday, October 30, 2018.
Please email us at [email protected] to see our Case Studies and Testimonials.
Please click here for information on our new trading platform.
Please click here to receive our free daily newsletter.
DISCLOSURE: