~ Modulating expression of oncogenes and other disease-causing proteins ~
One of the unexpected discoveries to emerge from the Human Genome Project—which was launched in 1990 by the NIH and Department of Energy with a host of international partners to decipher nature's complete genetic blueprint for building a human being—is that 98% of the human genome does not code for proteins. In fact, a significant portion of the genome produces what are known as non-coding ribonucleic acids (RNAs). Intensive research over the past decade has revealed that these non-coding RNAs have critical functions in the regulation of nearly all biological processes.
Cambridge, Massachusetts, based Twentyeight-Seven Therapeutics announced its launch with a $65 million Series A round of financing co-led by MPM Capital and Novartis Venture Fund NVS. Additional investors including Johnson & Johnson Innovation – JJDC (the strategic venture arm of Johnson & Johnson) JNJ, Vertex Ventures HC, Longwood Fund and Astellas Venture Management. (No, our focus on Cambridge-based companies this week hasn't been intentional; but it's of course no accident that so many emerging biotechnology companies sprout from this academic nerve center of the country.)
28-7's initial focus is on modulating micro RNAs (miRNAs), which are short non-coding RNAs that inhibit target gene expression by suppressing messenger RNA (mRNA) translation and/or promoting mRNA decay. miRNAs are directly involved in cancer initiation, progression and metastasis. The funding will be used to advance 28-7's lead program, aimed at the discovery and development of small molecules that increase the levels of Let-7 into serious cancer indications. Let-7 is an miRNA that suppresses the translation of oncogenes in cells, and low levels of Let-7 are correlated with greater cancer aggressiveness. The company's leading protein target is LIN28, an RNA-modulating protein that reduces the levels of Let-7, and has been shown to be an oncogene, promoting cellular transformation and tumor formations. The company founders discovered the LIN28/Let-7 pathway and its role in normal development, metabolism and malignancy.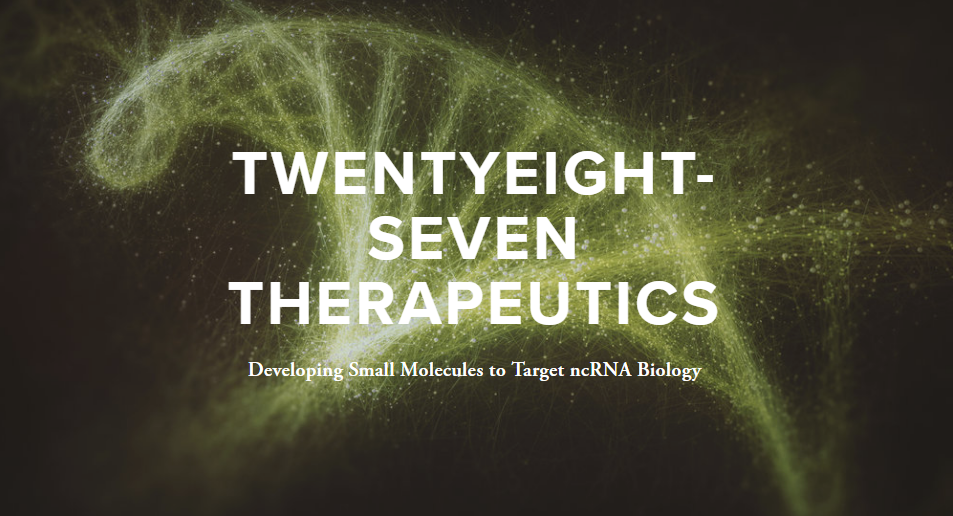 This strong financing round was achieved thanks to the new biological understanding and impressive scientific data around non-coding RNA produced by our four scientific founders and the progress the 28-7 team has made since it was founded two years ago. Our experienced investors realize the promise in this new field of therapeutics and in the robust leads produced by our founders, who have made many of the seminal discoveries in this field, and by the exceptional scientists within the company.
– Kazumi Shiosaki, Ph.D., founding President and CEO, 28-7.
The company's core technology comes from its four founding scientists who have been collaborating for years in the science of non-coding RNA biology, including elucidating the role of non-coding RNAs in disease and identifying new RNA-modulating protein targets for drug discovery programs.
Our studies have established LIN28/Let-7 as a major regulatory pathway in stem cells and cancer. We felt that the time was right to move these insights from the laboratory to pharmaceutical development, and we are very pleased by the progress the company achieved in the first two years of its existence. With this impressive round of funding and our continued support, 28-7 will unlock the therapeutic potential of our work.
– George Daley, Co-founder and chairman of scientific advisory board, 28-7.
Please email us at [email protected] to see our Case Studies and Testimonials.
Please click here for information on our new trading platform.
Please click here to see our daily newsletter.