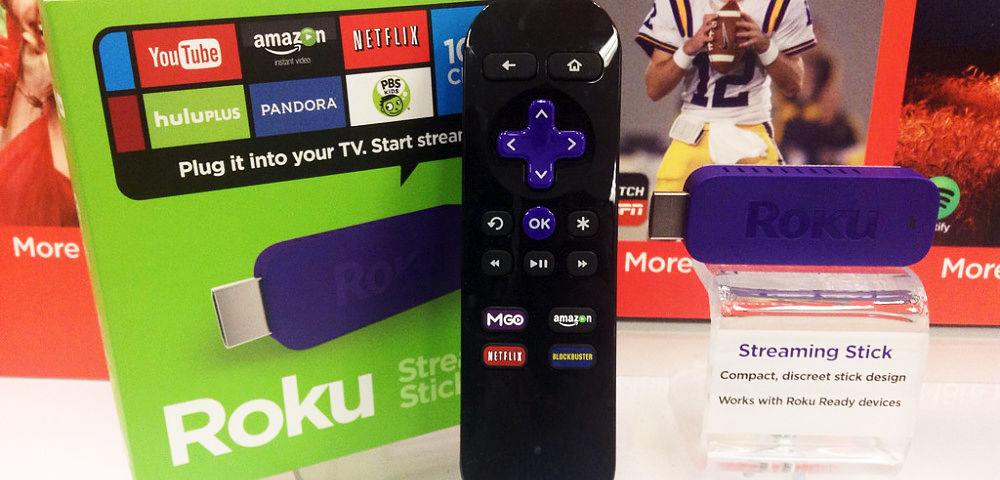 Image via Mike Mozart/Flickr CC
Roku ROKU makes devices that allow 21 million households to access streaming video content on conventional televisions, bringing content off the computer screen and into the living room, explains Todd Shaver, editor of BullMarket.com.
Roku breaks its revenue into two closely connected segments: Player and Platform. The Player segment revolves around manufacturing TVs, streaming devices and accessories for sale through third-party retailers as well as direct to consumers.
While this was the core of the business until recently, it now accounts for only 45% of all revenue and 15% of gross profit with sales declining 3% from last year's levels. Still, at $61 million a quarter and 15% margins, this remains a core piece of the overall Roku enterprise.
However, the Roku "Platform" — licensing rights to its technology as well as distribution fees from content networks, not to mention advertising — has become the real sizzle here.
In 1Q18 these content-oriented operations brought in $75 million in revenue. That's double what we saw in 1Q17, and between that 100% growth rate and 70% margin we're looking to this side of the business to transform what was once a niche device maker into a media platform of tomorrow.
Ad-supported channels available on the Roku platform include CBS News, Crackle, The CW Television Network and Vice. Subscription channels include HBO Now, Hulu and Netflix, as well as traditional pay TV replacement services like DirecTV Now, Sling TV and Sony PlayStation Vue. Other transactional channels including Amazon Video, Google Play and Vudu.
Roku had a tremendous quarter, beating its quarterly guidance forecasts and raising its full-year guidance. The most important metrics for the growing company are the expansion of its user base, which grew 47% year-over-year to 21 million active accounts.
While the company does not charge recurring subscription fees, the size of its audience is still a factor in evaluating the reach it can offer advertisers.
On average, each household contributed $15 to the company's cash flow in the quarter, up 50% over the last year. Those 21 million users collectively viewed 5.1 billion hours of video on Roku devices across the quarter, or a healthy 162 minutes every day per household.
Roku is rapidly reaching the profitability stage and we believe that the shift from hardware to services will turn the stock around. Roku's operating system is being packaged on more and more smart TVs from third-party manufacturers. Since 2014, the company has gone from a standing start to seeing its technology incorporated into 25% of all smart TVs now on the market.
As more smart TVs are sold with Roku technology already onboard, the market for their platform services will expand exponentially, without the company having to increase its manufacture of low-margin players. This is a win-win for Roku going forward.
As management notes, 10% of all U.S. households no longer subscribe to even basic cable television service even though those households still have an average of three TVs apiece. Replacing the traditional cable box and getting onto future generations of the TV itself is how Roku aims to parlay its recent growth into true mass-market ubiquity.
Millennials are now the biggest demographic group. Many are unreachable to conventional advertisers — except via the Roku interface, which streams the company's authorized messaging to the screen.
With $70 billion in advertising at stake, Roku can grow its share of the overall media universe as fast as it can sell devices to households who've already cut the cable cord and now need to find a way to push new shows to their living room screens.
We should also note that with Apple, Amazon and Google as its prime competition, Roku could just as easily be purchased by one of its competitors looking to gain a foothold over the other two. Such an announcement would of course do wonders for the stock. So maybe having stiff competition isn't such a bad thing after all.
With a triple whammy of continued platform adoption by smart TVs, a steady stream of user growth and increasing revenue per user, Roku is well positioned to hit profitability by the end of this year, or possibly early next. Once Wall Street figures this company out, the sky is the limit.
Todd Shaver is founder and editor in chief of BullMarket.com.
Subscribe to Todd Shaver's BullMarket.com here…
About MoneyShow.com: Founded in 1981, MoneyShow is a privately held financial media company headquartered in Sarasota, Florida. As a global network of investing and trading education, MoneyShow presents an extensive agenda of live and online events that attract over 75,000 investors, traders and financial advisors around the world.