Trump's efforts to repeal and replace the Affordable Care Act failed on Friday. What does it mean for the gold market?
Despite being allegedly a great negotiation, president Trump did not manage to gain support for the healthcare reform. It implies that his entire economic agenda could be imperiled. Although Congress is dominated by Republicans, Trump's proposals may not pass as smoothly as investors expected. In particular, tax reform is under question now, as healthcare reform was supposed to be an important revenue gainer necessary to stabilize the budget after tax cuts.
Hence, the investors' optimism about tax reform, deregulation and infrastructure spending is likely to diminish, which should be negative for risky assets, while positive for gold.
However, the U.S. dollar initially showed some resilience after Trump's failure, which could be a sign that that outcome had already been priced in. Actually, the New York price of gold declined on Friday, as one can see in the chart below.
Chart 1: New York price of gold on Friday.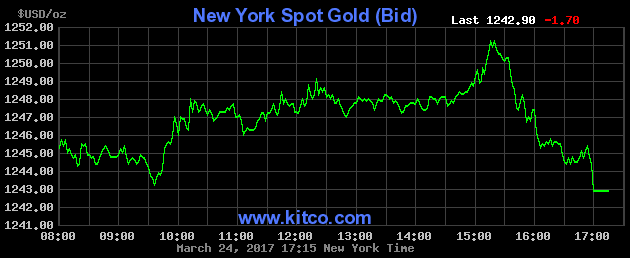 The reason behind that drop was probably the decline in inflationary expectations. Because the implementation of Trump's agenda was believed to boost economic growth and inflation, investors decreased their expectations of higher inflation after the failure of Trumpcare. As inflation expectations dropped, real interest rates increased a bit, sending gold prices south. However, on Monday, the greenback declined, while gold prices jumped.
Summing up, Trump's efforts to repeal and replace Obamacare failed. It is a bad harbinger of his ability to push other elements of an economic agenda, which could worry investors expecting higher economic growth and inflation. However, the U.S. dollar initially showed some resilience (before declining on Monday), as talk of tax cuts after the healthcare debacle was probably welcomed by the investors. The price of gold declined on Friday, but it rebounded significantly on Monday. Stay tuned!
If you enjoyed the above analysis, we invite you to check out our other services. We focus on fundamental analysis in our monthly Market Overview reports and we provide daily Gold & Silver Trading Alerts with clear buy and sell signals. If you're not ready to subscribe yet and are not on our mailing list yet, we urge you to join our gold newsletter today. It's free and if you don't like it, you can easily unsubscribe.
Disclaimer: Please note that the aim of the above analysis is to discuss the likely long-term impact of the featured phenomenon on the price of gold and this analysis does not indicate (nor does it aim to do so) whether gold is likely to move higher or lower in the short- or medium term. In order to determine the latter, many additional factors need to be considered (i.e. sentiment, chart patterns, cycles, indicators, ratios, self-similar patterns and more) and we are taking them into account (and discussing the short- and medium-term outlook) in our trading alerts.
Thank you.
Arkadiusz Sieron
Sunshine Profits' Gold News Monitor and Market Overview Editor
Gold News Monitor
Gold Trading Alerts
Gold Market Overview