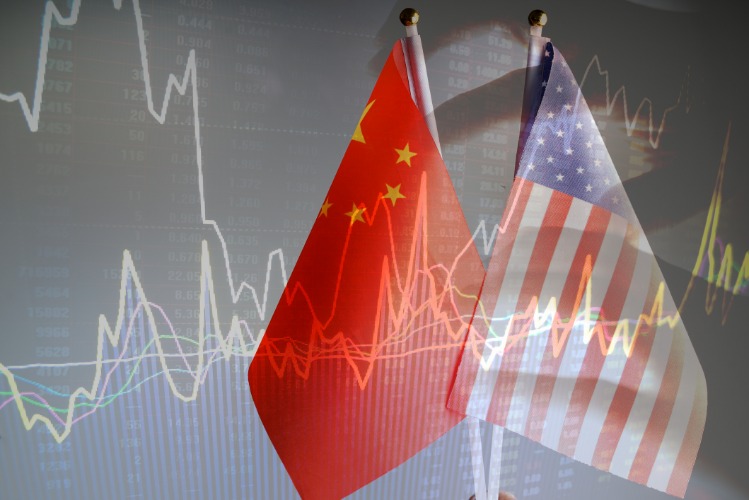 Image: iStock.com/jxfzsy
The US v. China trade war is heating up.
Until recently, the nations appeared to be making progress.
That was until President Trump raised tariffs on $200 billion in Chinese imports from 10% to 25%.
The news sent the S&P 500 down 3% in the next two trading days. But not all stocks suffered.
That's because some stocks actually benefit from tariffs.
I'll show you why in a moment—and share a few stable, dividend-paying stocks set to benefit as this all plays out.
How Tariffs Work
A tariff is a tax on imported goods. Governments use them to make foreign goods less attractive and domestic goods more competitive.
Take steel, for example.
Last year, Trump slapped a 25% tariff on Chinese steel imports. At the time, Chinese steel cost $800 per ton. US steel cost $900.
Once the tariff went into effect, it raised the overall cost of Chinese steel for US buyers to $1,000 per ton.
As you'd expect, US automaker Ford Motor Company F buys a lot of steel. And before the tariff, it bought a lot of it from China because it was cheaper.
Now Ford buys from US companies like Nucor Corp. NUE, the largest US steel maker.
Nucor loves the steel tariff. The company's CEO said 2018—the year the tariffs went into effect—was "a record year for Nucor."
Ford is less enthusiastic. The tariffs cost the car maker $750 million in 2018.
But that's how US tariffs work. They help some domestic businesses. And hurt others.
In China, however, everyone is feeling the pressure.
A One-Sided Relationship
The US and China have the world's two largest economies. And they trade a lot… $780-billion worth of goods in 2018.
Still, it's a one-sided relationship. In 2018, the US bought $660-billion worth of Chinese goods. But China only bought $120-billion worth of US goods.
In other words, the US buys five times as much from China as China buys from the US. So Trump's tariffs have put a lot of heat on China's economy and financial markets.
The Shanghai Composite Index, a proxy for Chinese stocks fell a staggering 25.7% in 2018: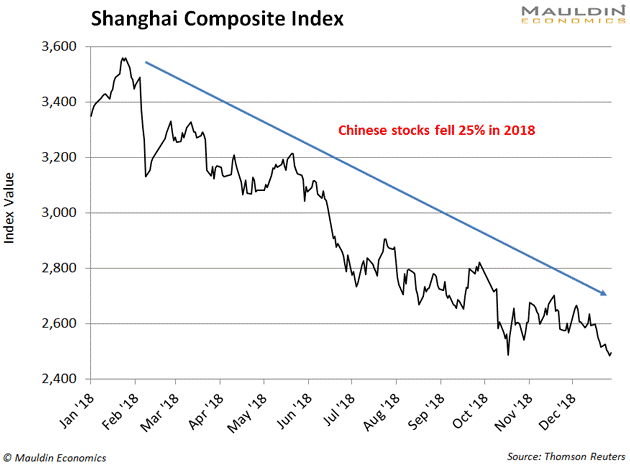 It was the worst year for Chinese stocks since the global financial crisis.
This makes sense: Modern-day America consumes more stuff than any country in history. So, US tariffs matter.
The tariffs make Chinese goods less competitive. So Chinese companies sell fewer goods to US buyers. This translates to lower overall sales, then lower earnings.
And that translates to lower stock prices for Chinese companies, as we just saw.
US stocks are not immune to trade war tensions either. However, they fell a mere 6.3% during the period that Chinese stocks dropped 25.7%.
That's because it's relatively easy for the US to find cheaper, non-Chinese replacements for tariffed goods. It's a lot harder for China to find non-US buyers.
There's simply no replacement for the endless buying power of American consumers. And remember, some US industries even benefit from tariffs…
Profiting from the Trade War
US companies that make products that compete with Chinese imports like steel, electronics, and automation equipment now have a major advantage.
The tariffs help them sell more, which means higher earnings and higher stock prices.
I'm always on the lookout for safe and stable dividend-paying stocks. When I find ones set to benefit from larger economic forces like a trade war, even better.
The American steel firm Nucor, which I mentioned earlier, is one of these companies. Nucor sells most of its steel in the US. And Trump's tariffs have made its products more attractive to US buyers.
Nucor also boasts a 2.9% dividend yield on a low payout ratio—one of the most important indicators for dividend stocks. In short, a low payout ratio points to a stable divided.
American electronics companies like Hubbell Inc. HUBB also stand to benefit from the trade war.
High tariffs on cheap Chinese electronics make Hubbell's products more competitive. The company also pays a 2.7% dividend yield on a low payout ratio. This means it's a safe and stable stock for income investors.
The trade war should also boost US automation companies like Rockwell Automation, Inc. ROK.
Rockwell benefits directly from US tariffs on Chinese automation equipment. Plus, the company has raised its dividend nine years in a row (which, again, is one of the key indicators the dividend is safe). With a low payout ratio, its dividend is secure.
These companies would do well even without a trade war. Their stocks are cheap. And they have strong underlying businesses that should continue to churn out profits.
That said, this trade war isn't going away anytime soon. Last Friday, Trump followed through on his threat to raise tariffs to 25%. China is hitting back as I write…
This all bodes well for these companies.
The Sin Stock Anomaly: Collect Big, Safe Profits with These 3 Hated Stocks
My brand-new special report tells you everything about profiting from "sin stocks" (gambling, tobacco, and alcohol). These stocks are much safer and do twice as well as other stocks simply because most investors try to avoid them. Claim your free copy.