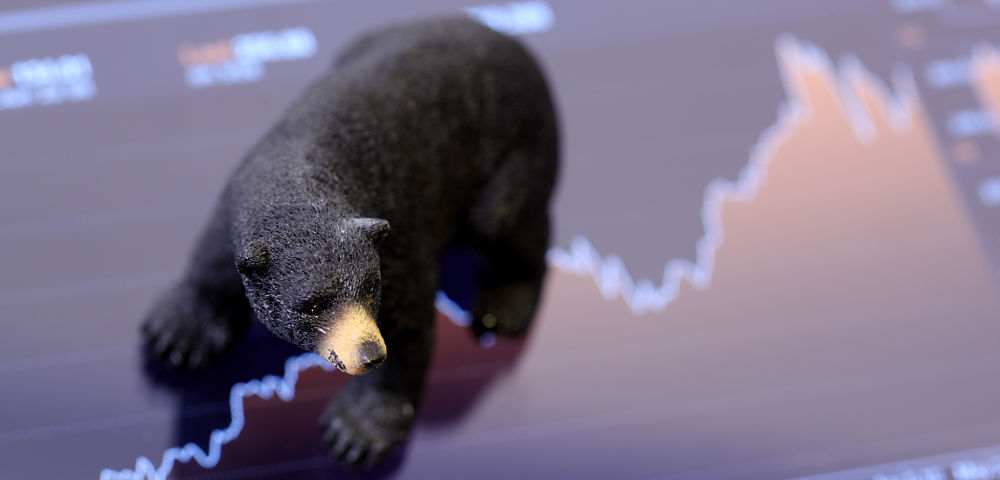 Initially, the sector most irritated by today's Federal Reserve action was the Philadelphia Housing Index which got clobbered. Housing is one of those sectors which has been lagging, light years away from the top, writes Jeff Greenblatt, Wednesday.
Last week we talked about social mood concerning the Hemline Indicator. If you haven't guessed by now, I'm a big fan of Prechter's Socionomics which is basically the science of mass crowd psychology and how it relates to the stock market. The stock market is the best indicator of social mood bar none.
It's just like checking the box score for your favorite baseball team.
Was the Dow up 100 points today? It means humanity put one in the win column.
In "The Wave Principle of Human Social Behavior And The New Science of Socionomics" Prechter states, "As perverse as it may seem, these photos represent an extreme in positive social mood and therefore time to become increasingly pessimistic." This statement is right above a picture of Israeli Prime Minister Yitzhak Rabin shaking hands with PLO leader Yasser Arafat in the Rose Garden with President Bill Clinton looking on. What Socionomics is telling us is that serious peace overtures are an outcome of an expanding social mood and usually materializes in late stage bull markets.
So, what about what the Hemline Indicator we discussed last time? Isn't a declining hemline representative of a contracting social mood?
If the Trump-Kim summit is representative of an expanding social mood, why are hemlines dropping? It's a valid question. The answer is likely seen in our stock markets with tech and the Russell 2000 hitting new highs while the Dow Jones Industrials is sorely lagging, hanging on to the 61% retracement of the January peak.
Not only do we have a divergence in the market, we also have a divergence in social mood. Let's be clear about one thing. These cultural events do not impact the day-to-day gyrations of the market. For instance, the peace treaty at the end of WWII was not a result of any euphoria, but the destruction by nuclear weapons, which shows the kind of extreme anger we see at long- term market bottoms.
Upon deeper observation, the actual secondary generational bottom came in 1942, three years before the end of the war. What all this really means is we are likely in a transition from a long-term bull to something different.
Wednesday was also another Fed announcement day where they raised rates by 0.25.This was anticipated but what was unexpected is that Jerome Powell suggested he intends to change the way these Fed meetings are presented to the public. He intends to hold a press conference after every meeting, not just the all-important quarterly meetings.
Additionally, the guidance language (statement posted on CNBC.com) was changed from "gradual adjustments" in the target rate to "gradual increases." Why the crowd micromanages language like this is a mystery because everyone knows rates are going up.
However, one spins the news, the market didn't like it as it was viewed as a way for the Fed to hike rates or issue language the markets won't like more often. Powell said this new press conference policy wouldn't take effect until January.
Investors and traders really shouldn't mind because during Yellen's tenure there was a regular good/bad cop scenario where she'd come out at the meeting as a dove yet some of the regional Fed Presidents would make statements between meetings that would scare the market. It is just another sign of transition.
Initially, the sector most irritated by Wednesday (June 13) action was the Philadelphia Housing Index which got clobbered. Housing is one of those sectors which has been lagging, light years away from the top.
Let's look at the housing sector chart. There are a couple of conditions that stand out.
First of all, Tuesday's high lines up perfectly with the connect the dots trend line going back to the high on February 16.
Perhaps more important is the fact they are 30 trading days off the bottom while at the same time it is a 30% retracement off the top. Since we have this reaction, conditions are ripe for the HGX to at least hit new lows.
Overall, it is perfectly normal for housing not to like this rate hike environment. While markets remain decent if housing starts to lead to the downside, expect the market to follow eventually.
Jeff Greenblatt is editor of Lucas Wave International.
Subscribe to Lucas Wave International newsletter here
About MoneyShow.com: Founded in 1981, MoneyShow is a privately held financial media company headquartered in Sarasota, Florida. As a global network of investing and trading education, MoneyShow presents an extensive agenda of live and online events that attract over 75,000 investors, traders and financial advisors around the world.