According to a report issued by Statistics Canada called "Cannabis Economic Account, 1961-2017," about 4.9 million Canadians aged 15 to 64 spent an estimated C$5.7 billion (US$4.5 billion) on cannabis for medical and non-medical purposes in 2017 — the equivalent of about C$1,200 (US$936) per cannabis consumer. A report from Deloitte in 2016 estimated that the retail market combined with growers, infused product makers, testing labs and security would create a total industry market worth between C$12.7 billion and C$22.6 billion (US$9.9 to 17.6 billion).
We've been following closely the progress of True Leaf Medicine International (CSE: MJ; OTCQB: TRLFF), a Vernon, British Columbia, based company that has been making meaningful strides as it prepares to become a licensed cultivator, manufacturer and distributor of medical cannabis products. True Leaf made history in January 2018 when it became the first Canadian-listed company to conduct a successful Regulation A+ offering. The company closed on C$10 million through an agented Reg A+ transaction and an additional C$4.05 million via a non-brokered private placement, or approximately US$11 million in gross equity financing.
The company's mission is to be Canada's leading purpose-driven cannabis company. True Leaf has two primary operating divisions: True Leaf Medicine and True Leaf Pet. True Leaf Medicine, launched in 2013 to produce medical cannabis for the Canadian market, has been granted approval by Health Canada to build its grow facility and has been busy augmenting its internal and external resources as it builds its cannabis practice and continues to pursue full licensing for production. True Leaf Pet currently markets hemp-seed based supplement products for pets that are free of cannabidiol (CBD) and tetrahydrocannabinol (THC). True Leaf's website says:
We're inspired by our pets and their remarkable capacity for unconditional love. True Leaf is dedicated to returning that love through our plant-based healthcare products.

Since closing on its equity financing, True Leaf has made significant progress in expanding its capabilities on its path toward full production approval from Health Canada.
We now have the accomplished team at Hill+Knowlton guiding us through the final stages of Health Canada's Access to Cannabis for Medical Purposes Regulations (ACMPR) licensing process. They will provide invaluable insight into the cannabis regulatory environment as we develop our medicinal cannabis product line and bring it to market.
– Darcy Bomford, Founder and CEO, True Leaf Medicine International.
True Leaf stock currently trades at C$0.59 — a market capitalization of only C$50 million — representing a significant discount from the C$0.70 offering price of the January 2018 financings. We like where this company falls on the risk-reward spectrum, and while we certainly don't diminish the regulatory hurdles that remain ahead for company, at these levels the stock feels akin to an inexpensive call option on the multi billion dollar cannabis industry in Canada as a whole.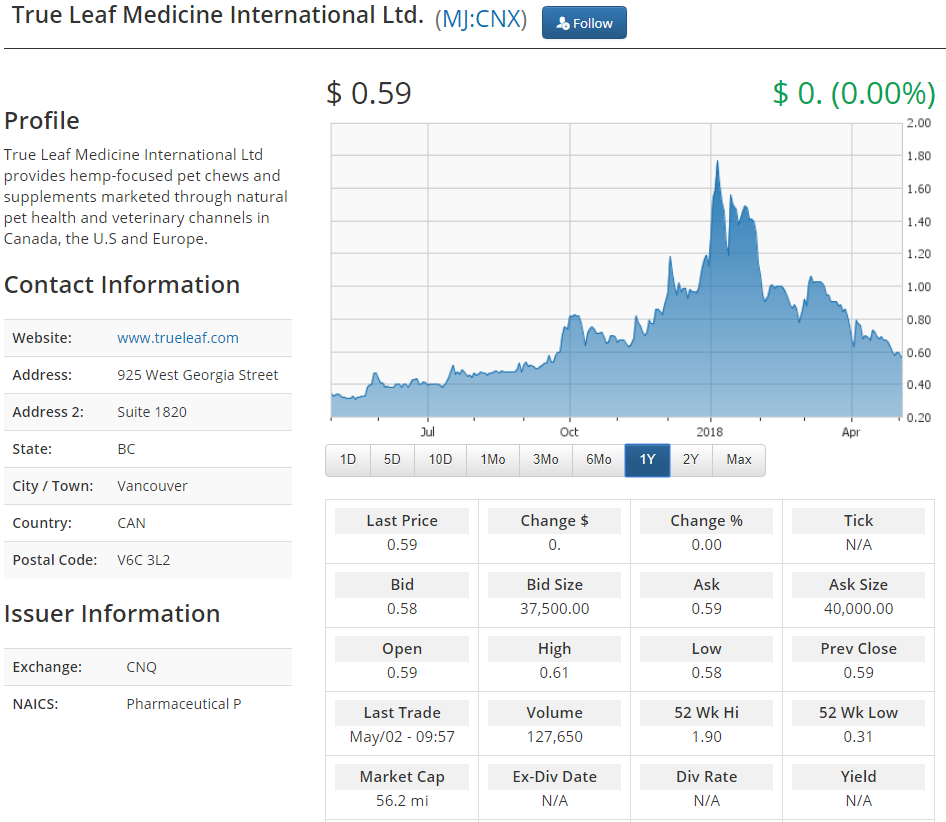 Please email us at [email protected] to see our Case Studies and Testimonials.
Please click here for information on our new trading platform.